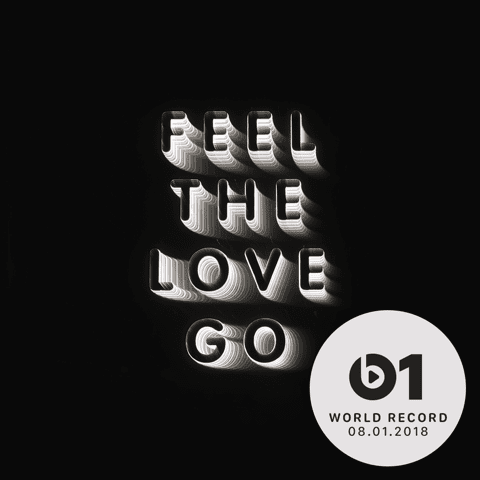 Zane Lowe's 'World Record' – Franz Ferdinand 'Feel The Love Go'
Zane Lowe played his first World Record of 2018 on his Beats 1 show today by premiering Franz Ferdinand's 'Feel The Love Go' which is from the band's upcoming album 'Always Ascending', which is released 9th February.
---
ZANE: We're about to play today's World Record. We're super excited about it and there's lots to talk about. This record 'Feel The Love Go', you know it's you guys at your slinkiest. You know what I mean? I mean, it's where the baseline plays such an integral part and the guitars shimmer around and it's such an integral part of who you are as a band but with the addition of Philippe Zdar and bringing that kind of club and that bottom end in is a nice touch.
ALEX KAPRANOS: Yeah and that's right he really does. He's the master of the dance floor, Philippe. He's a total mixer, a total master and you've always said this before about the band, what do you call him Bob, he's the party hardy? Is that it?
ZANE: My line with Bob was always, that's right, party hardy, there's no party like a Bob Hardy party. That was always my line.
ALEX KAPRANOS: I think what you hear on this song is Bob at his finest, he's really killing it on this song.
ZANE: This song is my favorite memory of Bob ever performing live was one the last time I saw you, it was in front of like 3000 or 4000 people a packed out show Ibiza and you were absolutely crushing it, just going for it and Bob goes and leans against the post like this just leans against it and plays his bass while he's leaning against the post. You guys are putting like a 1000% in and Bob is leaning against the post like he's literally you know it wasn't even like he was in rehearsal it was amazing.
ALEX KAPRANOS: Yeah, yeah that sounds like Bob Hardy, he played it very cool. It was an intense moment. Yeah, yeah that's Bob.
ZANE: So the time in between records, the return with new members, the sense of I suppose a rejuvenation somewhat, not that you had anything to rejuvenate from but it feels like a fresh start to some degree.
ALEX KAPRANOS: Yeah it does. It feels very invigorating to play with different people as well. And when Julian joined us he brought his own energy and perspective that I hadn't seen before and he is an amazing player. We call him the human appoggiatura all those parts you program into a sequence he just plays them. But yeah it's great. It's great to be back on the road as well and playing. Yeah, I'm loving it right. I'm really loving it.
ZANE: Did you ever feel at anypoint, and this isn't a bad thing because life is full of twists and turns and different things you can do and you are a very creative individual on some many different levels, was there ever a moment when you thought maybe I'll rest Franz Ferdinand indefinitely. Maybe I'll go away and think of something else? Maybe this is our time. Was there ever a moment when you were rethinking it or was it always just a constant for you?
ALEX KAPRANOS: You know there's always been things that have come up. Everybody can have a go on. Like we did with the FFS project, the thing and album with Sparks and recently I've been producing a singer called Maggie Brown. Great great fun. Really fantastic and stimulating but the I kind of go away from the band, the more it makes me want to come back to it. I love to do other things, it's just exciting but I always come back to the bands for sweet times and the same energy we had before
ZANE: That band that you formed back in the day you know when you took over that kind of that studio space or turned it into a studio space, that kind of abandoned area and really threw yourselves into this kind of isolated environment within Glasgow and came up with this incredibly funky very very driven sound. Do you still hear the kernel of what you began with?
ALEX KAPRANOS: Some of the principles are still exactly the same, the same ones like driving the band and even the principle of being a road rock n roll band and playing dance music. We're still doing that at the core of it, just making a slightly different sound. I remember Bob and I used to work at a kitchen together, he was a dishwasher and I was a coming chef and before we even formed a band we'd talk about what we'd do if we got a band together. All those ideas were back in the year 2000. And all those ideas we had together is still happening now, we're very lucky. Very few people get to their lives, it's amazing.
ZANE: Do you feel comfortable in this current environment making music? Are you still learning about how to reach your audience because it changes over time? Record stores don't exist the way they did back in the day and touring is now a whole different ballgame as well.
ALEX KAPRANOS: I appreciate the surprises. I love it. I love them as somebody who listens to music as well. I like the way that streaming has changed since things. I love how instant access to music is. I find it fascinating how everyone is retuning to vinyls well. I still love my records and I like the fact that if I find a piece of music and I really love it, I'll go out and by that record. As for us getting our music out there, I've always been terrible at that sort of stuff. Anything to do with the business side, I don't have that kind of brain. I wish I was lucky because the guys at Domino, they really do. I just try not to think about it. My analogy is if I got a hole in my tooth, I don't try to pull it out myself, I go to the dentist because he knows how to do it better than I do.
ZANE: If you've made an album with Philippe Zdar from Cassius and by the sound of what we've heard so far you know you're very much on the floor with this album. Four on the floor present and accounted for and the baseline very high in the mix, are we looking at sort of remixes and extended ways to let the music breathe? Are you looking at different ways to create around the album now it's done?
ALEX KAPRANOS: Yeah yeah we're definitely doing a few remixes. It'll be a couple nice surprise coming out with the record. Philippe is working on a Cassius remix himself, I just heard that the other day and it's wicked. Again like a real beautiful build up because with this record it's still got some of the conventions of pop music, it's quite direct and it's quite in your face. It's around the three minute mark for a lot of songs whereas he's really great at that the slow build that you get on the dance floor over ten minutes, building of that way. Yeah, it'll be a few surprises like that.
ZANE: So I'm based out in LA now, Alex, are we going to see you guys out in America at some point the future? Is there American touring to be done in 2018?
ALEX KAPRANOS: Yeah sure. Yeah, we'll be back in April, I think it's April we're back on the road in the States. Yeah on both coasts and everything in between.