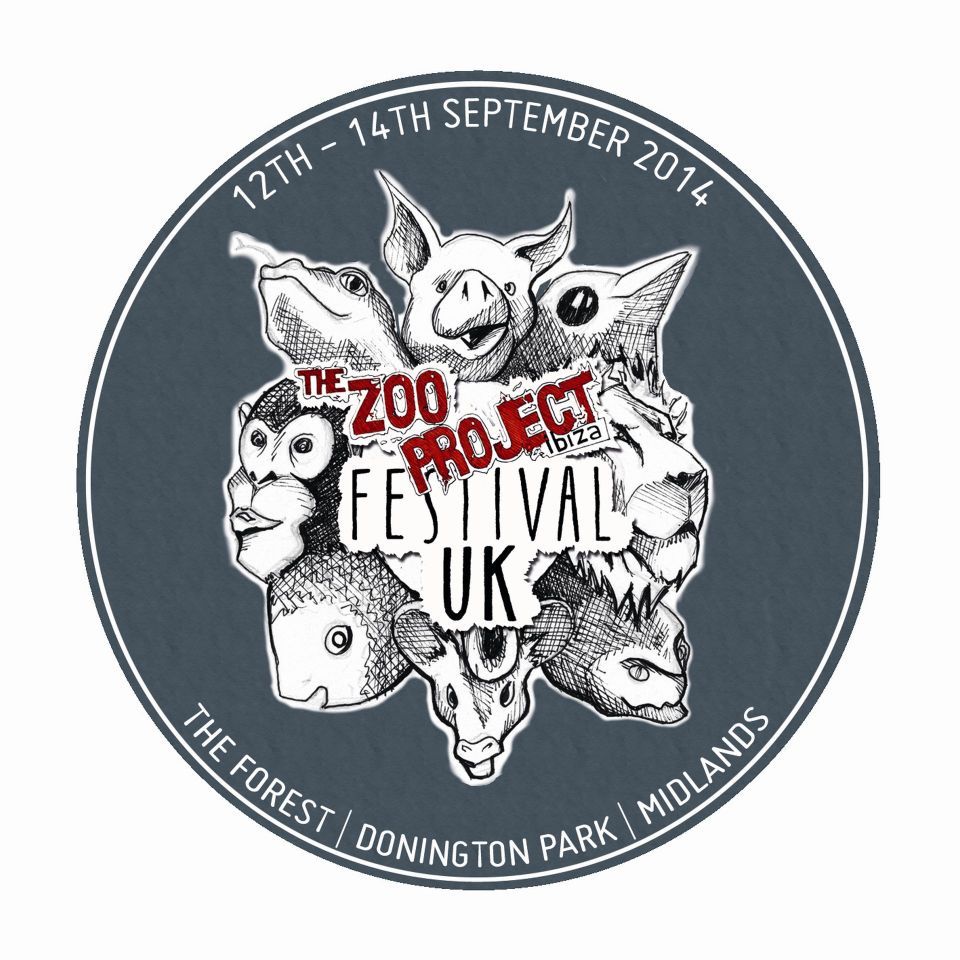 Zoo Project Festival Announces More Headliners…
World-renowned Ibiza dance music Dons, The Zoo Project, once again throw everything they've got into delivering Europe's premier boutique dance music event for a third successive year in 2014, bringing the sunshine, music and hierbas with them as they return to the enchanted mayhem of Donington Park Forest. Another three days of hedonistic madness amongst the trees await – Zoo Style!
With a decade of throwing open-air parties in Ibiza under their belt, The Zoo Project Festival 2014 will be their most ambitious blow-out to date. Hot on the tracks of last month's huge announcement featuring the multi-million selling, arena-touring act, Groove Armada and perpetual pioneer of the scene, Steve Lawler, they've raised the stakes once again adding UK legend Sasha to the discerning line-up.
Also added to the bill are Berghain/Panorama Bar resident Tama Sumo, hip-hop producer come house and techno talent, Mr Beatnick, and live performances from Bleak and Evan Baggs.
Final early bird tickets for this year's event will be on sale until midnight on 29th April. Standard early bird weekend tickets are currently on sale at £69 (£50 cheaper than final price) and VIP at £99 with prices going up to £85 and £119 respectively for the next allocation of tickets.
Other key artists include: James Zabiela with his technical mastery and live remixing skills, the nation's favourite Brew-loving maestro Mr Scruff, prolific dubstep boss Mala – a favourite of John Peel, Frenchman and Daft Punk collaborator DJ Falcon, DJ /producer Phaeleh- praised amongst critics and fellow producers for his intricate cinematic electro. Ben UFO will slice between eras, origins and mixing styles with silky ease and those craving that explosive drum'n'bass fix can delight in the glow of original nuttah, Shy FX. Discerning dance music heads can savour the sounds of industry stalwarts A Guy Called Gerald, Nightmares On Wax and Craig Richards. Special Request – Paul Woolford's latest project, will also be one of the most highly anticipated gigs the festival has seen.
www.thezooproject-festival.com/tickets.
VICE Magazine's electronic music channel Thump have been added to the roster of top-drawer underground stage hosts at this year's event. Also hosting in 2014 are James Zabiela's imprint Born Electric and London day-time trailblazers Secret Sundaze, alongside DJ Mag, Wax Da Jam, RiffRaff, Jaunt, Zutekh and many more.
Long established purveyors of the finest underground house and techno, this year The Zoo Project Festival will also feature genres from throughout the electronic music world – drum & bass, hip-hop, UK bass, garage, ambient, experimental and more. Some of the most dedicated and influential crate-diggers on the planet will spin alongside the hottest newcomers, continuing the Zoo Project mantra of unearthing underground talent before they take off.
The line-up so far is: A Guy Called Gerald Live, Acid Mondays, Ben UFO b2b with Midland, Benjamin Damage Live, Blackhall & Bookless, Bleak Live, Craig Richards, Defex, DJ E.A.S.E., DJ Falcon, Drew Hill, Evan Baggs, Federico Grazzini, Gang Colours, Giles Smith, Grant Kershaw, Groove Armada, Jack Wickham, James Priestley, James Zabiela, Lee Pennington, Mala, Maribou State, Matt Tolfrey, Michael James, Milou, Mr Beatnick, Mr Scruff, Negghead, Nightmares On Wax presents… Wax Da Jam, Pedestrian, Pedram Live, Phaeleh, Ricky Rankin, Sasha, Shovell – The Drum Warrior, Shy FX w/Stamina MC, Special Request (Paul Woolford), Steve Lawler, Tama Sumo, Ten Walls Live and Youandewan plus many more.
Immersive interactive performance has always been at the heart The Zoo Project Festival, removing boundaries between artists and audience, performers and partiers. 2014 will take the festival experience to new heights with a performance team comprising Ibiza's finest 'The Minx FX' alongside the UK's biggest performance company Area 51! Expect world-class performance from animalistic acrobats, dancers, contortionists and more, from Racing Ostriches to King Kong himself!
It's never The Zoo Project Festival without a large dose of OTT hedonism and indulged debauchery mixed with a carnivalesque vibe and a whole host of attractions. The Zoo Project Festival will reveal more as the event approaches. In the meantime, check out a wrap up of 2013's highlights here: www.youtube.com/watch?v=c7iumGiXu2w
The Zoo Project say:
"We're super-excited about taking you deeper into the forest this year! We've tried to tailor the perfect soundtrack for such a unique environment – headline festival acts alongside emerging artists with a few unexpected twists thrown in for good measure! Expect the usual Zoo shenanigans – this one's not for the feint- hearted! Roll on September!".
Buy tickets now from www.thezooproject-festival.com/tickets