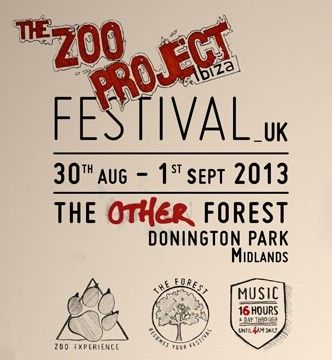 Zoo Project Festival – More Line Up & Attractions Announced
Zoo Project Festival have added more exciting names to its already bulging line-up. New additions include Dusky, Dana Ruh, Ethyl, HVOB Live, Laura Jones, Paul Woolford and Youandewan.
There's also a fairground with enough spinning, flashing, swooping adrenalin-pumping, stomach-churning insanity to satisfy the most nihilistic of party-goers. For the utterly 'mad fer it', there's 'BagJump' – a 52ft high crane drop in to a giant inflatable bag!
For the more voyeuristic revelers there's a host of immersive performers, flying aerialists, animal acrobatics, human contortionists to observe, and those really wanting to get amongst it can be expected to be accosted and tickled pink by a bounty of sprawling deviants all over the festival site, encouraging festival-goers to cast away inhibitions and release their wild sides!
Making this all possible is The Minx FX – a performance production team defined by its daring shows and elaborate backdrops. An established brand running for 9 years in Ibiza and a part of the animal print furniture at The Zoo Project, they've continued to provide party animals with an unstoppable collection of off-kilter styling, high octane performers and edgy circus style acts giving Zoo that extra roar!
Some of the many highlights will be Cultural Shows – North American, Indian, Aztec, Egyptian, Far Eastern, Brazilian and African acts and shows, inspired by different countries around the globe. Fire Shows – Fire art – spinning, breathing and burning the way onto the stage with a hot mix of Ibiza's most technically skilled fire artists, sexy fire dancers and the most original equipment infused with their theatrical twist, Snake Charmers – slithering snakes accompanied by sensuous senoritas releasing the animal. The real animal! Live Ostrich Racing, alluring Mermaids – on hand to lure you into their world under the sea, and even Boxing Kangaroos!
The festival will also feature natural installations, creations and unconventional distractions such as the 'Safari Spa' – a charmed tranquil area with all manner of holistic practitioners and masseurs on hand ready to rejuvenate aching limbs and foggy heads!
The Zoo Project Festival is the UK's foremost dance music destination this summer featuring Bona Fide dance music legends alongside the cream of rising talent. Music maestros will light up an enchanted forest backdrop, as world-renowned Ibiza party promoters 'The Zoo Project' stay true to their reputation of "throwing extraordinary parties in unordinary locations" by building 75% of the festival amongst the trees! 2013 sees the festival grow in size and increase capacity with a new 4am license meaning the music will play for 16 hours a day.
Amongst the headliners are Rock'n'Roll Hall of Famer Grandmaster Flash, a back-to-back-to-back DJ performance from House Music Dons DJ Sneak, Derrick Carter and Mark Farina (English festival Exclusive), plus fan favourites Bonobo and MJ Cole.
The full line-up includes: Acid Mondays – Angus Jefford – Beane – Benjamin Damage Live – Blackhall & Bookless – Boddika – Boean- Bonobo – Breach – Cool Kid Music – Dana Ruh – Deep Tone – Defex – Derrick Carter b2b Mark Farina b2b DJ Sneak – Djmag Allstars – Doffa- Dusky – Ethyl – Evan Baggs – Fantastic Man – Federico Grazzini – Filthy Geeks – Francis Inferno Orchestra – Funk E – George Fitzgerald – Giles Smith – Grandmaster Flash – Greymatter – Groove – Syndicate Live, Hot_Waxx, Huxley, Red, HVOB Live, James Micallef, James Priestley, James Zabiela, Jay Gregory, Jaymo & Andy George, Jimmy Kennedy, Joe Quinn, Jordan Gregory, Jordan Plant, Kristoffer, KRL, Laura Jones, Lee Pennington – Lewi Scandal – Lobue – Marco Dot – Maribou State – Mark A – Matt Neale & Stu Clark – Matt Woodhouse – Matty Morris – Medlar – Michael James – Midland – Milhouse – Milou – MJ Cole – Mouj – Mountain People – Nic&Kaleb – Nick Hoppner – October – Paul Woolford – Pedestrian – Perry Louis – Phylo – Real – Richard Rowell – Ricky Humphry – Rozzo – Si Paste – Spencer Parker – T Williams – TCTS – Throwing Snow Live – Tom Rankin – Toyboy & Robin – Virginia – Von Wilder – Werkha – Wrighty – X-Press 2 – Youandewan
One weekend. One forest. 70 DJs. 10 stage Hosts. This will be a festival experience to remember! Tickets available from www.thezooproject-festival.com/tickets
For up-to-the-minute info visit www.thezooproject-festival.com and www.facebook.com/zooprojectfestival