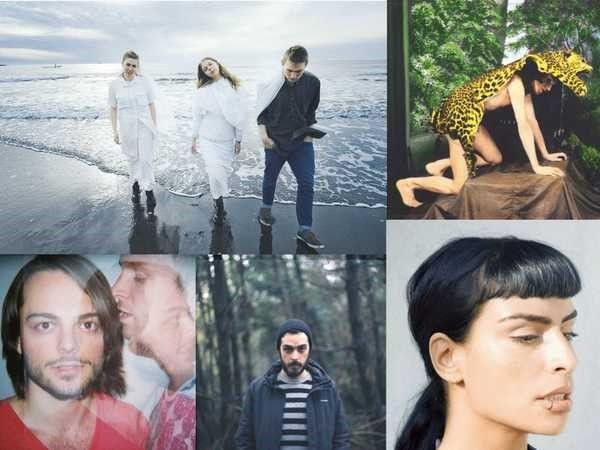 10 electronic acts to discover at Eurosonic Noorderslag
A new wave of electronic acts are set to make their mark in the music industry at this years Eurosonic Noorderslag. Showcasing artists from all over Europe, the Dutch event has previously helped kick start the careers of acts like Aluna George, Buraka Som Sistema, C2C, Crystal Fighters, FM Belfast, Jungle, SKIP&DIE and The XX. Here are 10 electronic artists set to erupt in 2015, all making their debut at Eurosonic Noorderslag 2015.
1. CLAP! CLAP! (IT)
The new project by Italian producer C. Crisci focus's on the sampling of tribes, bands and singers originating from the African continent. Extremely eclectic and highly percussive, Crisci successfully reproduces African rhythms in a contemporary way.
Listen here: https://soundcloud.com/clakclakboomclak
2. WEVAL (NL)
Weval is a collaboration between Harm Coolen and Mrijn Scholte Albers. Merijns musical background is mainly trip-hop, while Harm is influenced by house music, and the two have combined their different backgrounds into a unique sound. Wevals first full length album will be released in fall 2015.
Listen here: https://soundcloud.com/weval
3. KIASMOS (IS)
Bafta winning composer Olafur Arnalds and Janus Ramussen come together to create Kiasmos creating their own brand of addictively melodic and hypnotic techno. Kiasmos come armed with a classical-electronic crossover of piano chords and anthemic melodies that will sneak into your head and stay there.
Listen here: https://soundcloud.com/erasedtapes/kiasmos
4. PANDREAS (SE)
The music of Andreas Kleven Rasmussen aka Pandrea, is stepped in the sound of his scandi predecessors like Lindstrom and Todd Terje. His music delicately mixes danceable house with sparkling synthesizers with Floating vocal samples.
Listen: https://soundcloud.com/andreaskr
5. SAMARIS (IS)
An unconventional combination of clarinet, electronic beats is what makes Icelands Samaris so unique. Their mix of glacial electronics and bold beats mixes well with powerful vocals and lyrics gathered from nineteenth century Icelandic poems.
Listen: https://soundcloud.com/samaris
6. NINOS DU BRASIL (IT)
When techno, punk and carnival rhythms collide, what you get is Ninos Du Brasil. Italian members Nicolo Fortuni and Nico Vascellar have a background in performance art, indie and punk something that's evident in their energetic live shows.
Listen: https://soundcloud.com/ninos-du-brasil
7. TALOS (IE)
Talos is an Irish musician from Cork whose debut release recently took music sites by storm. He makes dark, electronica-tinged R&B for a growing army of fans, featuring a unoque blend of aching vocals and subtle electronics.
Listen: https://soundcloud.com/talostalostalos
8. YEARS AND YEARS (UK)
The London electronic 3 piece create soulful electronic music that's an infectious combination of disco, pop, hints of Reggae and R&B that makes you want to dance. Their debut album wont be out until 2015 But their catchy single 'Take shelter' and 'Desire' more than compensate.
Listen: https://soundcloud.com/yearsandyears
9. SEVSALIZA (NL)
Born in Iran but based in the Netherlands, 27 year old Sevdaliza started writing music at a very young age. Her lyrics are sensual and melancholic which she combines with heavy bass lines for an atmospheric sound that screams temptation.
Listen: https://soundcloud.com/sevdaliza
10. GOD BLESS COMPUTERS (DE)
An Italian DJ based in Berlin, Lorenzo 'Nada' mixes rootsy hip-hop beats, funk, soul, and jazz with organic samples to create a unique stylistic mashup. His live show also works together with the Piier collective to deliver a powerful audiovisual show.
Listen: https://soundcloud.com/godblesscomputers
View the full line up here: http://www.eurosonic-noorderslag.nl/en/festival/line-up-2015/
About Eurosonic Noorderslag:
Eurosonic Noorderslag is the key exchange and networking platform for European music, with a proven track record for helping new acts break into the international music scene. Selling out each year Eurosonic Noorderslag attracts over 3,200 delegates, including 400 international festivals. It presents showcases by more than 300 artists and a conference programme featuring 150 panels, keynote speakers, interviews, workshops, dinners, pitches, parties and meetings on the latest developments in the international music, media and interactive industry.
Eurosonic Noorderslag has been responsible for kick-starting the careers of European acts like Ásgeir, Benjamin Clementine, Birth of Joy, Coely, Emilie Nicolas, Ewert and the Two Dragons, George Ezra, Hozier, Jaakko Eino Kalevi, Jungle, Kadebostany, Larry Gus, Mighty Oaks, Milky Chance and MØ. The start of ticket sales for the festival programme will be announced later this autumn.
Previous edition in numbers:
Total amount of visitors (sold out) – 38,500
Conference visitors (sold out) – 3,275
Nationalities – 39
Acts – 337
Number of stages @ Eurosonic – 36
Number of stages @ Noorderslag – 11
Media & journalists – 307
EBU radio stations – 30
ETEP festivals – 89
International festivals – 419
More info about Eurosonic Noorderslag here: www.eurosonic-noorderlag.nl