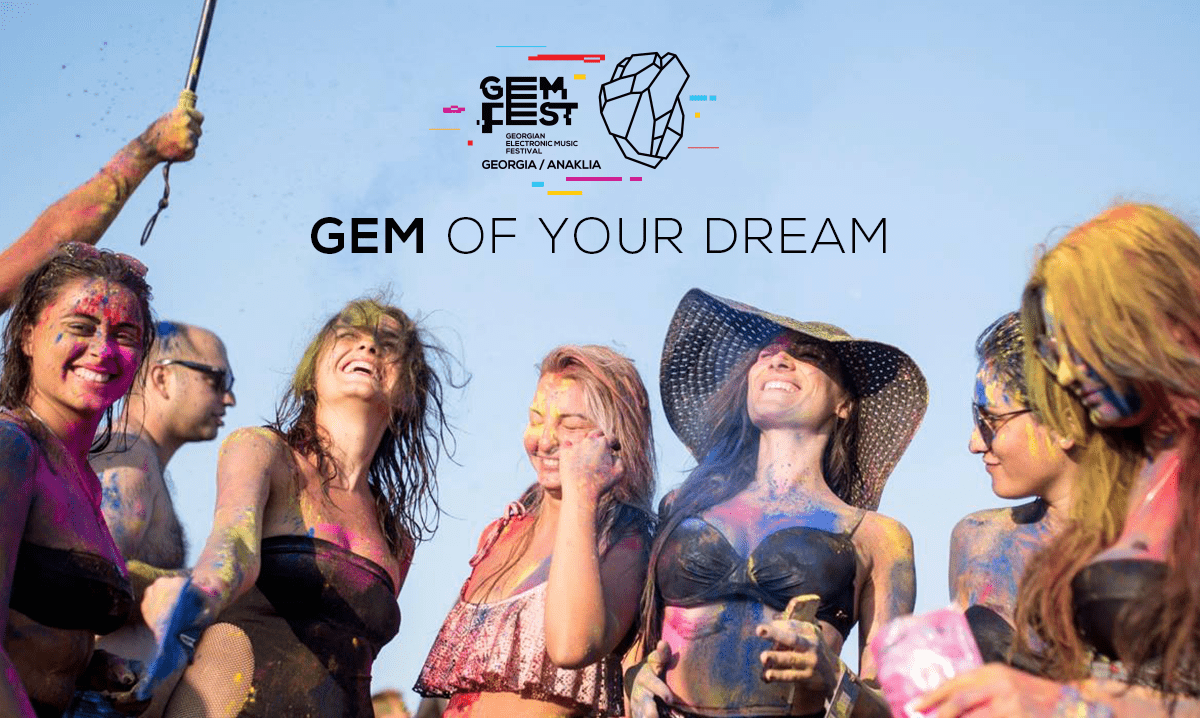 10 Reasons why you should go to GEM FEST – The world's longest electronic festival!
GEM FEST – Georgian Electronic Music Festival is an annual international event, held at idyllic location near small sleepy village Anaklia, at one of the biggest, cleanest and most beautiful beaches on the whole Black Sea – the latest hotspot of European and global party scene. It is the place to experience the most incredible sunsets on the Black Sea, dip in crystal clear water and indulge in a world-renowned wines, cuisine and Georgian hospitality.
The 3rd edition of a month long non-stop party that will offer over 3.000 performances on 9 stages is a spiritual successor of KAZANTIP, and a new meeting point of free-spirited people from all over the globe, who enjoy arts and crafts, movies, chess & sports, meeting new people, having fun at the seaside in the beautiful nature and of course performances of the biggest international DJ superstars and live acts as well as many uncut gems that are yet to conquer worlds hottest club and festival stages.
GEM FEST 2017 HEADLINERS
Alexkid, Aly & Fila, Andrea Ferlin, Andrey Pushkarev, Angel Anx, Anushka, Audiofly, Axwell Λ Ingrosso, Bacho, Barac, Bella Sarris, Bill Patrick, Boris Brejcha, Carlo Lio, Cassegrain, Catz 'n' Dogz, Cezar, Cobert, Dassana, De Watchkamer, Dennis Ferrer, DJ Nikifor, dOP live, Doubting Thomas, Dubfire, Fernando Costantini, Ferry Corsten, Francesca Lombardo, Gescu, Gio Shengelia, Gramophonedzie, GusGus live, Herodot, Honey Dijon, Hubble, Hunter/Game, Inland, Ian Ludwig, James Zabiela, Joachim Pastor, Julia Govor, Justin Mylo, Kollektiv Turmstrasse, Locked Groove, Mano Le Tough, Marc Romboy, Martin Garrix, Martin Buttrich, Mattheis, Mattias Tanzmann, Molly, Nuno Dos Santos, Oliver Deutschmann, Paul Kalkbrenner, Petre Inspirescu, Praslea, Priku, Raresh, Raz Ohara live, Reboot, Rhadoo, Robag Wruhme, Roger Sanchez, Raustam, Sander van Doorn, Seb Zito, Sofia Rodina, Solomun, Steroclip, Steve Aoki, Sunnery James & Ryan Marciano, Super Flu, Swanky Tunes, The Drifter, Thomas Melchior, Tin Man, Topper, Valentino Kanzyani, Voightmann, Vava KLK, Wolf + Lamb, Worakls… and 400+ more artists (www.gem-fest.com)
10 REASONS WHY
You may have been to a big music festival before, but until you've spend at least a day at GEM Fest you can't say you've had the best festival experience there is. Or it in the words of Eddie Amador: "It's a spiritual thing, a body thing, a soul thing."
1. Cheap Flights
WizzAir (www.Wizzair.com) is flying to Kutaisi from Berlin, Dortmund, Munich, Milan, London, Budapest, Larnaca, Thessaloniki, Kaunas, Vilnius, Katowice and Warsaw. You can get a return ticket for approximately 100 euro and ride to the GEM Fest site in the festival shuttle. There are also direct daily flights from Kiev and Moscow by Ukrainian International Airlines and Ural Avia. For alternative routes and carriers also check Batumi and Tbilisi airports and take GEM Fest bus or taxi come to the festival site or a railway to a nearby city of Zugdidi.
2. Wallet Friendly Festival and Destination
Compared to other major festivals or Ibiza, where clubs usually charge 15-20€ for a single cocktail, Georgia offers a true value for money. Festival tickets (152€ for a whole month), accommodation (20 eur a day), drinks (beer 2€, cocktail 4€, vodka 2€), food (12-20€ a day for breakfast and two simple hot meals with water), transport… Everything is cheap and thus perfect for student summer trips. Count to spend 400€ per week for drinks and food to really enjoy the festival without counting every cent.
3. Free Spirit
Like its spiritual predecessor Kazantip, GEM Fest offers something that was already lost on the shores of Mediterranean and Adriatic Sea: a true liberty and free spirit. It attracts freedom-loving people from Europe, Turkey, Russia, Ukraine, Iran and Asia, who share ideas, enjoy never-ending parties and make friendships that can last a lifetime. But what is really special about GEM fest is that it creates a free space for enjoyment and artistic expression in a part of the world where such events are rare.
4. Something New
You know how people are constantly telling you Ibiza is not what it used to be and it was five years ago when most of European festivals really were to go to. Well, don't let it happen that in seven years friends will tell you GEM Fest was the one to go to in 2017. And the best thing: this new, some kind of exotic and exciting destination is just a short flight away.
5. Unique Concept of Festival
GEM Fest takes place from July 14th 'till August 14th on a peninsula connected with the longest pedestrian bridge in Europe. Party people are welcome to come and stay for the whole time of the festival, a day, a weekend or a week. They can book a tent in a 10.000 capacity GEM City, a room or apartment in one of the nearby hotels and B&Bs, or – this is a really unique opportunity to experience Georgian hospitality – put up their own tent in a yard of guesthouse, use their facilities and make new friends.
6. Superb Line Up + Art Projects
In the 500+ artists strong line up you can find a lot of familiar festival names, but an experienced festival goer knows it's not only the headliners who make festivals – usually it's all about discovering new emerging talents. And yes, there's dozens of artists, future headliners, you haven't even heard of, showcasing their skills at GEM Fest. Music is accompanied by art projects and modern architecture and don't forget: Georgian underground club Bassiani is a talk of the season all around the Europe.
7. Diverse & Beautiful Nature
Georgia is one of the hottest destinations for tourists who want to experience beautiful nature, culture and rich history. GEM Fest is organized by former head of Georgian tourism administration, Giorgi Sigua, and has got a strong support of government as a gateway for young people to discover Georgia. For ideas what to see and where to go on the way to and back from GEM Fest check http://www.exploregeorgia.org/
8. Safe Place
Georgia is a safe place to travel, with low rate of crime, tourism is driving force of the economy (no visas for EU, USA, Canada … / no passport for most of the European countries), they are rapidly adopting EU standards, are not involved in international conflicts and are no transit or target country for immigrants on the way to EU.
9. Sea & Sun Fun
Anaklia is a favorite holiday destination for Georgians and neighbors. Summers are sunny and hot (day 30-35°C / night 18°C), though not scorching due to a constant sea breeze while crystal clear water (20-25°C) and beautiful beaches are just perfect for summer getaways. There is a 97% chance of good sunny weather at this time of year.
10. Wine & Cuisine
As one of the cradles of grapevine cultivating Georgia is a top world-class producer of excellent wines. Foodies are in for a treat as well. Local cuisine is based on meat, fish, cheeses, vegetables, fruit, nuts and various pies and dumplings are a must. Food tastes amazing, everything is fresh, mild, locally produced and ridiculously cheap.