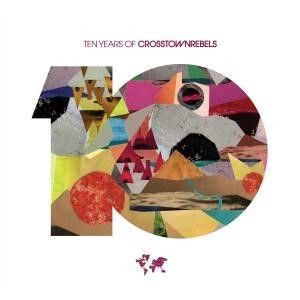 10 Years Of Crosstown Rebels
Crosstown Rebels commemorate 10 years of historical releases with a three CD collection spanning over thirty of their best records from the vaults. Named label of the year 2013 in the Ibiza DJ Awards and Resident Advisor's No 1 label in 2011, the Rebels also encompass innovative global events, a festival series and a worldwide artist network. Arguably the most established and renowned house and techno label of our time, this collection is laced with nostalgia and documents its brightest and boldest moments.
'10 Years' revisits some classic and early releases from the scene's biggest stars including Maceo Plex, Seth Troxler, Jamie Jones, Tiga, Soul Clap and Art Department alongside more obscure yet still unforgettable material from Andre Kraml, Pier Bucci, Minilogue and Deniz Kurtel. These are the sounds that made Crosstown Rebels the label of the past decade and document some historical moments that have shaped the current musical landscape.
BACKGROUND
Crosstown Rebels sits at the epicentre of a global underground movement. Formed by Damian Lazarus in 2003, after successful stints as A&R at City Rockers signing the likes of Felix Da Housecat and Tiga and as former music editor for style bible Dazed & Confused, Lazarus created Crosstown Rebels as a platform to not only deliver quality and timeless music but also to launch the careers of many up and coming artists who have gone on to become the most successful in their field.
'10 Years' maps the label's and the artists' collective journey. Over a decade of dancefloor moments are charted, from some of the earliest output from everyone's favourite techno maverick Seth Troxler, ´Love Never Sleeps´, to the 'Summertime' anthem – the track that shot Jamie Jones into the spotlight, up to the epic 'Without You' from the unstoppable duo Art Department. The timeless Mathew Jonson remix of Hiem's 'She's The One' is featured alongside the debut EP release from Boston duo Soul Clap and early electroclash anthem from Kiki & Silversurfer feat. Captain Comatose, 'Shake Off'. A new generation of artists such as Francesca Lombardo, Ali Love and Fur Coat point to the future and keep the story moving forward for the label's output.
Crosstown Rebels continues to birth many creative offshoots including a film series (Rebel Rave), global events (Get Lost), an apocalyptic festival (Day Zero) and various sublabels such as Rebellion, RebelOne and Crosstown Digital Rebels that house alternative musical whims and threads. Each pioneering outlet continues to take radical new approaches and this reminiscent collection is the first time their musical identity can be digested as a whole. Here's to the next decade of forward thinking music.