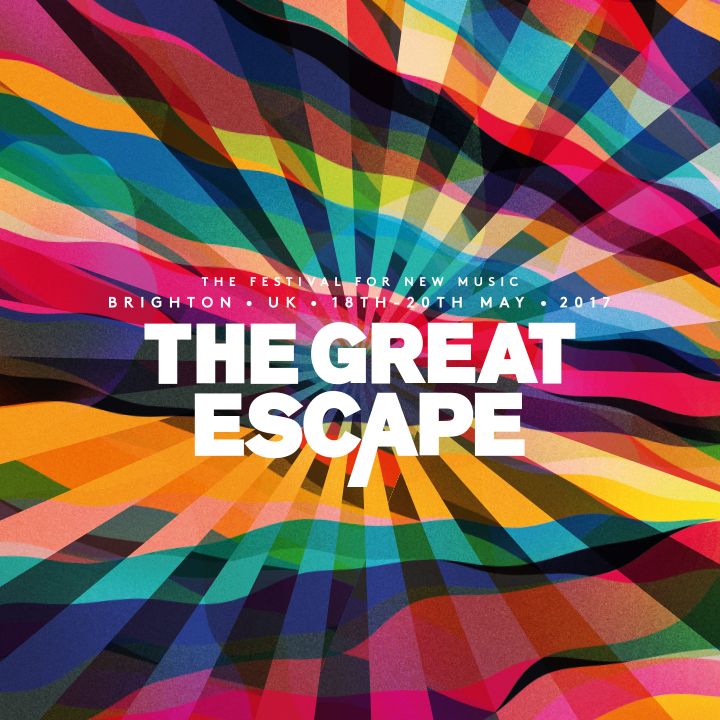 125+ Artists Added To The Great Escape 2017 Line Up
The Great Escape, the festival for new music, is going to be bigger and more diverse than ever in 2017, today announcing over 125 hot new additions to the already electrifying line-up in May, including Raye, Abra Cadabra, Smerz and many more. These are set to join the already confirmed artists in Brighton that include Rag'n'Bone Man, Slaves, The Magic Gang, Stefflon Don and Marika Hackman.
Artists announced today include Tottenham MC Abra Cadabra, whose sound is a versatile arrangement of laidback tracks and fiery freestyles, Londoner Raye, who mixes glitchy electro and bouncy R&B rhythms with profound lyrics, and the vibrant collision of soul, electro and West-African funk known as Ibibio Sound Machine.
Raye said "The Great Escape is such an important festival supporting new music. I'm so grateful that they give unknown artists a platform to play music to people with open ears. I played a couple of years ago and now I'm back – what an honour that is."
Also announced today are Overcoat, who are finding inventive new ways to combine folk, indie and electro-pop, multi- instrumentalist and producer Melina Duterte AKA Jay Som – who recently supported Japanese Breakfast and Mitski on tour and whose ethereal indie blends earthy vocal melodies and dreamy pop guitars with outbursts of buzzy, distorted mayhem, and LA's Mystic Braves – a fusion of modern rock music with a classically psychedelic edge.
Elsewhere, Douglas Dare's distinctive bittersweet vocals exude raw honesty, and a distinct electro-acoustic edge, while young London troubadour Isaac Gracie's gravelly, beautifully wrought singing style should ensure that her second appearance at the festival is a spine-tingling experience.
The Great Escape's 2017 international contingent continues to blossom, with new acts announced today including Indian brothers Parekh & Singh from Kolkata, who produce cosmic pop infused with a whimsical beauty that is as dream-like as it is infectious and charming.
Smerz are an addictive alternative-electro duo from Copenhagen who are on the tip of everyone's tongues with their minimal, effortlessly cool techno sounds. Helping them fly the Danish flag will be RnB electro-pop trio CHINAH whose upbeat tempo and melancholic lyrics create classic pop gems. Likened to Bon Iver and James Blake, Ásgeir has already broken records having released Iceland's fastest selling debut album by a domestic artist. His folktronica music is also a family affair, using his 72 year-old father's poetry for lyrical inspiration.
Finally, Philly four piece The Districts bring a surge of emotions and energy to their ever-evolving indie rock sound, Flyte are a whirl of snappy new wave-indie hooks, and Reading rockers The Amazons' are a blaze of massive riffs, explosive sound and scorching energy.
Event Manager Kevin Moore said; "With just 10 weeks to go it's brilliant to be announcing yet another round of artists who will be joining us in Brighton this year. Our 2017 line-up is shaping up to be our best and most diverse yet and there's still so much more to come. Can it be May yet?"
Tickets and further information: www.greatescapefestival.com

The full list of artists announced today is as follows:

ABRA CADABRA / AGAR AGAR / ALEX CAMERON / ALTAMEDA / ALYSS / AMY BECKER / ARISTOPHANES貍貓 / ÁSGEIR / BABEHEAVEN / BAD POP / BAD SOUNDS/ BANG BANG ROMEO / BANTAM LYONS / BELIEFS / BIURET 뷰렛 / BLACKWATERS / BRENT COBB / BRUCE O YATES / CAMO CLAVE / CHILDHOOD / CHINAH / CODE WALK / COLTER WALL / CONFIDENCE MAN / CRIMSONS / DAKOTA / DAT BRASS / DEBRAH SCARLET / DGS SAMURAI CHAMPS / DOUGLAS DARE / EKALI / ESTRONS / ESTRONS / FAITH I BRANKO / FIFI RONG / FISH / FLYTE / FOLLY RAE / FOREST OF FOOLS / FRANK GAMBLE / FUCK ART,LET'S DANCE! / GALLOPS / GARDNA / GIRLI / H HAWKLINE / HARRISON BROME / HAUX / HAZEL ENGLISH / HEARTS HEARTS / HELLO MOTH / HIPSTERS DON'T DANCE / HONEY LUNG / HONEY LUNG / IBIBIO SOUND MACHINE / IMMIGRANT SWING / INTO THE ARK / ISAAC GRACIE / JACK LADDER / JACKDAT / JANE WEAVER / JARAMI / JAY SOM / JERRY WILLIAMS / JOE FOX / JOSSY MITSU / JUDAH AND THE LION / JULIE BERGAN / JULIE BYRNE / KILLASON / KING HENRY / KNUCKS / KOVACS / LA JUNGLE / LAS AVES / LEO STANNARD / LIFE / LITTLE HOURS / LUXURY DEATH / LYRA / MARC O'REILLY / MARIA KELLY / MATT MALTESE / MO KENNEY / MONICO BLONDE / MYSTIC BRAVES / MUNGO / NOT3S / NOVA TWINS / OSCAR JEROME / OTZEKI / OUTLYA / OVERCOATS / PAIGEY CAKEY / PAREKH & SINGH / PARIS YOUTH FOUNDATION / PAVO PAVO / PERTURBATOR / POOR NAMELESS BOY / PORT CITIES / PRINCE VASELINE / RAHH / RAYE / ROYAL TUSK / SAILOR AND I / SARA SARA / SHE-DEVILS / SHY LUV / SMERZ / SÔNGE / SONS / SUPERFOOD / TAMIR GRINBERG / TASH LC / TEN TONNES / TENNYSON / THE AMAZONS / THE AVULSIONS / THE BLINDERS / THE BRASS FUNKEYS / THE DISTRICTS / THE LAFONTAINES / THE MONOTONES / THE VAN T'S / THOMAS AZIER / VICTORIA / WALLFLOWER / WALLWORK B2B TSVI / WILD FRONT / WILL HEARD / WILLIAM PRINCE / XAMVOLO / YXNG BANE / ZACH SAID / ZAK ABEL