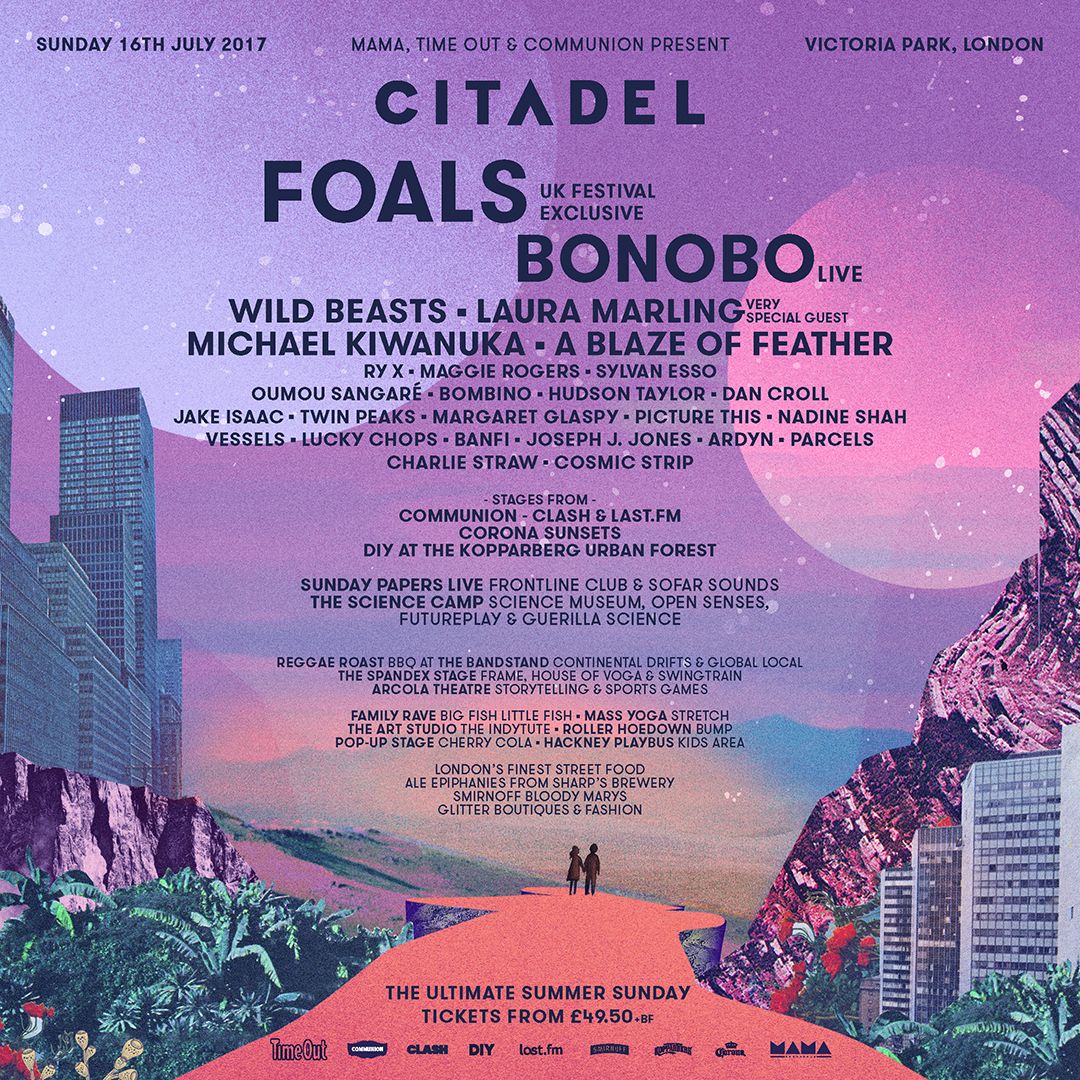 Citadel announce Bonobo (live), Wild Beasts, Laura Marling, RY X, Michael Kiwanuka, Sylvan Esso, and more
London's brightest new festival is back for its third edition. Having already confirmed one of the best live acts on the planet, Foals, as 2017's headliners, they now announce the first wave of music, extras and experiences.
Joining Foals is one of the masters of modern electronic music, Bonobo, fresh from the release of his latest album, Migration.
An artist at the peak of his powers, over almost two decades Bonobo has quietly carved out a name for himself as one of the biggest producers on the planet thanks to his mellow yet compelling beats. The beautifully rich sounds of 2010 album Black Sands saw him move from the underground to mainstream consciousness. Its follow-up, The North Borders, led Bonobo on a 175-show tour across three continents and thirty countries, to almost two million people including shows at the Sydney Opera House.
Now, with his sixth album Migration, Bonobo has entered a new realm of ubiquity. His highest charting album of his career (it reached No 5 in the UK charts) and featuring collaborations with Nick Murphy (FKA Chet Faker) and Rhye, it is set to confirm his status as a multi-faceted musician of the highest calibre.
Also joining the Citadel bill are the critically-acclaimed, Mercury Prize-nominated Wild Beasts, who will be delivering their eccentric brand of indie rock a twist. Citadel are also delighted to welcome the prolific folk artist Laura Marling. The multi award-winning musician is scheduled to release her highly-anticipated sixth album, Semper Femina, in 2017 so expect new material and old favourites from her set.
Elsewhere, there's Australian singer-songwriter RY X, fast-rising US artist Maggie Rogers – who was propelled from anonymity after a video of an awestruck Pharrell listening to one of her tracks at an NYU Masterclass went viral – NYC brass-led band Lucky Chops, folk duo Hudson Taylor and Irish pop-rock trio Picture This.
Returning to Citadel once more is the London-based independent record label and promoter, Communion. Originating in Notting Hill in 2006, their influence has spread worldwide thanks to an impressive roster (that includes Bear's Den, Lucy Rose, Catfish And The Bottlemen and many more) and a firmer than ever focus on artist development.

This year, the Communion stage will be headlined by Michael Kiwanuka. The lauded soul artist originally found fame in 2012 with the release of his critically acclaimed debut, Home Again which saw him win the BBC Sound Of 2012 poll. His second album, the Mercury Prize-nominated Love & Hate, was released in 2016 appearing in countless End of Year lists and nominated for the Brit Awards Album Of The Year. With just two releases under his belt, Michael has already drawn comparisons to greats such as Marvin Gaye and Curtis Mayfield. His performance at Citadel is set to stun.
Michael says: "Playing a hometown show is always very special to me, but to play Citadel in Victoria Park this Summer is going to be incredible. Ever since we released Love & Hate, the band and I have been dreaming of playing it at festivals. July can't come soon enough. See you there."

Joining Michael Kiwanuka on the Communion stage will be electropop duo Sylvan Esso, who are set to deliver an enchanting performance. Elsewhere there's UK singer-songwriter Dan Croll – making his return to Citadel following a triumphant appearance in 2015, charming Chicago rockers Twin Peaks, genre-hopping musician Nadine Shah and guitar-driven Margaret Glaspy. Opening the bill are two of Communion's newest signings, the indie trio Banfi and soulful Joseph J. Jones.
The Clash and last.fm stage boasts an electrifying smorgasbord of world and alternative music. Headlining is A Blaze of Feather, the first signing on Ben Howard's record label.
A Blaze of Feather will perform above internationally-acclaimed Tuareg guitarist and singer-songwriter Bombino. His politically-charged music has drawn comparisons to the likes of Jimi Hendrix and Jimmy Page. Grammy-Award winning Malian musician Oumou Sangaré will also appear, as will electronic post-rockers Vessels, Berlin-based disco-pop five piece Parcels, and South London musician Jake Isaac. The billing is rounded off by indie brother/sister duo Ardyn and rising folk singer Charlie Straw.
The Corona SunSets stage returns, bringing the smooth beats of the Balaerics to Citadel. Join the tribe and follow the Corona procession to the ultimate celebration of the sunset. Embrace the spirit of summer as night approaches. Watch the stage come to life as colours dance across the sky. Stay tuned for another amazing line up of sun-soaked sounds.
Kopparberg is set to bring a taste of scandi-cool to Citadel, making a welcome return with their popular Kopparberg Urban Forest, featuring a woodland bar serving up refreshments including its selection of delicious fruit ciders.

Kopparberg will also be supporting the very best in creative and imaginative live music, by hosting a series of pioneering artists and DJs on its renowned Urban Forest stage. This year, the Urban Forest will be presented by one of the UK's finest music publications, DIY, with the full line-up TBA.
Having built a reputation for both discovering and nurturing acts, DIY has been through the long term media infrastructure of print magazine, website, social media channels and live events that they have been able to help artists develop within the DIY community, with an increasingly international imprint.
This year The Bandstand will be throwing a Sizzlin' Summer BBQ Party, featuring a billing of festival favourites presented by Continental Drifts, Global Local and Reggae Roast. Expect a healthy dollop of reggae in your roast, and some big beats in your burger… this will be a spicy soundtrack with maximum flavour.
If you fancy something a little more low-key, iconic rock club Cherry Cola will play host to the Pop-up Stage, which will feature acoustic sessions and music workshops throughout the day.
Citadel are proud to offer more than your average day festival. Your musical billing is served with a galaxy of experiences and activities to discover throughout the day…including the city's tastiest food and drink, sports, talks and debates, wellbeing, dance workshops, arts and crafts, fashion boutiques and family fun, and so much more.
This year Citadel offer an out-of-this world array of scientific experiments and explorations. The Science Camp will present a series of talks to expand your mind, from guest speakers, scientists, artists & acclaimed institutions, as well as fun workshops, silly experiments, stand-up comedy & poetry.
The Science Museum will be presenting an exciting talk about the 500-year quest to make machines human, from the curator of the mind-bending Robots exhibition. Not to be missed.
Forget love at first sight, what about love at first nose? Join Guerilla Science for a multisensory exploration of attraction with their "Lust, Sex & Brains" sensory adventures in dating. Open Senses & FuturePlay plan to turn up the heat a little when they propose the question "Is Virtual Reality actually a good idea?!" to a panel of tech experts and VR specialists, along with Sarah McCartney (perfumer), who asks us to "Consider Your Nose in Art & Life" and Steph Singer (BitterSuite), explains how her sell-out Sensory music concerts have been inspired by synesthesia.
Finally, it's all wrapped up in a gravity-defying Music Quiz presented by Sounds Familiar. Be sure to know your Rocket Man from your Star, your Blue Moon from your Dark.
From "Lessons in Lucid Dreaming" presented by Guerilla Science, through to explosive chemistry classes for grown-ups, the programme moves from the small & serious, to the downright silly.

Returning to Citadel are favourites Sunday Papers Live, who will once more bringing the broadsheets to life with a rousing assortment of speakers, politicians and comedians to discuss the news, from the biggest stories to the silliest tidbits. Sink into a sofa, grab a drink and watch it all unfold.
Now you've exercised your mind, why not work up a real sweat at The Spandex Stage, brand new for 2017. Work it out with 80s Fitness with Frame, Pump Up The Volume with Academia de Capoeira or Lovercise with London Fields Fitness. Slow it down with Family Yoga to cool down – and if you're partial to a Downward Dog, why not join in with Mass Yoga session with Stretch at 1pm.
Elsewhere, creative minds will be able to get stuck in at The Art Studio with The Indytute, where there will be drop-in workshops with Mr X Stitch, BKD's 'Icing as Art', 'Get Rich or Tie Dying' with Lizzie King, or 'Pimp My Pineapple' with Christabel's throughout the day.
The BUMP Rollerdisco is one of the most-loved corners of Citadel, and new for 2017 it will be transformed into a Roller Hoedown. Spin around to hoedown remixed sounds brought to you by DJ Badboy and DJ Tofu (of Glastonbury's Shangri La), but watch out for the roller-skating fiddle players and folk dancers. Bring your best checkered shirt and be wowed by a special Roller Ceilidh with Cut A Shine's Joe Buirski.
With all this to discover, you're bound to get hungry. Citadel pride themselves on offering the finest food and drink to fuel your summer Sunday. The tastiest vendors from London and beyond will be setting up stalls, to be washed down with craft ales and Smirnoff Bloody Marys.
Sharp's Brewery will be continuing their summer road trip at Citadel for the 2nd year running. Travelling all the way from North Cornwall, Sharp's will be bringing you a range of exceptional beers including the UKs no 1 cask beer, Doom Bar, served from their airstream bar. Come and chill out with the Sharp's crew, Cornish style, and seek out their Ale Epiphanies where a full and frank confession might just earn you a beer.
Families are very welcome at Citadel. Keep the little ones dancing at the Family Rave with Big Fish Little Fish – with an exciting guest DJ for the grown-ups, enchanted by storytelling from Dalston's Arcola Theatre or visit the Hackney Playbus Kids Area. Plus, there'll be glitter boutiques and fashion markets to browse.
The next chapter of Citadel looks set to further its status as one of the city's brightest new festivals, and one of the standouts of east London's summer landscape.
Sunday 16th July 2017
Tickets available now at ticketmaster.co.uk/citadel
Adults: £49.50 + BF, Junior (6-11 years): £6.25 + BF, Child (0-5 years): Free
#Citadel17
www.citadelfestival.com