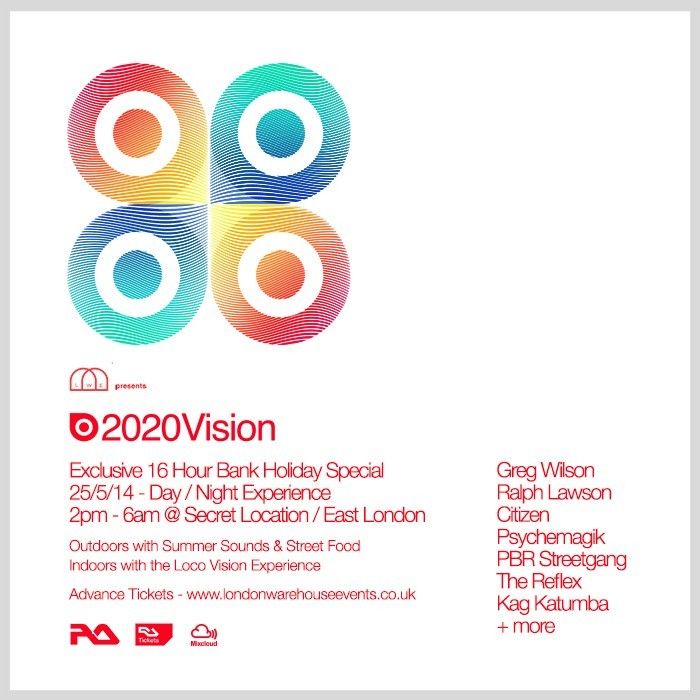 2020Vision day and night
2020Vision burst into the London party scene in 2010 by combining unique spaces, high quality production and amazing DJs; to bring a series of infamous all day parties. Now they are back to take the legacy one step further with a brand new day and night experience in East London on May 25th, bank holiday weekend. The outdoor terraced daytime party will be all about summer sounds and street food before venturing into the warehouse after dusk to get deeper and darker.
From disco to house to techno and back again, they've called in the trusted pedigree of Greg Wilson to play alongside a new wave of game changers.
Known to many as one of the most important figures in the history of UK dance music, Greg introduced Electro Funk to the UK in the early 80s; before mysteriously quitting DJing for 20 years. Returning with a re-edit compilation called 'Credit to the Edit', he was soon hailed as both the pioneer and king of the DJ edit scene.
2020Vison owner Ralph Lawson has a long standing reputation for being a tastemaker in the scene; representing the sounds of the imprint across the globe. Best known for his residency at Back To Basics Club in his hometown Leeds, Ralph has a long history of playing some of New York's legendary parties, as well as Berghain, Watergate, Sonar and many more. Expect a kaleidoscope of underground sounds as Ralph gets to delve into all corners of his record collection with a day and night set.
Londoner Citizen has positioned himself at the front of a new bread of house music producers, finishing off an incredible 2013 by winning the DJ Mag award for Best Breakthrough DJ. Chalking up big singles on Kerri Chandler's Madtech imprint, Waze & Odyssey's Street Tracks and a debut on Love Fever. His classic take on house music has it's own energy and atmosphere which will shortly be presented onto his debut long player for 2020Vision.
Psychemagik's first appearance on wax was an edit of Fleetwood Mac's 'Everywhere', which quickly found its way into the record bags of Tom Middleton and Greg Wilson. With a reputation for rocking parties with rare records no one else has the duo have since released an impressive array of highly acclaimed original productions, remixes and edits.
PBR Streetgang made their names at the legendary Asylum parties in Leeds before turning their head to production with critically acclaimed releases on labels such as 2020Vision, Future Boogie, Hot Creations and Hypercolour. Seamlessly gliding between disco, house and techno they'll be the perfect compliment to a sun set.