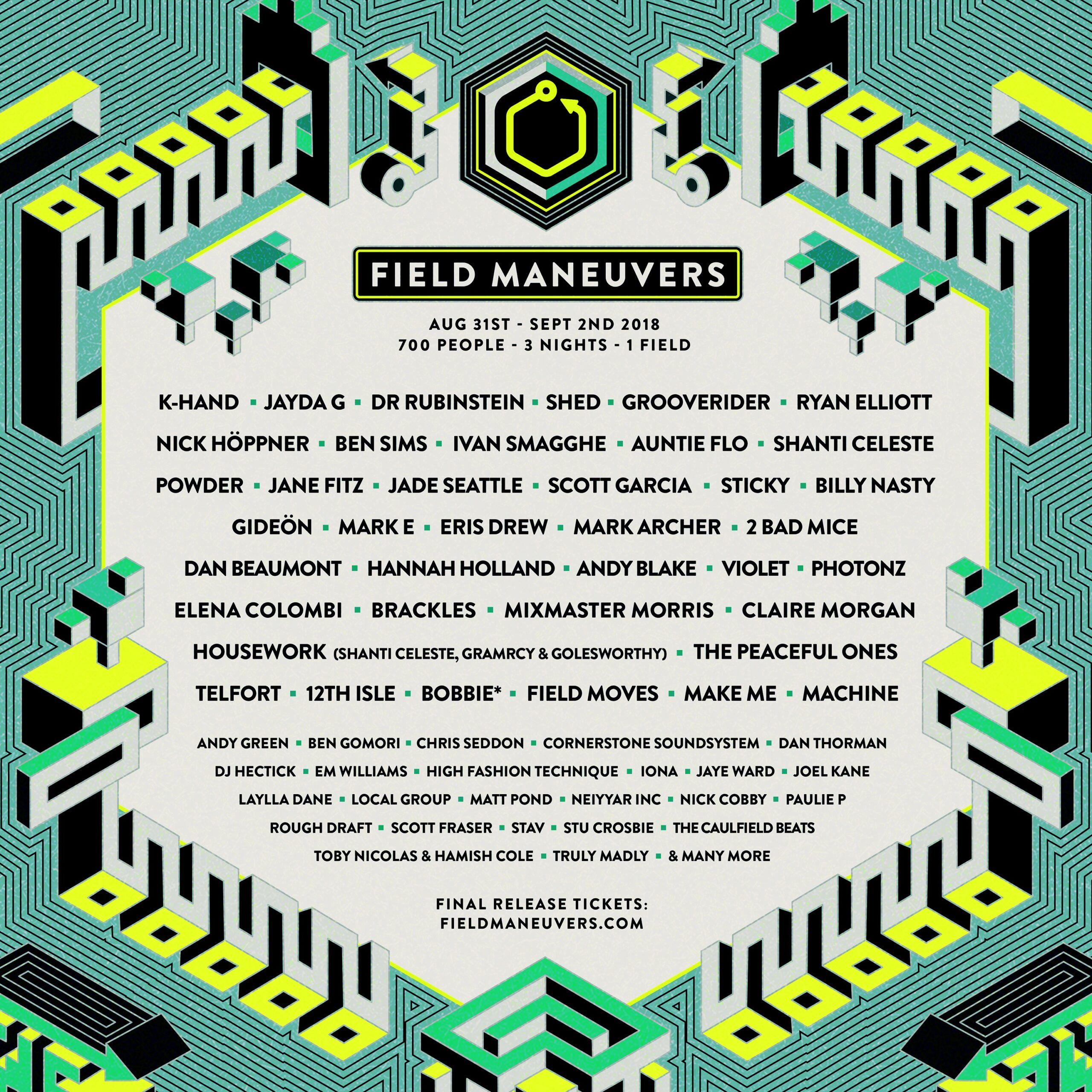 2nd Wave of artists announced for Field Maneuvers
Rounding out the summer on a mischievous high, Field Maneuvers takes the first weekend of September descending on one secret field, for a full weekend of sonic explorations and all out debauchery. Three venues become four, hosting 700 people with over 65 artists stepping crystal clear sound-systems courtesy of Funktion-One and Sound Services. Three nights, one field – clear your calendar for the jewel in the UK's festival crown. With tickets at just £119 for the weekend, grab one now here: http://fieldmaneuvers.com/buy-tickets
Field Maneuvers announce a stellar second wave line up, joining an already hefty roster of residents and first names including Nick Höppner and Ryan Elliot, Eris Drew, Dr Rubinstein, Shanti Celeste alongside the likes of K-Hand – the Detroit don making her festival debut. Gearing up for it's biggest year yet, catch French electro maestro Ivan Smagghe weaving obscure electro and witness Hardwax afilliate Shed's deep rooted love for UK rave. Journey downtown NYC with Jayda G – the disco aficionado known for sets spanning rare gems, floorfillers and sleazy house. Plus, Hamburg hotspot PAL's much loved resident BOBBIE* makes her first Field Maneuvers appearance.

New resident, Shanti Celeste also joins Golesworthy and Gramrcy, bringing Housework to the field. Also repping for Bristol, are Rough Draft, returning following a sun-soaked set last year. Flexing the sounds of the UK scene, Billy Nasty is on hand, and expect garage galore from Sticky and Scott Garcia, Drum'n'Bass from OG pioneer, Grooverider and hi-octane breakbeats from the legendary 2 Bad Mice. Ambient guru Mixmaster Morris also joins, while Glasgow crew 12th Isle will fly the flag for Scotland's scene, traversing from minimal through afrobeats and all that's in between. Fake palm tree serenades with High Fashion Technique's sloshy selections and dance til dawn with Birmingham boy, Neiyyar inc. The Caufield Beats add a smattering of punk and, of course, FM wouldn't be complete without long standing friends and fam, with Violet, Nick Cobby, and Dan Beaumont also onboard.

A first for Field Maneuvers, this year Ben Sims' Machine takes control of the Dome, all night long on Friday. There's a brand new, ambient tent ready to take dancers through to the early hours. Plus, Jane Fitz and Jade Seatle return with Field Moves, bringing a host of diggers and local heroes along for the ride. Catch Andy Green, alongside London stalwarts Chris Seddon andTruly Madly – armed with chuggy numbers. There'll be balearic, ambient and jazz from Dan Thorman, darker lines from veteran Stu Crosbie plus rave ready cuts from Body Hammer's Scott Fraser, and seamless blends from Toby Nicolas and Hamish Cole. Also joining Field Moves this year are Jaye Ward, Laylla Dane and Paulie P.
All of this is in addition to the MEGA bill with of the likes of rRoxymore, Dr Rubinstein, Eris Drew, Gideön, K-Hand as well as the incredible residents roster featuring Shanti Celeste, Brackles, Ben Sims, Elena Colombi and more – full line-up below.

Run by a group of music loving crew who know how to have a good time – Field Maneuvers has it all, a line-up to love, world class sound systems provided exclusively by Sound Services & Funktion-One, and an incomparable family feel. A nod to old school free parties, FM are 100% not for profit, bringing the highest calibre of artists to faithful ravers – guaranteed hands in air moments, and incredible music. Returning to FM, festival goers know it's magical atmosphere, and new faces its love at first sight with the lush, leafy, free party secret site – green grass, good friends just a stone's throw from London. Camping space is included in the ticket price, so there's no excuse not to get involved. With tickets nearing final release, act fast to join the fam. Grab them here: http://fieldmaneuvers.com/tickets