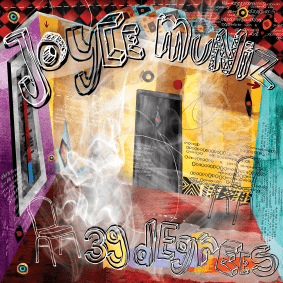 Joyce Muniz - 39 Degrees EP
Joyce Muniz joins the roster of Audiojack's Gruuv imprint this October with her '39 Degrees' EP, backed with a remix from Buckwacka.
Brazilian, Austria-based producer and DJ Joyce Muniz has been releasing her contemporary twist on classic house sounds since 2006, regularly on Shir Khan's Exploited imprint as well as the likes of DJ Hell's International Deejay Gigolo, 20/20 Vision and Culprit amongst others.
Kicking off the EP is the original mix of 'Get 'Em', fuelled by a bumpy drum workout, choppy bass hits and vintage string stabs whilst the hooky vocals and sporadic atmospheric fillers further fuel the groove. 'Morning Stories' follows, this time round laying focus on a pulsating low-end drive and off-kilter, ethereal stab sequences as organic percussive hits wander amongst the composition.
The third and final original from Joyce is up next, title-track '39 Degrees', taking a more groove- led approach via modulating drums, subtly blooming chord lines and unfolding atmospherics. Bushwacka steps up to close the package next with his take on 'Get 'Em', bringing robust, shuffled drums into the limelight alongside fluttering chords and classic dub stabs, stirring in the original's vocal throughout to keep things moving.
Joyce Muniz' '39 Degrees' EP is out on Gruuv 26th October 2018.
Tracklist
1. Get'Em
2. MorningStories
3. 39Degrees
4. Get'Em(BushwackaRemix)
5. Get'Em(RadioEdit)