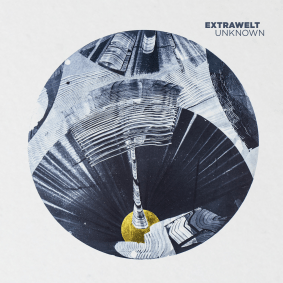 Extrawelt - Unknown
'Unknown' is the fourth album from Extrawelt on Cocoon Recordings, a 12-track masterclass largely devoted to a different creative side to this ever evolving musical duo.
The experienced German pair are long time label regulars who have become known for a techno and minimal sound that has also taken them to the likes of Darkroom Dubs and Traum Schallplatten. With a huge social media following, millions of streams of their tracks online and gigs from Berlin to Tokyo to Rio, they are at the heart of the modern dance landscape. Late last year they put out their third album on Cocoon, and this brilliant new offering explores a hard to categorise mix of electro, electronic music, emotional techno and more.
The tracks on 'Unknown' began simmering more than ten years ago without any goal or idea regarding release. Come 2018 though, the pair felt the time was right to dedicate an entire album to this side of their musical spectrum. As the duo say "We just felt for these tracks a lot when we made them, and never cared really if anyone would be interested in them".
Things kick off with the brilliantly explosive electro track 'We Are The Asteroid,' with snappy snares and alien vocals all hurrying you along. The spellbinding 'Fischmarkt On Acid' then twists and turns, with molten acid and bendy synths melting your mind and 'Auslöser' takes you on a trip through the cosmos with its sci-fi designs and cinematic synths.
Elsewhere on the innovative album is the driving electro-tech of 'Ort Und Impuls' and twisted synthesiser funk of 'Die Vorahnung'. The epic 'Under The Fridge' is another journey deep into analogue machinery that is arresting and otherworldly and the dark, broken beats of 'Streetwise' take you into a late night world of paranoid robotics. Things end on the suitably serene 'Herzstück', a cosmic voyage with beautiful melodies and more slick drum programming.
This is an adventurous album that shows off another essential side to long time dance legends Extrawelt.
Tracklist:
1. Extrawelt – We Are The Asteroid!
2. Extrawelt – Fischmarkt On Acid
3. Extrawelt – Auslöser
4. Extrawelt – Ort Und Impuls
5. Extrawelt – Runway Hitchhiker
6. Extrawelt – Die Vorahnung
7. Extrawelt – St. Morley
8. Extrawelt – Under The Fridge
9. Extrawelt – Das Diktat
10. Extrawelt – Streetwise
11. Extrawelt – Die Zitrone Der Schöpfung
12. Extrawelt – Herzstück