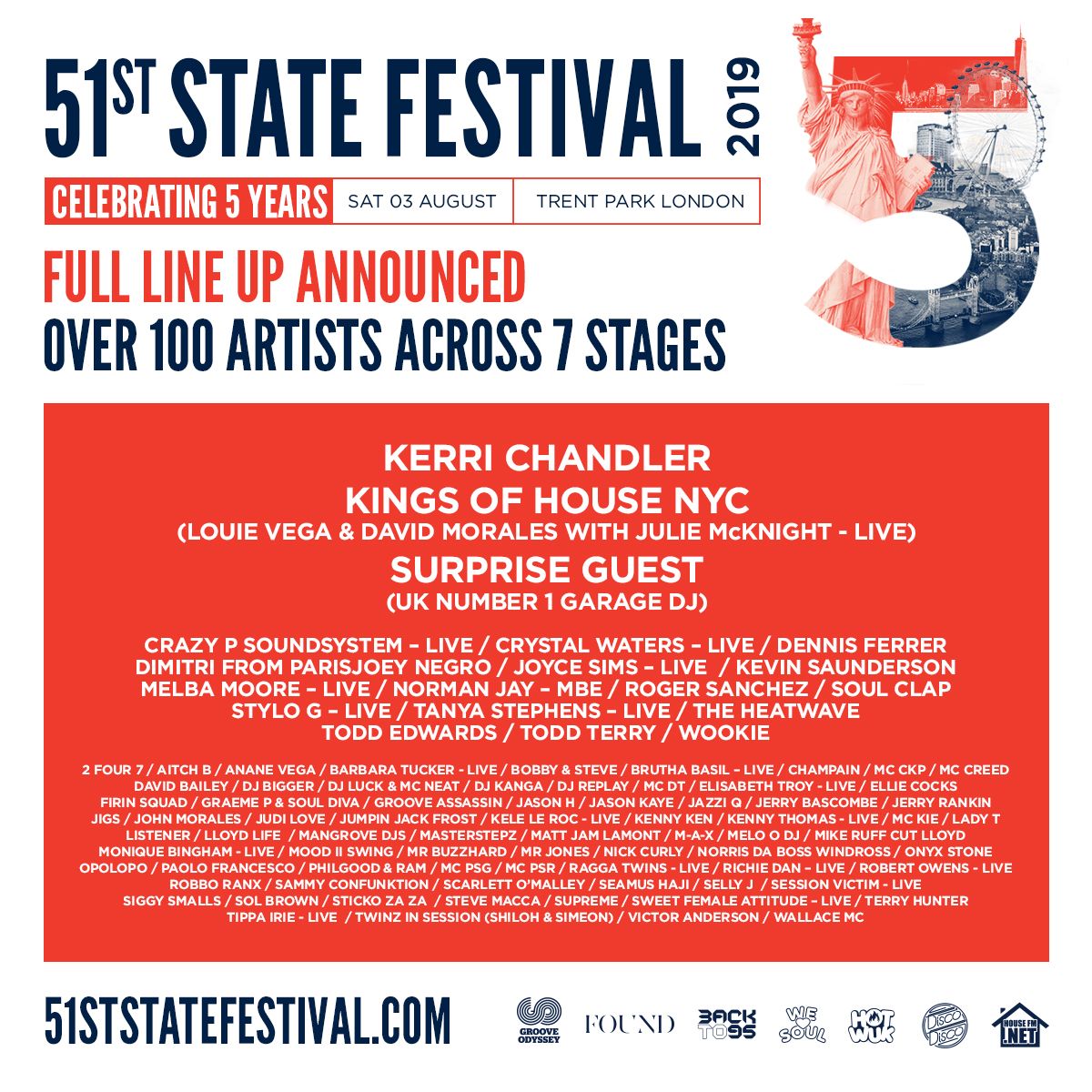 51st State Festival Announces Full Line Up for their 5th Birthday Edition
The most complete and comprehensive celebration of all things house music will be back with a special 5th birthday edition in 2019: after last year's sold out event, 51 State Festival takes place on Saturday August 3rd in Trent Park, London, with full line up announced: Kerri Chandler, Kings of House NYC (Louie Vega & David Morales), Surprise Guest (UK Number 1 Garage DJ), Dennis Ferrer, Dimitri From Paris, Soul Clap, Mood II Swing, Roger Sanchez, Todd Terry, Kevin Saunderson, Todd Edwards, Norman Jay, Joey Negro, Crazy P Soundsystem, Wookie, DJ Luck & MC Neat, and live acts like Robert Owens, Julie McKnight, Tanya Stephens, Crystal Waters, Melba Moore, Joyce Sims, Kele Le Roc, Monique Bingham
Over the last five years this festival has built up a real following of house lovers, made a name for itself with plenty of unforgettable moments and a reputation for joining the dots between the US, UK, Caribbean and Europe, between classic, tech, afro, garage, soul, dub, dancehall, disco and deep.
The independent event is run by real music lovers and this year the VIP area will be revamped with a revised queuing system, bigger VIP area and structures with superior facilities. A dedicated music arena will also return to the new and improved VIP area. Making seven stages in total across the whole festival hosted by Groove Odyssey, Found, Backto95, We Love Soul, Hot WuK, Disco Disco and House FM.
The location for it all is the blissful Trent Country Park, situated in 413 acres of rolling meadows, enchanting brooks and lakes, ancient woodland and imposing historical sites. It is a rare bit of natural green belt beauty in London which offers a place to relax and chill right on the outskirts of the city, making it the perfect place for this one day celebration of house music.
The line-up takes in a dazzling mix of world renowned super stars, hot up and comers, legends of the scene and DJs and live acts from all corners of the house world. Many more names will come in the next few months but already the line-up is outstanding. This is the most essential house music festival in the world, so act soon to secure your place at what is sure to be one of this year's key historic events in the UK's capital.
51st State Festival 2019
Celebrating 5 Years
Saturday 3rd August 2019 (11AM – 10PM)
Trent Park, London (Subject to licence)
www.51ststatefestival.com