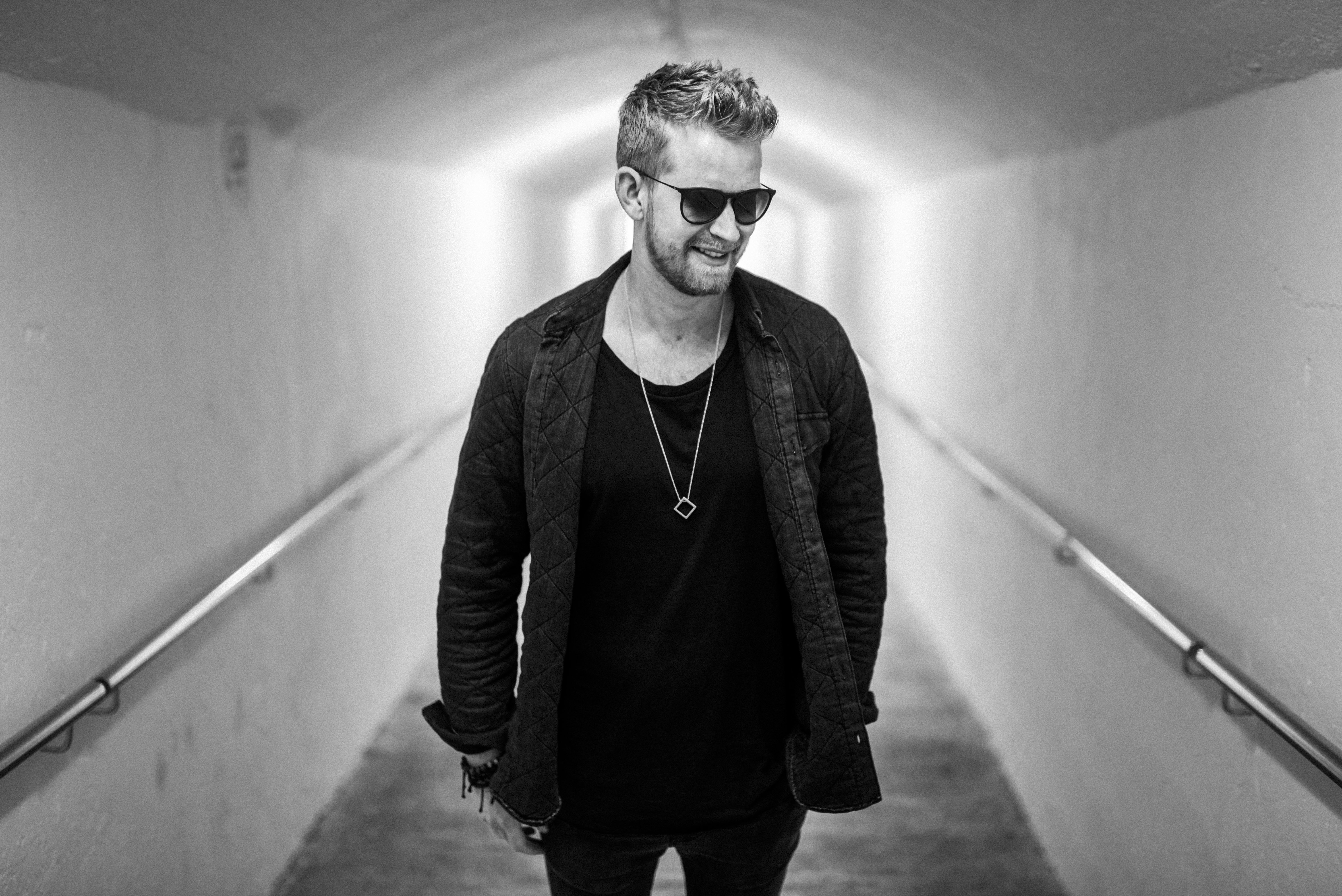 60 Seconds with… Anders Ponsaing
Danish producer and DJ Anders Ponsaing moved to Ibiza last year to broaden his musical horizons, With his new 'Deep Gravity EP' out on Favouritizm, we stopped by to share a Gin & Tonic and find out how it's going on the white isle.
Hi Anders, how are you and what have you been doing since the start of the year?
Hi, I'm doing very fine, I'm enjoying the weather here in Ibiza very much.
 Since new year I have been concentrating on producing music, networking with all the cool people here on the island and I have a lot of cool new things on the way.
How would you describe yourself musically?
Musically I would say I am a very melodic and chord based TechHouse, DeepHouse and Techno producer. I really like when it has some nice dark edge to the track and still having a good groove that makes you happy and want to move.
What came first for you, djing or producing and how did you get into it?
That's a good question, I have been producing music since I was 16 years old and I always had a funny look at DJ's because I at that time just thought they only played what ever a producer has made. But when I was 20 year old I met my really good friend Allan Hannibal. He told me that I needed to start DJ'ing as well to get further. He help me by getting me a gig in a nice small Danish bar in Odense called Bar Rar where they played really cool house music. He told me in 1 week advance that I needed to learn how to DJ and find music for 6 hours. And it kind of took off from there! It changed my view on DJing for good. 🙂
You have a degree in Sound Techniques, how has that helped you and how do you think you have evolved since you first started producing?
First of all I think it helped me a lot when I needed to learn to DJ. A mixer wasn't new for me and because it gave me a big basic knowledge about Sounds, Music theory, recording technics and having used compressores in live situations have helped me a lot. I think I haved evolved a lot over the last many years, but only in fine adjustments and now everything I do is just incorporated in my workflow.
Describe your studio set up
After moving to Ibiza last year I came from a big nice studio in Nyhavn, Copenhagen where I had good expensive studio monitors and a nice controled room. Now I have minimized every down to a small basic setup. and I love it !!
 I'm producing everything now on my Macbook Pro 2013 with Logic Pro, Apollo Twin Duo Soundcard and a small travel Keyboard from Akai. Using a lot of UAD plugins and my favorite synth plugin at the moment is U-he Diva. And to mix, master and produce everything im using my headphones, which is really rare I think. But for me it's perfect. I think my mixes are very good working with them, so check out the danish brand AIAIAI.
Tell us about your new 'Deep Gravity EP' on Favouritizm and what to expect musically?
The EP is a journey with deep basslines and evolving sounds. Deep Gravity has a deep lead starting from the ground and up. And Black Soda has a very nice melodic top line, but also in the low end, the bass has a nice feature and almost takes over the lead.
In terms of favourite artists, is there anyone you would love to work with?
On the top of my list, I think Solomun! But I think David August is so cool producer too. I would love to make a track with that guy. 
Also Guy Mantzur, I would love to do a track with him too!
What part do you most love about your job, writing or performing and why?
I absolutely just love that I can work with music everyday. That I can make my own, be creative and then go out and test it. I love to read the people I'm playing for and take them to places musically. To receive their energy from what I'm playing is almost like a drug. It's amazing !
 I don't think I can choose between producing or DJ'ing the most as for me they go hand in hand. The best feeling is definitely playing your own stuff and see how the track just works.
And what's been your biggest achievement so far?
Oh, it depends on how you see achievements. Personally my biggest achievement is that I can compose, record, produce, mix and master everything myself. And that people are telling me my own mix and master is that best one. That makes me feel really proud.
 But the response we received with my remix of "Don't Tell Me No" is incredible achievement for me! We passed 2 million plays on Youtube and received some big names as Tiësto, Don Diablo, Eva Shaw, Spartaque, Ian Carey and more.
Describe your ideal DJ gig?
My ideal gig would be a 2 or 3 hour set playing just before and after sunset outside somewhere packed with people ready to hear house! Probably in Ibiza of course 🙂 I love this place!
You now live in Ibiza, where do you play and what have you got lined up for 2017?
Last year was my first summer here ever. I didn't know anybody when I arrived and I ended up playing 6 days a week at the place called Avenue Ibiza.
 This year I have some nice events lined up and also a weekly gigs at Me Hotels. This season is gonna be awesome and I can't wait!
What's been your worst nightmare / most embarrassing moment in a DJ set?
Well, I have actually never really had a bad experiance or bad gig. I can think of one time I have tried to play infront of 400 carpenters in Denmark. Not that I'm saying they don't like good music, but in this case we were just not on the same page music wise 😀 They only wanted folk music and that was not really what I had. So I struggled with playing Disco and older classics 🙂 
It worked okay, but it was not really what they wanted. 
I think I'm pretty privileged to not have anything worse than that.
What do you like to listen to when you're not in work mode?
I really like to expand my music knowledge with new genres and styles. I often listen to more relaxing music, Chillout, Lounge, Jazz and downtempo stuff. But I think I've always got my work head on, even then I'm relaxing and enjoying music.
What else should we be looking out for from you in the next couple of months?
I have an exciting new remix coming out! I made it for Steen Thottrup again just like "Don't Tell Me No". It is the title track from he's upcoming album "Balearic Bliss". I got the honor of remixing it and I am very satisfied with the result, perfect for beach clubs.
 But I also have a new track on the way. I can't say much about it yet, but I love playing it out!
'Deep Gravity EP' will be released on Traxsource promo May 8th / Full release May 22nd 2017 on Favouritizm.