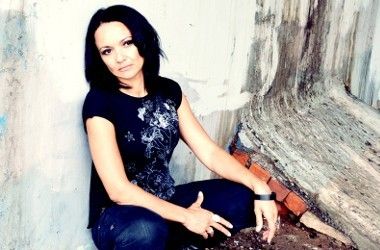 60 seconds with… Angel Johnson
Angel Johnson is a house music pioneer crashing onto the scene in the 90s in a male dominated world. From the Hacienda to the Chuff Chuff parties, she's done it all alongside Frankie Knuckles, Tony Humphries and the likes. Today she returns as her alter ego Venus In Motion with a new album that will set Ibiza's sunset strip alight…
Your new album Somebody's Heaven covers an array of tones from jazz to chill out and pop to electronica. Did you grow up around many different sounds?
I grew up listening mainly to pop music with a little rock, soul and folk thrown into the mix. Throughout my early teens I jumped on whatever was hip at the time. There was a Mod revival in the early 80, then a Ska revival. I listened to The Beat, The Specials, and The Selector. Being a mixed race kid I really identified with this genre as it symbolised the unity of black and white. Later I got into New Wave, The Human league, Ultravox and Depeche Mode, then when I left School, I started going to underground clubs which were playing Jazz-Funk, Soul and Electro, so yes I was into everything!
Tell us a bit about the inspiration for the album. It seems to be written from the heart…
What inspired me to produce this genre was listening to bands like Massive Attack, Nightmares On Wax, and Zero Seven. The inspiration for the album comes from a combination of personal experience, people watching and brooding over life. I always write from the heart regardless of whether the song is personal or fictional. Although musically this album is warm uplifting chill out, lyrically it's very melancholy. I have a tendency to write sad songs no matter where I'm at mentally. I'm not a pessimist; completely the opposite… I think it's just the way I process my emotions.
Do you have a preferred genre to produce?
I think I prefer whatever genre I am working on at the time. I just love producing music. I always have about ten different songs on the go so I tend to flit between them. Then I leave them a while and go back and listen on fresh ears. At the moment I am working on some House music again and I am really enjoying it. I don't ever want to be restricted or feel boxed in by style or genre. I want the freedom to produce whatever type of music I want wherever the mood takes me.
As one of the first female DJs on the house scene back in the nineties, how did you get your break in what was a uniquely male vocation?
I worked on the bar at Venus, one of the most predominant clubs of the time. The resident DJs Tim & Laurie, Christian Woodyatt and Paul Wayne, were amazing and what they played alongside the guest DJs, fuelled my addiction of House music. Then I saw a TV program about women in Bristol taking up DJing and it suddenly dawned on me that women could DJ too! That was it – I wanted to DJ! Then Christian Woodyatt gave me some records, lent me the money to buy some decks and said pay me back when you get your first gig! I spent months glued to my Technics 1210s and produced my first mix tape. I gave that tape to Venus promoter James Baillie, who loved it and booked me for New Year's Eve 1991 and the rest, as they say, is history.
You must have witnessed some 'memorable' moments working alongside all those boys. Any you're allowed to share with us?
A very memorable moment for me was DJing at the Hacienda's 11th birthday party in 1993 with the likes of Tony Humphries, David Morales, Frankie Knuckles, Graeme Park Mike Pickering etc. There were 16 DJs playing that night and I was the only female. I had been playing for two years by then. Getting booked for such prestigious nights was a testament that I had got to where I wanted to be and that musically and technically I was worthy.
What was the scene like back then and how does it compare to today?
The scene back then was a united underground movement that recruited members like wildfire. We had our own fashion, our own style of dancing. It's no secret that the scene revolved around two things House music and ecstasy but there was so much more to it than that. The music united people with love… if it sounds hippy, it's because it was. There was love in the air. People had their heads so deep inside the music not just on the periphery like many people nowadays. Nowadays the dance scene is diluted but people are turning their heads once again to more underground sounds which is fantastic!
On Somebody's Heaven you work with a variety of musicians and vocalists. How do you decide who to work with?
Along my journey I have met some very talented singers and musicians. Collaborations have formed very naturally and I've kind of just gone with the flow. The three main singers I work with Siobhan Lynch, Cherry Mars and Naomi Moss all have very different voices. I like the prospective that gives to the albums.
What gets your creative juices flowing when you start a track?
The creative juices are always flowing. It really is constant with me. I'm always lost in my own little world humming melodies and singing little ditties into the voice recorder on my phone, dum dumming bass lines etc. People must think I'm mad as I do it wherever I am. I just stop dead in my tracks while walking down the street and start singing into my phone. I have to or else I'll forget the idea.
What is your soundtrack to spring, what music are you chilling to right now?
I have recently been listening to MinusBlue, who has just released an album on the same label as me, called Living Life In Phases. It's a really beautiful album with wonderful melodies and lush vocals, which keep running round in my head compelling me to listen again and again.
How was your live Venus In Motion gig at The White House last weekend?
It was great. Performing live is something pretty new for us but we loved it and so did the crowd so I'm in the process of planning more live gigs.
Venus In Motion Somebody's Heaven is out now on Seamless Recordings www.seamlessrecordings.com