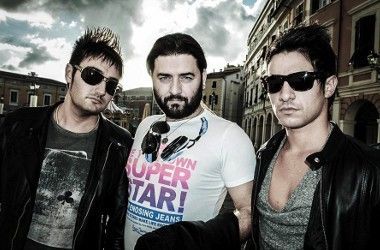 60 seconds with… Doctors in Florence
Doctors In Florence have been making waves in the world of uplifting and energetic Progressive House for a while now. Their most recent present to world came in the form of a vocal rework of their massive "Lotus" with Dance music legend Marco V. With the huge vocal talents of Jade Ross on board for the single – it was always going to be a smash hit.
The boys have been keeping busy with a globally syndicated show and a host of other projects that continue to prove these guys as a serious production outfit. The Italian Progressive House heavyweights have been carving up some of the most infectious melodies and high impact drops around for sometime now – so we've called them in for a chat.
Hi guys, thanks for having us. Firstly, introduce yourselves as individuals and let everyone know what your number one strength is that you bring to the Doctors In Florence team.
Hi Thank You for having requested us! We're so proud of this!
Doctors In Florence is our Progressive House and Electro project made by Fabio Andromeda, Rehnoir and Mike Lucas. Every one of us has our own fortes that we add to the team. For example – Mike is the main author of our melodies and arrangements, whist me and Fabio work on most of the production phase. This doesn't mean that tasks are compartmentalized though! Each of us puts our ideas everywhere; we're a real democratic team!
How did you guys end up becoming a DJ/production group?
Rehnoir and me are the oldest of the team and have been producers for a few years now with other pseudonyms. We had already been Tech-House producers and we had experimented with many genres including an Electro track that has been heavily played on the Italian dance floors. We started as a project together with our solo names, then two years ago we added Mike to the team – so since 2011 we are the doctors. 😉
Let's talk a little about the "Lotus/Limitless" release
It was an instrumental release last year right?
Yes the wonderful Flamingo Recordings from Fedde le Grand released this track in November 2012 and this tune reached a great audience across the world through that. It was widely supported by some of the most important DJs in the world and we're truly grateful to all who supported it.
How did you guys originally hook up with Marco V?
Marco V is our mentor. We had the prospect to play the track to a person very near to Marco and through him we made contact. From this moment on our collaboration history was born. We are so happy about this collaboration because Marco is one of the best DJs in the world. An idol!
Was it always planned that their would be a vocal release in the future?
No, but in the light of the good results of the original mix Marco talked with us and we had planned a new release with some great remixes (the Swedes Darwin & Backwall and the Italian top seller Simon From Deep Divas) with the vocal of the fantastic singer Jade Ross! We all decided to release the vocal when we listened to her vocal on the track.
Where does the name Doctors In Florence come from?
The Doctors In Florence name was born because of the advice of a friend Enrico taking the name from the world's most artistic city: Florence!
Tell us about the "Doctors In Progress" show. How is that progressing?
The Doctors In Progress radio show was an idea for some years ago with another name as a joke. Now we broadcast the show in many countries around the world. Our radio show is weekly and once a month we usually create a special "mashup edition" containing all mashups made by a lot of talented friends from all over the world. We received a lot of positive feedback for the first mashup edition, so now we create it monthly.
What is lined up this summer for you guys?
In the summer we usually work at some little Italian festivals and open air clubs, but during the summer our favorite gig is in Sardinia island where we play at an unforgettable party with many friends each year.
You have developed a huge big-room production quality in your release recently. Who does what in the studio?
The track was made in Marco V's studio with all of us together – so I have to say that you can hear all of our skills all combined.
What are your favourite tools in the studio at the moment?
UAD, EXS24, MASSIVE VST
Best DJ Effect on a mixer?
Filter of the DJM900
Best club in the world?
We need to visit a lot more clubs to give you a proper answer 😉
Best DJ in the world?
We absolutely want Fedde as #1 next year with a photo finish with our mentor Marco V.
And finally – some professional medical advice for the readers – what's the best hangover cure for after a long night?
Hahaha yes of course! We will wake you up after a great party and the only thing you need to do is to turn the radio on and pump up the volume!
Thanks guys and good luck with all forthcoming projects.
Many many thanks to you Matt! It has been a real pleasure talking with you! Hope to talk to you again soon!