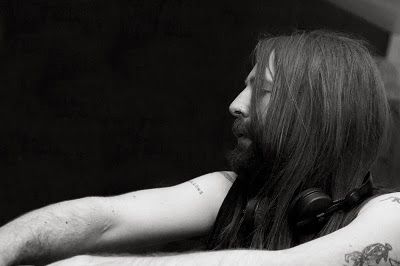 60 Seconds with… Ben Lost
It's a pretty rare turn of events, all things considered. Whatever it might be in life, when you go, you go. Leave. Done. Dusted.
Every now and then though, that 'unfinished business' aspect starts to play a part. Such seems to be the case with Ben Lost, the former, and now once-again honcho/A&R of estimable label enterprise Lost Language and helm of its 'Exhibition' mix-series.
There are additional factors in this of course… It's the label from which many believe he drew his name and 'Exhibition' – the label's primary mix-series – was something he conceived and first launched. On the eve of 'Exhibition's return, with its mightily impressive fifth edition, I sat down with Ben to hopefully debunk some myths, authenticate a few others and find out what's now what in the world of Ben Lost and Lost Language.

> So welcome, Ben! How are things in general with you at the moment?
Ben: Great! Several pans in the fire. Two radio shows, a band, a club and a record label, all keeping me very busy. My wife and I recently moved to the Shropshire countryside with our six month old son. Salopian family life is beautiful. Everything stems from that.
> First off tell us about the timeline. When and why did you first take leave of Lost Language for other interests and when did you reconvene?
Ben: I drifted away in the summer of 2005. At that time I was living in the back room of an East London record shop, amongst the racking. I'd stay up all night listening to records, mostly Techno, Italo, Minimal… I was sick of Trance, and a little sick of myself. Looking back, I was having a predictably trite, existential crisis. In around 2008, I read David Foster Wallace's 'This is Water' and David Lynch's 'Catching the Big Fish', both of which had a profound effect on me. I started meditating, binged on mysticism, and my demons left the party via the back door. Then I had to wean myself off the mysticism. Sometimes you need to be an animal. So after some fine tuning under the bonnet, I eventually returned to Lost Language in the winter of 2012..
> Five + years is a long sabbatical, what have you been up to in the interim?
Ben: There's been an endless stream of projects. Writing, recording, acting, performing…..and loads of bands – a few of which are still going. We wrote some some great music but it never paid. I've worked in a sweet shop, an envelope factory, sold holidays, leather jackets, my body (to medical science) and most of my belongings. I did some travelling, the occasional DJ gig, got married and grew up, a bit. I'm currently learning to drive a lorry. I'm an unpredictable man in an unpredictable business, and I need to be able to look after my family if circumstances change again.
> What tempted you back to the Lost Language fold?
Ben: Harry War Rooms (Federation's Army Medic) took me to some great UK Psy events, which piqued my interest in that side of Trance again. I'd also heard loads of great stuff while I was travelling. Full on Psy-Trance at Thai Black Moon parties, Goa in the Mushroom bars. Hardcore Techno and Psychedelic House music in Russia and Miami. All these musical experiences, including those long nights at the record shop, brought what it was that I loved (and hated) about trance music back into focus. Naturally I wanted to share it.
> Was there an element of 'unfinished business' about your return?
Ben: Yeah, a little. On a fun, casual level. It was quite low key at first. I didn't burst through the doors – frostbitten, bedraggled, icy winds billowing behind me – announcing my return. I dipped my toes in, offered some advice here and there – but LOST123 was the turning point. That's when I stepped up to the pulpit proper.
> The record label world is always onward moving of course. Where artistically do you see L.L. standing in and amongst the current trance label landscape?
Ben: We're non-denominational when it comes to the trance we seek out. The moods we look for can be found in so many genres. We're never chasing a fad. It's an open ended, malleable style that fans of the label understand. I cut my teeth at Hooj where a large part of our A&R appeal was putting together eclectic remix packages and that has definitely bled into the way I manage Lost Language.
> A&R-wise, Is there a mission statement as such?
Ben: To excavate the bones of our past and wrap them in the flesh of our future. Musically, I'd like to take things further in every direction. Trance was born out of a very diverse and ambitious mix of styles. I'd like to reconnect with our past in a modern context. The term 'Lost Language' has become a self fulfilling prophecy.
> It's kind of a 'chicken and the egg' situation to most, so clear this up for us: did the artist name Ben Lost indeed derive from your first period with Lost Language or was it something you already had when you came onboard!?
Ben: I joined Hooj just as Lost Language was starting. Sean Pollen and Red Jerry had signed a handful of releases that no longer sat comfortably amongst the deeper, more percussive singles Hooj were putting out at that time – Killahurtz, Trancesetters, Silvio Ecomo, etc… Meanwhile, I was spending every weekend listening to Trance at Gatecrasher and The Gallery, so I was especially enthusiastic about Lost Language and it's potential. It was a busy time, and they were happy for me to take the lead. Soon after that, Red Jerry named me Ben Lost in an interview and it stuck.
> We're primarily here of course to talk about the release of 'Exhibition', the fifth in the series and your third in its mix history. When you mixed the first (with Solarstone) in 2003, what were your intentions or goals for it?
Ben: I've been fascinated by the art of set building since my teens. The early Renaissance compilations, Deeper Shades of Hooj, Gatecrasher Black, Red and Wet, The Goa Mix, Fluoro etc etc…..Like any great album, a great DJ set should be a complete 'thing', a soundtrack to a story that's unique to each listener. So yeah, I was really excited about putting a mix of mine on CD. But sadly I look back on my first Exhibition mix as being a little bit crap. Structurally at least. Still, Solarstone's mix and the overall quality of the music was great. The label's profile rose, I was booked to play a steady stream of amazing, international gigs and I learnt a lot of valuable lessons.
> In returning to it, what was it you wanted to 'say' with this one?
Ben: That I'm excited about underground Trance music again. That it doesn't have to be a childish, lowest common denominator genre. I want Lost Language to raise the bar when it comes to pushing this deeper sound and the way it's presented. So much Trance/EDM artwork seems to consist of bland/sexist/cod-futuristic imagery or cheesy old men in white suits. It really cheapens the music. Which is why I commissioned the beautiful 'By Your Side' piece from a talented artist called Tom Bates.
> Since you rejoined Lost Language, there seems to have been a shift in A&R tone and direction, one that's prevalent on the album. Would this be something you'd agree with.
Ben: Yes I would. No disrespect to the guys who were looking after the label in my absence but I feel there was perhaps a loss of identity in recent years. They did put out some amazing releases during my 'existential/spiritual sabbatical' though, a couple of which found their way onto Exhibition V.
> Not necessarily in terms of Lost Language's A&R specifically, but what do you feel are the most significant trends in trance, both of late and going forward into 2014?
Ben: There's a darker, more hypnotic sound emerging again. I can hear lots of producers reining things in, opting for a more subtle approach. A greater focus on groove and melody. Less nonsense. Less fuss.
> Tell us a little about your process that the compilation went through, in terms of its A&R'ing and mixing?
Ben: Mentally, the mix had been taking shape for quite a while but I hadn't been back at the label that long, in release terms, so on more than one occasion I found myself waiting for that 'next' signing, or that 'next' remix to arrive. The missing piece, as I saw it. Then within a week, Freesoup's 'We Who Have' and Activa's remix of 'Dream Universe' landed, and at that point I knew I had enough to field a world class starting line-up, with a few on the bench. I started recording some draft mixes which I'd listen to in the car, or while I was hoovering. There were a few false starts, but I think I nailed it on the third or fourth attempt. I resisted going down the 25 tracks in an hour Ableton approach, as I wanted the mix to have an old school 'live' appeal, giving each track a chance to breathe.
> Do you find compiling or mixing the toughest aspect of the compilation's creation?
Ben: When I'm mixing one of my 'Beyond the Black Radio' or 'Indigo Void' shows, I have literally thousands of tracks at my disposal, whereas with Exhibition V, I was choosing material that was exclusively signed to Lost Language – around 20 of which had the specific credentials I was looking for. Nailing the structure was actually quite difficult, like some kind of puzzle.
> Will you be touring in support of the album at all?
Ben: We're putting something together, starting in India, and hopefully taking in some US dates. We'd love to hear from any promoters that want to get involved. You can get in touch via my website, social media etc. I'm also starting a night in Sheffield on April 25th alongside J00F editions resident Jon Cockle. Activa and ManMachine are also on the bill and Federation will be performing a rare live set. It's shaping up to be a very special night.
> There's been a lot of early buzz around the album (MIXMAG for example have just made it one of their March Albums of the Month) and there's already talk of an 'Exhibition VI'. If that comes about, do you think we'd be likely to see some Ben Lost/Federation tracks or remixes on there?
Ben: I write a lot of songs but I never got into the production side of things, perhaps to the detriment of my career. My strengths are in words and melodies, hooks and riffs. I really enjoy collaborating though, so there could be a 'Ben Lost' release if I find the right person to work with. Federation is very much it's own thing. One of the most unique bands I've ever been in, and there's been a lot. We have our own label called 'Feed the Moth' which is an uncensored, unrestricted outlet for our own material. We have two releases pretty far down the pipe, both with videos, one of which features Rich Solarstone roughhousing me naked in a tub. Alongside the releases, our main focus is the live show.
> The album's a good kick-off for the year; what else does 2014 hold in store for you?
Ben: We're working hard to fill the diary with bookings over the coming months. I want to take this style of Trance to as many places as possible. If you're a fan and you want to see me in your city, get in touch, hassle your local promoters, and we'll make it happen. 'Indigo Void', my weekly show on DI.FM, is going from strength to strength, and I'm confident our club night of the same name will be a huge success. Jon Cockle is coming to the end of his amazing three month 'Beyond the Black Radio' guest residency, then I'll be returning on April 22nd, ready to host the second season.
That sounds plenty busy! We've looking forward to all that already! You can keep up to date with Ben's runnings through the links below!
www.benlost.com
www.facebook.com/benlostmusic
www.twitter.com/ben_lost
www.soundcloud.com/ben-lost
www.lostlanguage.com
www.soundcloud.com/lost-language-recordings