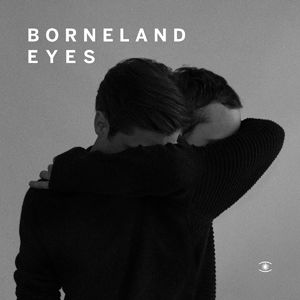 60 Seconds with.. Borneland
Borneland, the hotly tipped Danish brothers are one of the country's most prolific new DJ duos, playing 3-4 gigs a week in Denmark and across Europe.
Having established their name with a string of several successful bootlegs including Destiny's Child 'Bug A Boo', they decided the time was right to launch their own release in the shape of the sublime, eclectic single 'Eyes'. The track combines classic keyboard sounds individually championed by the brothers including Rhodes piano, Prophet 08 synth and characteristic SH-101 sub bass, with acoustic violin by Andreas Birk and soulful vocals by Line Gøttsche. This is a track that not only communicates the simplicity of life and the perdition of love for another person, its fragile and compelling beauty just sticks in your head.
How has your summer been?
Amazing! Denmark and the Danes have gone crazy with music festivals and cultural stuff, we had hardly a quiet moment this summer. We also moved to a bigger studio. It's a great feeling to step into this big white and spaceshipstyle clean studio every morning and knowing that the legend Kenneth Bager and Kylie Minogue's producer Cutfather have been here before us. You really feel like you have made it – or that you have to do it to pay the rent.
How long have you been recording?
We've played drums and keyboards since childhood – but started producing professional for like two or three years ago probably.
Where do you record?
In our 48-square-foot studio in Copenhagen. It's built by Holger Lagerfelt, a guru in mastering. Every detail in the studio is built to deliver the best possible sound. It is an old sugar storage that in the end of the 90's was rebuilt into a five-floors with studios. Many of the big records have been created here over the years.
How would you describe your sound?
Soulful electronic pop, with a fondness for detail and uplifting melodies.

Are you working on an album?
Of course! But can not really say when it will be released. Details are really important for us and we always only like to deliver absolute best – and that takes time to achieve that level without compromise on some.
Which other artists do you admire?
Without a doubt, people like Classixx, Flight Facilities, Roosevelt, Poolside, and the Danish producer Kasper Bjørke.
We've followed almost all of those artists from their first releases. One thing they all have in common is their simple production styles and their love for the details. We're very inspired by these artists.
How did you meet Kenneth Bager and the Music For Dreams label?
First time was for a gig the day after Christmas in Jutland. Not sure he could remember us from it – but we can remember him! Haha. Our connection to the label, was when a friend of ours sent the demo for our debut track 'Eyes' to Kenneth. He shortly called us up after he had heard it and said he would like to release everything we had produced.
Does Denmark have a vibrant club scene?
We think so. Although it is a relatively small country, there is room for almost every kind of music and space for virtually any type of venues and people – and the Danes are known for partying.
Where can you currently be heard DJing?
The festival season is over, so now we are back at the club. We have some cool upcoming gigs we are looking forward to. But keep an eye on our facebook page for more info – Would love to see you guys around!
What inspired you to cover 'Bug-A-Boo'?
Actually it was not planed that the track should end up as a bootleg. We found out that we work better if we have a vocal during the build of the track. So we found a lot of acapellas and this one from Destiny's Child just fit so perfect that we had to release it. Although it was intended as a blueprint and should have been replaced by a new vocal made only for the track. Thats actually how we produce most of our tracks.
Any more bootleg mixes planned?
Currently, we have a lot of focus on our own tracks. But you never know, it could be fun to do some more… Any suggestions?
Are you planning to record house tracks?
We love vocals and the way pop music is structured. So much that we could not produce house music on our own. Perhaps in an collaborate at some time? But we love to play house music when we are djing.
Will you be playing live gigs?
Oh yes! we have recently played some smaller live sets, and we love it! Can't wait for the next live gig. We are constantly developing our live set-up and we use an unimaginable amount of time and energy to get it as good as possible. Next times gig it's the legendary Coma Club – but don't know if it's still a secret? You guys can be the first to reveal it!
The phenomenal debut single will be released by well-respected Music For Dreams record label, with its legendary frontman Kenneth Bager manning the controls. The single 'Eyes' will be available on all digital platforms with a limited edition vinyl version available in a few carefully selected record stores.