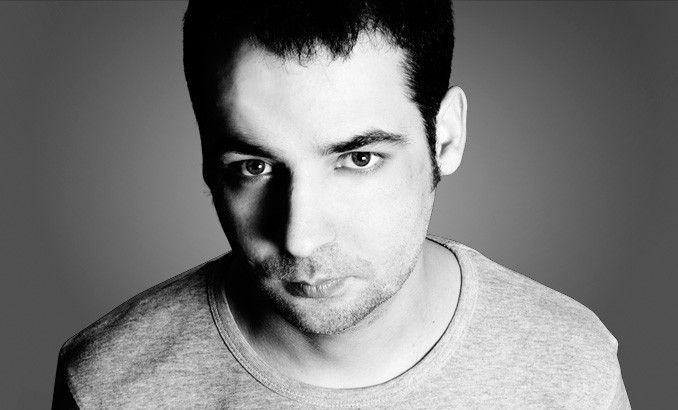 60 Seconds with… David Ponziano
Spanish producer David Ponziano came on to our radar recently thanks to the Remember My Beat EP, a fantastic series of rough and ready house-inclined cuts that are primed for the floor, and come armed with a fine remix by Shades of Gray. As we soon discovered, however, the EP is far from Ponziano's first foray into electronic music. We called him up recently to get the lowdown on the EP, the scene in his hometown of Madrid, and his take on what he calls 'library-made cheap music'…
Beatport: http://www.beatport.com/release/remember-my-beat/1182062
Hey David, thanks for taking the time to do an interview with us. Where did you grow up and when were you first introduced to electronic music?

I grew up in Madrid. The first contact I had with electronic music was through some older friends who were already clubbers. I was about 13 or so.

What was it about the sound that made such an impression on you?

In 1995 I listened to some rock and rap bands like Def Con Dos, Soziedad, Alkohólica, Kase O, Public Enemy and House of Pain, but suddenly it came to me via a mixtape compilation with some EBM and Techno-Pop tracks from the '80s that really caught up my attention. Since then, I started looking for more and more, right up until this very day. But I guess it really was unlike anything I'd heard before.

And what DJs and producers inspired you to start making music?

To be honest nobody in particular, I guess it was just the natural step for me to take. I was playing regularly in some clubs and little raves, and I really wanted to put out the new ideas emerging from my head. I guess all the music I listen to influences me.

So how long have you been making music now? Can you talk us through your set-up a bit?

More or less since 2003…time flies! At the studio I combine hardware and software. Between my most precious machines I have a TR-909 and a TB-303 clon with the Devilfish treatment, which is simply great. I use my Juno 106 often as well, and the Space Echo RE-201. As you can tell, I'm a Roland fanatic.

You spent 4 years learning your craft before eventually releasing a track in 2007. You must have learned a lot over that period? And are you still learning?

Yes, it was right before my first release in 2007 under my Play The Game guise. My sound training was pretty tough – there was a lot of time spent learning, but at the same time it was really enjoyable too. Up to day I'm still in constant evolution, trying to get my sound better and better, making my tracks bigger and bigger.

As a trained sound engineer, do you think producers put out too much music these days without actually having the proper skills to do so?

Honestly, I have to say there's quite a lot stuff not properly mixed to mastering in my own studio. Sometimes it's me who has to decide about tracks that can't be sold. The labels that I work with do trust me about it though. Gear-democracy' has allowed everyone to access to production, but it has also filled the market with 'library-made' cheap music.

So what's your take on contemporary electronic music? Who is exciting you at the moment?

I couldn't tell you just one, I think there's a lot of people making interesting stuff. There are quite a lot labels that caught my attention such as Hypercolour, Hotflush, Comeme and Clouded Vision to name just a few.

Tell us about your release on Parallel, the Remember My Beat EP. How did that come about? Have you known the guys there for years?

Yeah, I've known them a long time, but it was only recently that we had the chance to work together. They travel often and we don't always get to see one another. They asked me for some stuff for their label and I sent Remember My Beat, a track that they loved. I prepared one more track, Catz Nails, which also fitted instantly. It's really great to se how they bet and trust on their label's artists.

What were you trying to achieve with the EP? Did it end up exactly as you expected it?

Yes, I'm always 100% satisfied with the result when I decide to release a track. What I want is people enjoying my music as much as I did making it, that'd be enough for me.

You must have been pretty delighted with the Shades of Gray remix too?

Yes, being remixed by Shades of Gray was really nice. I think they took the original take to their own world but kept its essence, which isn't always easy.

You're as well known for your remixes as you are your solo EPs, but who do you prefer? Are they two completely different processes in your eyes?

There are two different creative processes. In one of them you start from something, maybe you see the results earlier. I'm not sure which one I prefer, I do like doing both.

You have a residency in Madrid too, right? What do you make of the scene there now? Is it in a good or a bad place?

Yes, I'm resident of Replay Sunset Parties along Simon Garcia, a monthly event where lot of first-class DJs have been played. After just one year, the party is getting more and more solid in Madrid's underground electronic scene. Unfortunately, our local scene is not like it was in the 90s: the economic situation is not good at all, and the government doesn't help either. Despite that, there are people that still want to make a party with their favourite artists.

Finally, what's next on the agenda for David Ponziano? Any more EPs or maybe an album in the works?

Right now, I'm working in new stuff at the studio, but not searching for any specific label though. What I can say is that I'm more motivated than ever, and when you're in such a good mood, only good things can emerge from there.