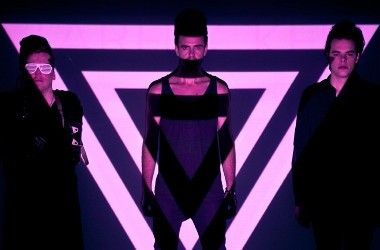 60 seconds with… Starfuckers
Starfuckers have played host to Australia's biggest and best club nights, while still hanging their hats at the eternally-infamous Starfuckers party in Sydney. It is said that no-one experiences Starfuckers unless they have seen them live and their notorious show antics are testament of their exclusive abilities to pump the crowd's energy and raise hell.
For those who don't know Starfuckers very well, can you give us a quick idea of Starfuckers and how it started?
Starfuckers started out as a weekly party that we put on and played at, which quickly became a DJ group, which in turn became a production team, now we're all of these things.
Last year you released your breakthrough single 'One Night' what was the reaction like?
The reaction was much greater than we'd imagined. The single got a high rotation on radio and TV, somewhere we never thought we'd see our music… Now the pressure is on to keep the bar high.
You've run your own infamous club night in Sydney now for just under 7 years, can you remember how the first night went?
Like it was yesterday. We had a very different format back then. An Australian band 'British India' played on the night, followed by a bunch of us trying to DJ afterwards. Many Costumes, club kids, drag queens, slippery floors and tight kick drums.
You've recently provided the guest mix for The Squatters Monthly Mix Podcast, how did this come about?
The Squatters did an amazing remix of our single 'One Night', and we've kept in touch with the boys since then, their podcast is so fun to listen to, it was an honour to be asked to be featured.
Can we expect to see more of the Starfuckers outside of Australia this year?
We certainly hope so. We have tour plans in the works and are keen to pop over to Amsterdam for the EDM conference, so we'll be hard to get rid of in that part of the world.
You run your own music label as well called House Of Fun, what can we expect to see from it this year?
We've already had tonnes of exciting releases this year, and there are plenty more in the works. Starfuckers singles and remixes peppered in between some of the world's best emerging EDM artists.
If you could achieve one thing in your career, what would it be and why?
To be comfortable enough to spend our time being creative and making music in the south of france.
What do the Starfuckers have planned for this year?
We've got a really busy tour schedule at the moment, abridged by weekly studio time working on various singles, collaborations with some amazing artists, and some huge mix tapes and a new podcast series on the way entitled 'Hour Of Power'… Basically if it involves dance music – we're doing it.
What has been your favourite moment being in the Starfuckers so far?
Not having a 9-5 job.
If you could collaborate with any artist, who would it be and why?
Woody Allen
Do you prepare your sets before arriving at gigs?
Somewhat. Because there are three of us, there needs to be a certain flow to the music as we switch who is mixing, but there's always lots of room to change direction if the mood calls for it.
What would I find in your fridge right now?
Lots of Vodka and fresh produce.
If Hollywood made a movie about your life, who would you like to see play the lead role as you?
Mr. Disorder – Ryan Phillippe / Hookie – Philip Seymour Hoffman / Trent – Selma Blair
If you won $20 million in the lottery, what would you do with the money?
Invest the money in a high yielding stock, bond and/or property and use the proceeds to fund an endless holiday in which we move to Venice (or similar), hire out a massive house and write an album. Repeat.
If you were a biscuit, which would you be?
Whatever is best drenched in litres of coffee.