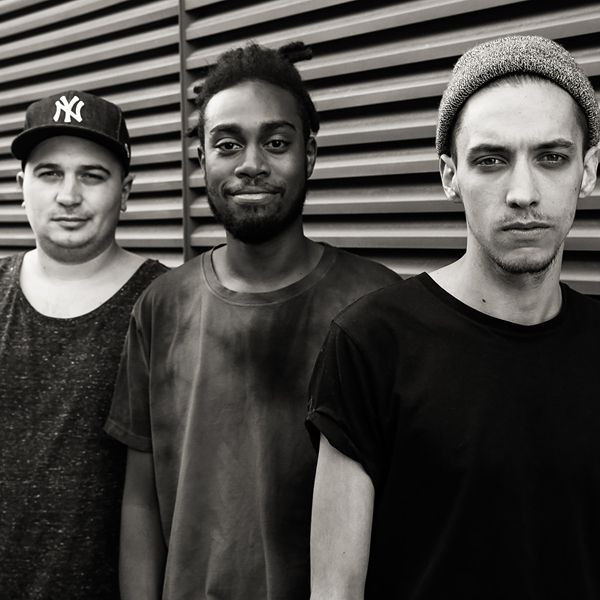 60 Seconds with… DRMC Soundsystem
France's secretive DRMC Soundsystem who've played with Kerri Chandler, Apollonia and Pan Pot are getting ready to explode in 2016
What can party people expect from your DRMC soundsystem set, styles and sounds at the Amnesia Egg party?
They can expect a wide range of sounds that include the latest hit of Céline Dion, or some bonus tracks of Ja Rule…:-) No… just kidding, seriously, we try not to box ourselves in and play the music we like – our favourite tracks. It's going to be a huge mixed salad with a serious deep groove so come along and see for yourselves.
Do you have any secret weapons you can share with us?
As there's three of us, we'll share three secrets weapons:
Phil Weeks 'It's The Inside That Counts'; Rhythm & Soul's 'String of Lies' and Evan Baggs 'Aries Passes Away'
Can you tell us what's new for the new year in terms of productions, remixes, projects etc?
We're working on our own respective projects such as Monkey Coops (Kevin et Fitia) and Damien Raud but our joint project is DRMC Soundsystem. It began in the summer of 2014 when we started organising underground house parties at the Baby Club in Marseille titled "DRMC Soundsystem presents…" So far we've featured Alci, Mr KS, Teets, Dolfeels, Yamen & Eda, Loquace, Zendid, Mesrod & Avner, Two Diggers, Reda Dare, Nekow, Grego G, Lauren Lo Sung, Youcef Elaid…
We like to introduce artists and sounds that we like and make their work more widely known in our city.
We are working on the final phase creation of our own music platform called Def Raw Music Concept (DRMC) and a big part of it will be our own music productions.
We want to feature artists who have played at our events and with whom we have a real friendship – they'll always be part of the DRMC's family. 2016 sees us moving everything forward.
In terms of productions we have a remix coming for our friends at Signatune Records, an EP on our Def. Raw Music Concept platform as well as some other new projects and it's all 'tranquille" ("easy" like we say in Marseille) 🙂
How does playing in London, especially @ Egg London compare to other cities or countries, and do you count London as one of your favourite spots?

To tell you the truth, we've never played in London before. We partied sometimes here but this is our very first time as DJs! We are sooo excited – like fleas at a carpet exhibition!
Mainly because Egg London is a renowned underground club where a lot of great artists have performed! Ravers know what to expected and London is a "cultural capital" like Berlin, Barcelona or Paris, not only for the music. So yes, It is one of our favourite places.
How does it feel to have been working in electronic sounds for the last years or and what are you proudest moments/memories?
We can't really say right now as we're still combining working with our music career i.e. Kevin is a head cook, Fitia works in a clothes shop and Damien is an industrial designer. Working on music has allowed us to exchange ideas with a bunch of people and it's a great way to get personal inspiration.
Our best memory is meeting Kerri Chandler a few months back and we ended up playing a 2 hour back to back set with him where Kerri played synthesisers showing all off all his improvisation, scratching and other skills 🙂
He said some really nice words and praised our work and it was a unique bonding moment of shared closeness. We kept in touch with him, and he's given us some very good advice and God Bless You Kerri!
How do you manage to keep it fresh, new and vital? Is it a case of pressure as DJ/Producer to always be one step ahead in the house/techno scene?

We never put pressure on ourselves and just play the sounds that we like and would be thrilled to share. To keep it fresh we play a large amount of tracks during our sets and try to never play the same set (over and over again…). One of the key parts to being a good DJ lies in the ability to be a good selector of music and it's nothing to be with being a 'trendsetter'. We want people to enjoy our music, and have fun. It could be new, or even very old sounds too.

What was your first break and first big record and did it set you on your path?
You grew up in Marseille, how much of an influence did the neighbourhoods around you have on your path towards music? Were there any other major influences such as key people, DJ's, producers or clubs etc ?
Damien: The first CD I bought was 'To Be" from Sascha Funke and when I was 16 I discovered techno music 'Made In Berlin' and it was a real eye opener for me! In Marseille techno music has had a weird reception because the 90s were years of censure. In France, we've always been slightly behind on the European scene but for the last few years, we seen emerging guys with a great musical talent. In a few years, you will see more an more artists coming from Marseille to play on the international scene as local clubs, events and festivals are doing a great job to educate audiences. They have it all to play for so it's very exciting!
Kevin: Before this, I was a chef so in a way, I was already a DJ – mixing ingredients, tastes and flavours. From a musical standpoint, it's all about learning and discovery. I was also DJ-ing at a few nights in bars with my friends and I partied a lot in big clubs like Spartacus Club, Bar Live and Vertigo.
Fitia: I discovered electronic music pretty late when I was about 20. Before that I was a drummer in a college rock band called, Ellypsis and I was also a hip hop dancer, where I started producing minimalistic hip-hop.There is a sub-genre in hip-hop dance which is called "House Dance", which I especially love. While in the process of learning all of these skills, I began re-writing my own compositions and DJ-ing. I also met people who who took me to festivals and events, and also Damien and Kevin.
So what does the future hold for you?
We can't wait to see what happens next and hope that what happened last year is a glimpse of what the future has in store! We want to keep enjoying music and share our passion with as many new people as we can.
And before you leave us, can you tell us something you think we should all be listening to before we head out the door to the Amnesia party at Egg London?
Some disco funk to warm you up and get you in the mood to dance!
DRMC Soundsystem play at Amnesia this Saturday February 6th alongside Hackman at Egg Ldn with Hector, Hector Couto, Luca Donzelli, Mar-T and Kyle E and Melt Music's Dorian Paic, Maura, Eduardo Tuccillo and Vinicius Honorio.
www.egglondon.co.uk