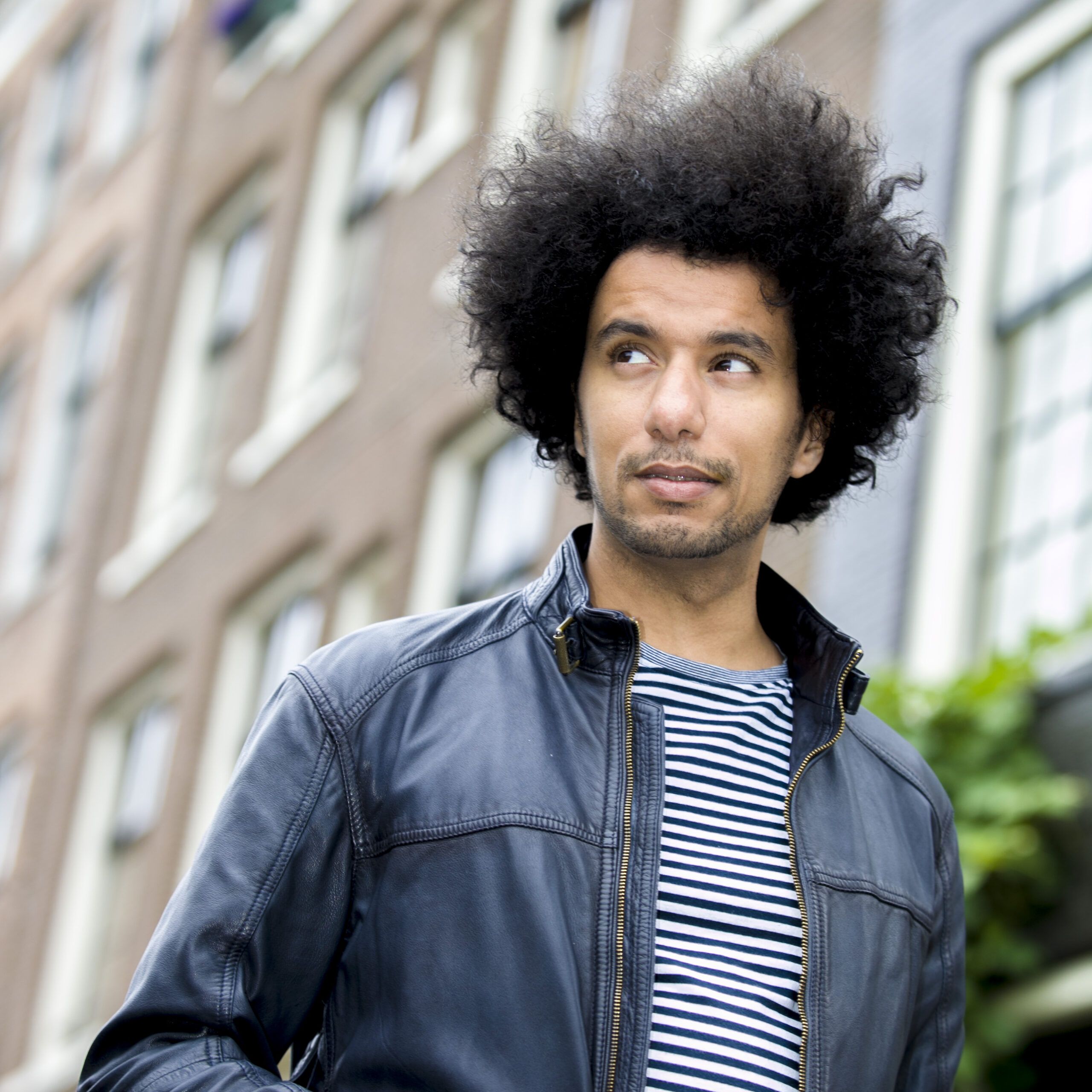 60 Seconds with…Ethnikman
Ahead of his debut album entitled Ahwach, we sit down with the producer behind the project, Ethnikman. The Dutch born and Moroccan raised DJ/producer sits down with us to tell us more about the project, his influences behind it, how he went about recording it plus much more…
How are you, what's good, what's bad?
I am feeling good since I have moved to Amsterdam and to a bigger flat from which I was able to set up my studio, which is still a work-in-progress between calculating its room modes and making a plan to select the right material needed for sound absorption and insulation.
As for the city, now I have more time to enjoy various cultural and music events in the city.
You were born in Rotterdam but grew up in Marrakesh – what was that like? What was access to music like?
It was a cultural shock for a Dutch-born allochthon to grow up in a totally different environment in Morocco. It helped me to widen my perspective about the world, languages and music and gain more knowledge. It was tough to learn and pronounce the Arabic alphabet, but I mastered it with time.
I lived in Marrakech since the age of 9 and could take part in various yearly festivities. At some of them every kid was allowed to bring a traditional instrument and play along with the older attendees to the rhythms of the Dakka Marrakechia, which is a ritual folk, and musical form from the city of Marrakesh. Apart from the traditional music of Morocco, I was also influenced by my parents' records with styles ranging from blues, classic jazz and the 70's funk.
When did you first start making and playing it? What did it sound like?
I did make some hip-hop instrumentals for different un-signed bands. One of these bands (Fnaire) was received quite well in Morocco. I was their only music producer and they did not talk to each other due to the hidden meanings in their lyrics and criticism they received from one another. It is something I did not approve of back then.
I used recordings of percussion instruments captured by an old Sony field recorder, an old E-mu Xboard 49 as a midi controller, Samplitude as a DAW, Sonic Foundry Sound Forge for audio editing and a Synth/Sound Module with ethnic sounds called E-mu Planet Earth (which I still use). The use of a hardware equalizer since my teenage age gave me that wow moment, allowing me to hear the sound being sculptured in the real time.
You used to make hip hop right? Why moved from that into this style of music?
It was a personal decision due to the fact that the music I produced caused problems between the three bands I worked with. I have also lost friends because of that. The shift to electronic music happened when I heard the first album of Prodigy, Chemical Brothers and when I saw a video of a live performance by Jean-Michel Jarre from 1998 in Nuit Électronique in Paris.
Are there any transferable skills or did you have to start from scratch? Do you still make hip hop?
The production steps are the same to make hip-hop or electronic music, starting with drums programming, adding recorded sounds, equalizing them and panning to their space in the mix.
I did have to learn Ableton Live though, and make use of Kontakt from Native Instruments. It was a great revolution for me to have the ability to make personal sample library for my favourite ethnic sounds and instruments, all mapped in key and with high quality. As I do play few percussion instruments, such as Djembe, Tarija, Krakeb, Def. [DP4]
As for the hip hop genre, I do not make hip hop instrumentals anymore, but I am aiming to make a breakbeat based album in the future.
Is there a line between paying tribute to and taking influence from musical cultures and straight ripping them and appropriating them, where is that?
Good question. In Morocco we have some great classic songs, like in every country. These songs were not played on the local radios anymore due to the western influence from the commercial top 40s songs. Paying tributes started as a way to make those classics come alive again, by keeping the originality of the lyrics sung by modern singers or the original vocal if the record labels allowed its usage, of course. North African countries do share few instruments that sound original and yet, I was surprised not to hear them in the techno, deep/ tech house scene. That is where I have got the idea to create a new genre of ethnic house, to bring folk and unsigned country musicians to the electronic scene, without being heavy on drums as in afro house and softer than ethno techno in feel and bpm.
Tell us about your album – what inspired it, where it was written, what the aim was?
I was travelling in the south of Morocco and in one of the hotels the owner hired a few local unnamed musicians, called 'Ahwach' from Ouarzazate region. The performance was breath-taking and the chants were simply unusual. The rhythm varied from 5/8 and 6/8 to an unusual 7/8 time signature. That gave me a challenging thought as a goal to bring this music to the clubbers worldwide.
'Ahwach" is a traditional style of collective dance and chants, each region of the country of Morocco has its own "Ahwach" dance and songs that are sung unchangeably from generation to generation, by keeping the spiritual and original components intact.
The whole production was done in my home studio back in Delft city, which took place after my graduation from the SAE institute as sound engineer and the field recordings were captured during my trips to Morocco and in the studio as well.
What instruments did you use? Are you formally trained in any or is it all samples?
I did play and record some of the traditional instruments that are used in this genre of traditional music, such as Bendir, shakers, Krakeb (Iron castanet-like instrument), Tarija which is a small percussion musical instrument in the form of a tambourine covered hourglass of goat skin.
I did record some street musicians by giving them earbuds playing a 4/4 time beat and I successfully got some great sounds and melodies from instruments like rhaita which is a double reed instrument, the violin held upright as it is played in North African countries from Chaabi (Country) musicians.
Later I arranged the sounds as shots to be able to place them conveniently to fit the 4/4 time signature. I also sampled few rhythms and chants from some rare 45 tours records that were made in the 60s and 70s in Morocco. The record labels of these albums, such as Ourikaphone, Koutoubiaphone, Casaphone and Boussiphone no longer exist according to the Moroccan Copyright Office 'Bureau marocain du droit d'auteur'. During my sample clearing process, few other songs were cleared directly from their recordists.
Do you DJ or play live? Does the music you play or create relate to what you make in the studio?
I do DJ time to time at home or at parties nearby, with a wide thema of songs with an Ethnic House, to Folk Electronica to Ethno Techno. However, the workflow of my DJing is separated from the studio work, as electronic music production needs accurate manipulation between the selection of sounds, verifying their position in the mix and jamming live using a drum machine DrumBrute by Arturia and the Pioneer DJ SP16 as sampler, all going through a Generlec system which allows a full and true frequency spectrum, then accurately using automation to tell the story from each song through its arrangement.
What else have you got coming up/are you working on?
I am working in collaboration with a vocalist from The Netherlands on an EP, as well as two more albums in parallel to keep the creativity flowing and define the Ethnic House in different colors of sounds from North Africa and from around the world =)
What next now the album is done, will you take a break?
I will take some time to learn the ins and outs of virtual synth called Serum by Xfer Records. I also want to finish the pending projects to reveal something different again to the clubbers and DJs in the electronic music scene. This is my artsy way to "bring the folklore to the dance floor" once again and add some ethnic house spice to the night-life journey.
Ethnikman – Ahwach is available on 27/07/17, get it here: http://www.junodownload.com/products/ethnikman-ahwach/3469989-02/
Follow Ethnikman here:
FB: https://www.facebook.com/ethnikman/
SC:https://soundcloud.com/ethnikman