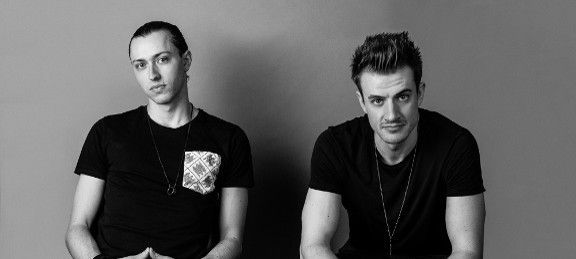 Atlantix – Behind The Scenes of 'Dangerous'
Having wrote records for heavyweight names including Swanky Tunes, Vigel and Tom Swoon to name a few, dynamic duo Atlantix have embarked on a magical career with their record 'Dangerous' being the latest stop on the way to stardom. We caught up with the guys to chat about everything 'Dangerous'.
Hey Atlantix, thanks for taking time out to have a chat with us. How's things been in your career so far?
Rich: Hey guys. Thanks for having us! Things have been going great so far. Dave and I have been writing together for a while now and up until recently we were focusing on writing for other DJs and artists. It's only been in the last year that we decided to turn the focus to ourselves. We decided to create music for us.
Dave: Yeah we've been lucky enough to work with Tom Swoon, Swanky Tunes, Robert Falcon, Vigel, amongst others. Of course we'll continue these kinds of projects too, but we decided we also need to make original music for ourselves, hence Atlantix!
And now you are back with your latest single 'Dangerous', tell us a bit about the thoughts behind this track?
Rich: Lately we've been writing a string of songs and we decided that 'Dangerous' should be the first of the bunch. We wanted to showcase a clear stylistic route for Atlantix – EDM meets Pop.
Dave: We love EDM – Future Bass, Big Room, Deep House, Trap etc but we also love Pop vocals and Pop song arrangements. With 'Dangerous' we wanted a partnership of the two.
Rich: Lyrically the songs' about a poisonous relationship. We've all been there. You're friends tell you she's no good for you, but you don't listen. You don't care and you're willing to take the risk for the high that the you get off her.
The track features the vocals of Paul Aiden, how did this collaboration come about?
Dave: Rich knew someone at Paul's management and they had been talking for a while about hooking up a collaboration.
Rich: Yeah it kind of evolved from that really. We were already familiar with Paul's work from a song he had done with Paris Blohm called 'Fight Forever'. So we got in touch, booked a studio session together, and the rest is history!
I understand you guys have written numerous tracks for huge artists within the industry before such as Swanky Tunes, did you write the track for Paul to sing on or did you both contribute to the lyrics?
Rich: We had this basic instrumental lying around and Paul started to vibe on it in our session. We ripped it apart during the course of the session though, changed a couple of the chords, and started writing 'Dangerous.' There was one point when we were vibing and I heard him randomly sing 'She's Dangerous' and I thought that's perfect. The whole concept of the song was born from that moment.
Dave: From there the guys got a basic scratch vocal down and then we continued remotely to finish up the lyrics. Paul continued to write for one section, while we wrote for another part of the song. We put the sections together and 'Dangerous' was born. It was a pretty equal effort.
Rich: It's always great to work with a talented vocalist and songwriter like Paul, from the very beginning of the creative process you just know you're gonna get a great result from working together.
What production methods did you go through to make this track?
Dave: As Rich mentioned we had a raw instrumental lying around. It's pretty common for us that we'll end up completely changing the instrumental by the time we have finished vocals. Sometimes it stays as it was for the initial demo, but once you have the vocal you want to make sure the instrumental is fully supporting the emotion and delivery of the vocal. Those two things always have to be a perfect match in order for the song to work.
Rich: So that's basically what we did! Ripped it apart and started the instrumental again from the raw chord progression. We knew we wanted a mellow filtered verse that included some piano, strings and guitar; keeping the pop vibe.
Dave: The drop we knew we wanted to take into the EDM realm and that's where the vocal chop, sidechained saw chords and arpeggiated synth came into play. We're also big fans of recording live guitar, I think we use that in almost every song. So we added that into the Chorus/Buildup to give a bit of extra lift and continue the pop-rock vibes.
Rich: It was a pretty smooth easy process and everything kind of fell into place after we had the vocal.
Which software packages, plug-ins and VST's were used to make this record?
Dave: In terms of DAW we always use Logic for production. Plug ins wise we use a whole bunch of things, but I think the biggest favorites are probably the Soundtoys bundle. I don't think we could ever work without them, especially their delay plugin 'Echoboy'.
Rich: VST wise we absolutely love Serum. We haven't stopped using it since we discovered it! Of course Sylenth and a handful of others make it in there too, it's important to get a good combination of different colors etc throughout a track. But yeah, Serum is def one of the clearest sounding VSTs ever made.
Why do you think people will love this new release?
Dave: I think people like 'Dangerous' because they can relate to it thematically. We've all been in a bad relationship where we are blind to the fact that the relationship is actually destructive.
Rich: We've all been there. You ignore the problems, no matter what your friends or family tell you. Aside from the lyrics we feel that people like the uplifting and emotive drop with the arpeggiated synth run.
Dave: I think it just has that great combination of emotion and energy. Stylistically it's a little like Coldplay followed by a much more electronic release of energy at the drop. A lot of people seem to like that.
If you could describe 'Dangerous' in three words, what would they be?
Rich: I think it would probably be Emotive, anthemic, and catchy.
Dave: Agreed!
What can we expect over the rest of the year from Atlantix?
Rich: Our next single 'We Want It All' is coming out next month on August 4th – we are super excited for this one!
Dave: Yeah we think it's our best track to date. It's had such great feedback from everyone we've played it to. It features vocals from our great friend Brad Mair who's worked with some great artists such as Thomas Newson and No Mondays.
Rich: 'We Want It All' is going to be our Summer anthem. After that it's follow up releases with a few more singles before the end of the year. We're working on tons of new stuff at the moment. Excited for you guys to hear it!
Available Now
https://fanlink.to/dangerous
Atlantix Online
http://weareatlantix.com
https://www.facebook.com/weareatlantix
https://twitter.com/weareatlantix
https://soundcloud.com/weareatlantix
https://www.instagram.com/weareatlantix