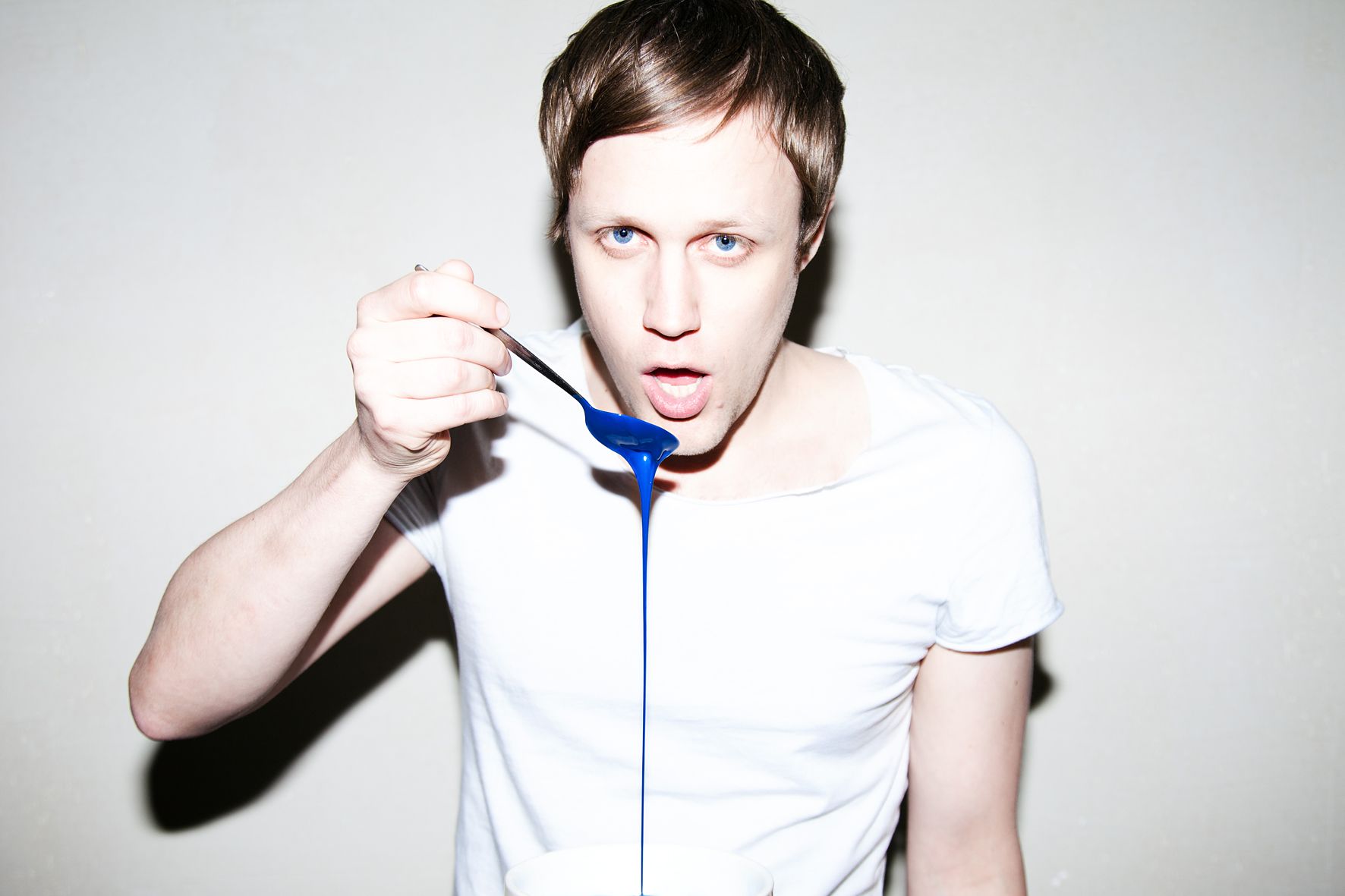 60 Seconds with… Jan Blomqvist
Jan Blomqvist, born in the 80s (not in Sweden) is a Berlin-based solo-artist and bandleader. It was him who invented concert techno: dreamy vocals and simple beats. With his band BLOMQVIST he's into dancy electro-pop, as a solo-artist, he plays clubsoul.
We caught up with him this week….
Can you describe your style and can you tell us a little more on your background and where you draw your inspiration from?
As a child i liked Bob Dylan, the Rolling Stones, The Beatles, and even some classical music. I still like that stuff actually.. Then I got a guitar when i was young, i think 10 years old and i quickly started a band. Was the era of grunge, indie and brit-pop, so i was listening a lot of Nirvana, Muse, Radiohead, Blur, Suede, Pulp, The Verve. So we started playing songs from these bands and then when i started writing my own songs maybe you would say sounded a bit like this, but leaning towards metal and punk rock. I always paid close attention to lyrics when i could follow the english, but in German bands like Tocotronic from Hamburg, for example were writing some really inspiring lyrics, especially in their first 3 albums. When I moved to Berlin, I was 19 and I went out quite often to study the new electronic music and absorb the Berlin sound. I could catch the biggest names playing in these small little clubs for 5eur. It was amazing. I discovered guys like James Holden and Stephan Bodzin and this crossover between techno and electro that was happening then. But i always felt like there were not enough live instruments in this music, and not enough proper vocals – not this cheesy disco cut-up and sampled vocals, but proper original and real vocals. I think it was kind of obvious this would be a direction for dance music.. Nicolas Jaar, David August and HVOB for example all seem to have felt the same thing about bringing more music or just more live instruments and vocals back into the club. I wanted to push powerful and layered basses in my work and use handmade analog organic sounds. Also i wanted my lyrics to have deeper meaning, some poetic feelings of rebellion and melancholic happiness for example, or just interesting and thought provoking situations, anything to bring a bit more rock and roll into the clubs. music can lead you into melancholic happiness. that's the aim of my work.

The first single from your upcoming debut album is doing really well and was Essential new tune on BBC1, can you tell us how the track came about?
The track started with a just melancholic synth melody, that sounded a bit like something from a Portishead outtake. I played the sketch at an afterparty at my flat and my friend Eleni was there and we both had the idea to make an almost monotone vocal melody on the chords. I fell in love wit this track so it took me a long time to find the right arrangement and get the track just right. I began playing early versions of the track out when i was playing live and people were really into it, giving great feedback. So when we were putting together the tracklist and promo for the album it made sense that this would be the lead single, also with the name of the track 'More' it was a nice hello from me after over a year. The lyrics of the track are also a nice introduction to the themes of the album, which talks about the struggling with consumerism and the difficulty and stupidity of being a modern human.

You are a solo artist but also tour with a band, can you tell us a little more about the ideas behind both acts and what do you like best when performing your music?

I like both actually. Performing alone allows me to be much more flexible, improvising more, extending or skipping certain parts of tracks, changing the set list and so on. With a band things are more rehearsed and planned and the degree we can change things is limited. Alone I am able to bring more variation to my tracks to adapt to the room. Also when i play alone it's usually more in club setting so it's darker and i am often not on a stage and this is pretty cool, to feel the crowd, hear them and party with them using my set as opposed to seeing them from above from a distance when Im on stage. But the idea was always to do electronic music live. It is just so much fun to play live, I always played live in a band and I felt this was missing from electronic music which seems often too static and boring how it's presented to people. Normally just a dj who is just checking tracks on a computer or cd-j or checking records and then putting on a record and thats it. When its nice music and the dj does her/his job of making people dance or showing people some new tracks or styles then that's all fine, but for me I found this way boring. I wanted to play live not just because of the feeling to play live or because I was spending all my time making my own music and not collecting other people's music, but also because if you only want to play your own stuff then you have to make it as interesting as possible – you can catch the audience better with 3 people performing and they see exactly how and where the music is coming from. This also gives the music more feeling and more emotion when you see there is a human playing exactly that drum beat or exactly this keys or when I do my vocals for example.

You perform a lot these days but you were also an avid visitor of clubs and festivals yourself. What's your favourite kind of festival or club in the world and why?
My favourite festival is Fusion Festival just about 1 hour outside of Berlin in an old airfield. I like it because there are no advertisements, no sponsors, you don't realize it but feels really good to be out of any commercial zone. They don't even advertise a line-up, you find out who is playing when you enter the festival and they give you a program. Also only vegan food is sold there and they have proper sound systems on most floors and 80.000 mostly amazing peaceful people attend! But there are so many floors that every stage feels like a cosy familiar festival, but then you walk away from the floor and you realize how huge the whole area is. It's like being on a big party/community island outside of society for 5 days. I hope there is a similar feeling at burning man. I have never been but i will go this year i hope.

What are your favourite labels at the moment and which artists do you listen to a lot yourself?
I guess I would say I am more into following artists than labels. And I am really into artists like Stephan Bodzin, Christian Loeffler, and Moderat and Radiohead.. I can always listen to those guys. About labels I think I am more interested in the characters involved in the labels as these are the guys that make it a pleasure to work with and make the party fun. Every label can make nice releases and bad releases, so in the end what stands out more is the people in the label. So for me then I would say I like the labels Stil vor Talent, Dantze, Katermukke, URSL because I know the guys well and we had nice experiences together and they are a pleasure to work and hang-out with. Also I really like my new label Armada because they gave me total artistic freedom with my album, are really supportive and are just super nice guys who treat me with respect. In this business I like people who are grounded and not playing stupid ego games to appear cool or badass or something.

What is your take on the current Electronic Music scene and the climate in general?
I think its interesting and cool that electronic music is growing and merging with other genres and bringing people together (even when sometimes i miss my small berlin underground and familiar cosy techno after-hours from 2004. But its ok). It's also cool that the festival culture and its freedom-mentality is growing also. At a festival you have all kinds of people hanging together out of society without job stress or clocks on the wall, just being interested in music and dancing. It creates some kind of community, that special island outside of society which can expand your mind or teach you something new.
But the weird part of the current electronic music scene is that as rock and indie music has lost its steam, EDM has somehow tried to fill that roll and DJ's are jumping around like rock stars. Which is kind of funny when most of them can not play music or even mix records. Ok rockstars are also kind of funny when they always jump around for no reason. I am fine with all that however, because there is entertainment value and people will always need entertainment and escape and to have a poster of someone on their wall, and if there is no more good Strokes records coming out then someone has to be on that poster. The problem comes, in my opinion, when the people on those posters have nothing interesting or important to say. They dont have any political or philosophical statements. They are just throwing pies at each other. This does not fill the shoes of Bob Dylan or Thom Yorke. Maybe I would say perhaps today electronic music needs more charismatic voices and less pies.

Is there a musician or a band that you would love to work together with in the future?
i usually prefer to work alone but when it comes to collaborations, i am open minded to work with any musician. If some ideas or styles fit together it doesn't matter if there his a big name there, it's just interesting to work with artists who are moving in the same direction, which can be any possible direction actually. For me its super interesting to watch and even work with new artists our unknown artists, because they are the ones that have new views of music, or new styles or techniques. But of course if I had to choose i would say I would love to work with Moderat, Björk, Bodzin, and Radiohead, but thats not a secret, I guess everyone wants to work wit them.

What can we expect from you in the near future, do you have some cool stuff lined up?
Yes! Actually I have 2 cool gigs coming up this weekend, one in Bangkok and the other in Singapore. I hope to film the video for my next album single release in Bangkok. We will try, but with live videos, it is not always sure it will work out. We'll see. After that we will starting a big tour of 17 concerts in central Europe which will take up almost the whole of April. I am working hard now rehearsing with my band and organizing everything for the tour. Much work to do to play all the new tracks live. After the tour, I think i will start work immediately on the next album. My new studio is just finished, so I am happy to spend my time there. Also I am really looking forward to the European Festival Season and hopefully getting to Burning man. Lastly I am excited to see who will be on board for the remix album for Remote Control.