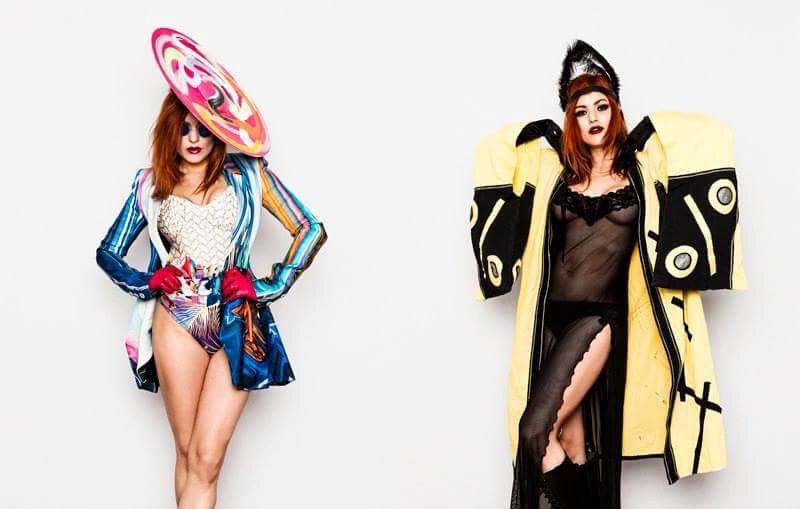 60 Seconds with Lilith D'Luxe
I always put in some edgy elements to look unique and avant grade. I always put my punk, subversive, sexy and provocative personal touch in any kind of work I do
Combining a career as a Fashion stylist (13 years) and as a performer (6 years), Brazilian born but Berlin-based Lilith D'Luxe first started out in London originally as the fashion editor for the iconic Supersuper! magazine before going on to work as a stylist for brands, magazines and artists such as Basso & Brooke, Nympha, Vogue Italy, i-D, Glamour, Rhianna for X-Factor and Jude Law. She also performed her first shows in London at the legendary club Cirque Le Soir club and is looking forward to returning to the big smoke for an Exclusive performance of her 'The Phoenix Rising' show at Berlin Berlin on Saturday December 29th at Egg London alongside a strong cast of club host and performers.
I always put in some edgy elements to look unique and avant grade. I always put my punk, subversive, sexy and provocative personal touch in any kind of work I do
From successful fashion stylist to fetish artist Lilith D'Luxe what or who inspired you to go into this wild world?
Helmut Newton as my fave photographer always inspired me a lot with his fetish chic style, Grace Jones with her dominant persona /style and attitude, John Wille with his vintage fetish illustrations, Madonna with her album Erotica and Thierry Mugler in the 90s with his fetish fashion were some of my biggest inspirations. Also my own personality is quite dominant and not submissive to men. I am free and my own boss. When I moved to London I started to go to Fetish parties there and the strong London fetish scene took me even further into this world.
Where and when did you start performing and why does dressing provocatively and performing hold such allure for you… and for an audience?
I start performing in London in 2012 at the legendary club Cirque le Soir. I love to express my inner essence in very unique and outrageous way, that is a way to make art with my history of life. I love to provoke and cause mixed feelings in people, as long as they feel something.
Sum up what makes an alternative performer?
It's a performer who performs and dresses in a very unique and subversive way, bringing something new and outside of the box to their shows.
How do you come up with your outfit ideas and do you have any special designers etc?
My ideas usually come from some inspirations and references that I see in exhibitions, photography, magazines, books, movies and music videos as I am always researching lots of things. From there I only have the 1st idea and in the end it always looks completely different thing from the initial reference as I always create a whole world on top of that. My life is my art so I always put a lot of my personality and my favourite styles into my outfits. Sometimes my ideas comes from my life story too, and I just create an outfit that represents that. Sometimes I feel that my creative mind is out of this world and my outfits end up with surrealistic touches. I don't have special designers, for each outfit I find different designers who can make specific pieces for me, because usually the pieces don't exist in stock. I also do a lot of pieces by myself, crafting.
How important is it for people to have the escape of clubland in this digital era?
For sure to live the real thing. Going wild without thinking about how many likes they will have. Clubbing for me is a very instinctive experience. People nowadays are so concerned to show the world what they are doing that they end up not living the moments. In Berlin its prohibited to take photos inside the clubs, because what happens in Berlin, stays in Berlin.
Do you follow any other performers or club kids or performers ?
Of course! All the best ones I am following for sure! It's such a great motivation seeing all those brilliant ideas rocking around the world!
Lastly! What look have you got lined up for Berlin Berlin at EGG LDN?
I will bring my 3 most recent shows/outfits to Berlin Berlin.
One fetish fierce phoenix, one 20s/ futuristic phoenix and one bondage raven. Can't say more, the rest is surprise! So looking forward to the party!
Lilith D'Luxe makes an Exclusive appearance at Berlin Berlin on Saturday December 30th at Egg London alongside Bambi Blue, Cynth Icorn, FoxGlove, Kokaine Tyson, Luke Harris, Plastic Sister Parma Ham, Prince JayJay and Santi Storm. DJs across 3 floors are Dirty Doering, Kyle E and the Pornceptual takeover featuring DJs Sciarada and Projekt Gestalten and Performers/Hosts, Raquel Fedato, Chris Phillips, Eric Phillips and Pierre Emo. In the Loft catch the Homostash team Tafkanik, Sexshooters and Anahita. The Kuntskammers Lewis G Burton and Kassandra Powell host their wild salon in Cell 200 and all info at www.egglondon.co.uk.