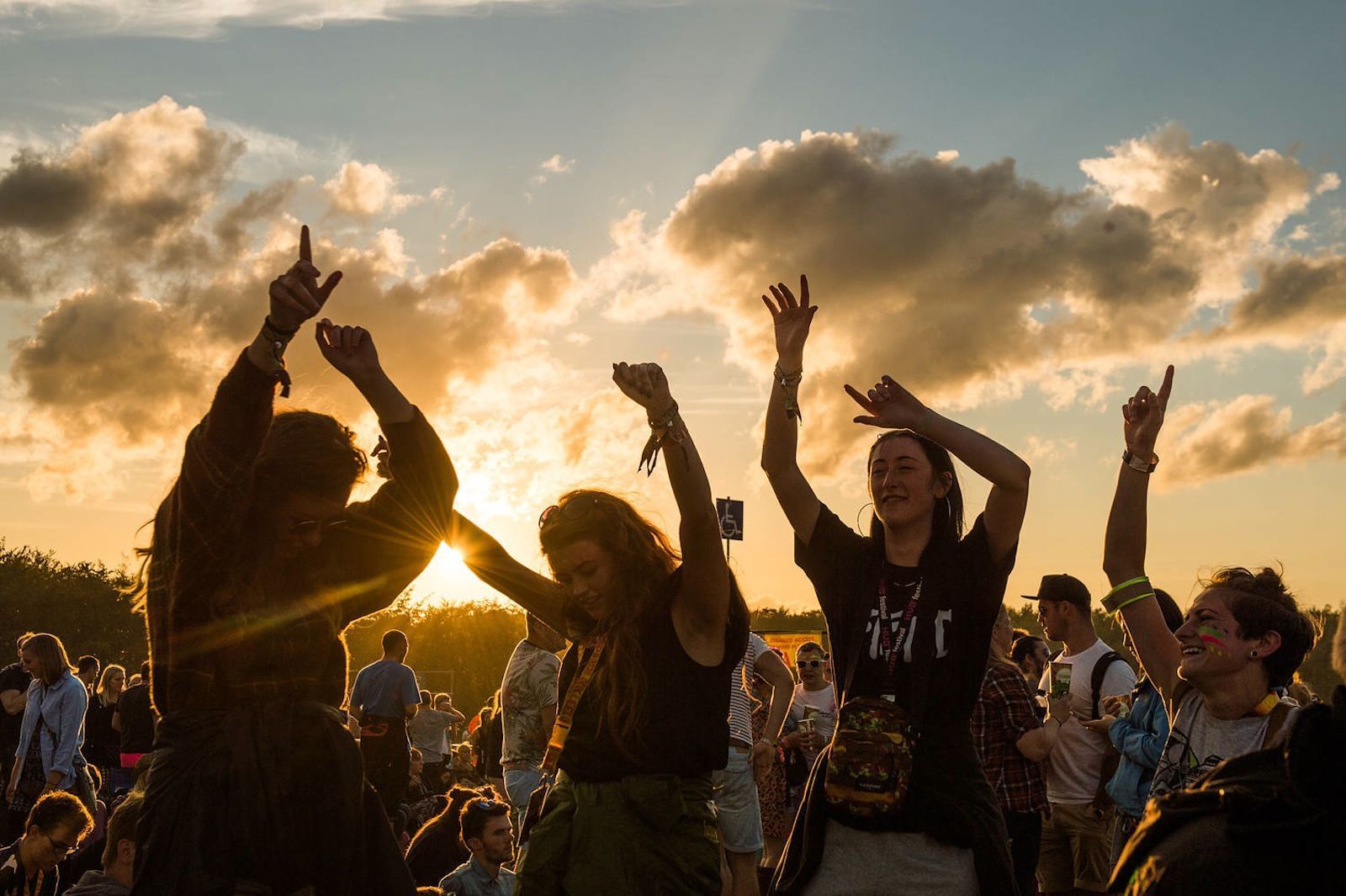 Festival Guide 2018: Festivals not to miss in 2018
From discovering the best new bands, to dancing poolside or on a beach, partying in a fortress or experiencing the surreal midnight sun, wallet friendly European hotspots and amazing city festivals to combine with long weekends of culture, gastronomic delights and sightseeing, there's something for everyone. Get ready for a festival holiday of a lifetime in 2018!
There's a festival something for every festival adventurer, are you ready? Here's 8 unforgettable festivals not to miss in 2018.
GET YOUR FIX OF NEW BANDS AT EUROSONIC NOORDERSLAG IN THE NETHERLANDS
ESNS (Eurosonic Noorderslag) is the place to discover and access the very best emerging European music talent. The event has a proven track record of helping to break new acts on the international music scene, with now well-known names such as Aurora, Blossoms, Dua Lipa, Hozier, Mø, Lost Frequencies, Royal Blood, and the XX having played at ESNS as up and coming talents.
The B2B side of the event attracts more than 4,000 entertainment industry professionals from all sections of the industry, including representatives of over 400 European festivals, managers, agents, publishers, labels, tech companies and event suppliers. Each year, ESNS stages more than 350 showcases all over the city of Groningen as well as offering a comprehensive and focused conference programme of around 150 panels and keynotes. The event also hosts multiple networking opportunities, annual meetings by music associations, pitch sessions, dinners, parties and dedicated areas featuring the very latest thinking and technical innovation in the music, media, interactive and production industries. At this year's edition Denmark will be the ESNS focus country.
ESNS takes place from 17 – 20 January 2018. More info available at www.eurosonic-noorderslag.nl
ENJOY THE POOLSIDE PARTIES AT SEA STAR FESTIVAL IN CROATIA
After an electric premiere edition Sea Star festival is set to return to beautiful Stella Maris laguna in Umag on May 25th and 26th, while the opening day will take place on May 24th and the after party on Sunday, May 27th. Put together by the team behind EXIT Festival, the first Sea Star festival closed with rapturous applause, firmly proving that it is worthy of the nomination for 'Best European New Festival' at the prestigious European Festival Awards. Stunning location, 6+ stages, more than 70 world renowned artists and outstanding productions make this festival a must see. Umag is a beautiful Istrian town, rich in Mediterranean spirit, historical baroque and renaissance buildings and narrow streets that lead to numerous authentic restaurants making it the perfect place to chill out after dancing all night.
Sea Star takes place from 24 – 27 May 2018. More info available at www.seastarfestival.com
EXPERIENCE THE SURREAL MIDNIGHT SUN AT SECRET SOLSTICE FESTIVAL IN ICELAND
Celebrating their fifth anniversary, 2018 promises to be Secret Solstice's biggest edition yet! Taking place in Reykjavik from 21-24 June during the surreal summer solstice (meaning the sun never sets), the festival has firmly established itself on the bucket list for every true festival-geek wanting to be a part of this truly unique experience. Secret Solstice is Iceland's premiere music festival, each year welcoming an eclectic lineup to the naturally breathtaking country for main stage sets, glacier raves, midnight sun boat parties and secret lagoon blowouts. By combining a high caliber of music talent alongside side events that showcase the incredible Icelandic landscape, Secret Solstice have created a not-to-be-missed festival experience in one of the most breathtaking corners of the world.
Secret Solstice takes place from 21-24 June 2018. More info available at www.secretsolstice.is
PARTY IN A FORTRESS OVERLOOKING THE RIVER DANUBE AT EXIT FESTIVAL IN SERBIA
Just a short ride away from the Serbian capital Belgrade, the magical Petrovaradin Fortress set high on the banks of the river Danube in Novi Sad provides the perfect setting for the EXIT Festival. Started as a student protest in 2000 fighting for political change and freedom, EXIT continues to spread positive vibes, promoting change and positive education, supporting many community and humanitarian missions, while throwing a damn good party. The award winning festival has something for music lovers of all genres with a diverse mix of artists performing on numerous stages connected by cobbled streets, ramparts and tunnels. Also renowned for it's amazing atmosphere and energy the Dance Arena champions the who's who in the electronic music world set in the awe inspiring moat of the fortress, it's that special moment when the sun's rays shine over the fortress walls and your favourite tune is belting through the soundsystem and into your soul!. EXIT. Where hedonism meets activism.
Exit takes place from 12-15 July 2018. More info available at www.exitfest.org
ENJOY THE PICTURESQUE WOODLAND SETTING OF POSITIVUS FESTIVAL IN LATVIA
Taking place in the picturesque coastal town of Salacgriva in Latvia,Positivus is the largest music and arts festival in the Baltic States, transporting chart-topping headliners, underground emerging talent and exciting art and dance stages to their unspoiled atmospheric coastal setting amid stunning woodland. Festival goers can dip their toes in the baltic sea or take in the atmosphere in a hammock beneath the trees while enjoying a rich diversity of international chart toppers and underground emerging talent in this idyllic holiday location. Positivus also offers art and dance stages giving festival goers a variety of activities and stalls selling locally made designer clothing and accessories, giving festival goers plenty to see and do during the 3 day event. Positivus was also recognised in the 2013, 2015, 2016, 2017 European Festival Awards being a finalist in the 'Best Medium Sized Festival' category and also for 'Best Festival Line Up' in 2013.
Positivus takes place from 20 – 22 July 2018. More info available at www.positivusfestival.com
DISCOVER THE BEST ALTERNATIVE MUSIC AT OFF FESTIVAL IN KATOWICE
A truly unique boutique music festival, OFF Festival takes place in 'Three Lake Valley', Katowice – a beautiful green oasis in the heart of industrial Silesia. OFF is a way of life, one that flies in the face of current trends and stays true to itself, and the ethos of organiser Artur Rojek is firmly aimed at supporting art and music with the festival bringing many acts to Poland for the first time. OFF Festival's reputation is growing year on year driven by the festivals forward–thinking, eclectic music policy and it's bold and eclectic lineups. From the greatest alternative music stars from around the world to the increasingly strong Polish scene, OFF festival has inspiring music in abundance and the organisers and crowd have one serious finger on the pulse when it comes to music. As well as discovering new music festival goers can also discover the city of Katowice with plenty of art and culture to soak up and a huge choice of bars and restaurants to delve into.
OFF Festival takes place from 3-5 August 2018. More info available at www.off-festival.pl
ENJOY THE BIGGEST HEADLINERS AT LOWLANDS FESTIVAL IN THE NETHERLANDS
Get ready for A Campingflight to Lowlands Paradise 2018. Taking place next to the Walib Fairgrounds, Biddinghuizen Lowlands features some of the biggest headliners, impressive installations including the new iconic armadillo food and drink area, plus unique covers for every stage so you can enjoy all the music rain or shine. Just over an hours drive from Amsterdam you can easily mix your festival trip with a few days city break in Amsterdam. As well as all the amazing artists, Lowlands has so many others things to do from enjoying a soak in the hot tubs, to taking part in science experiments! The festival has also been shortlisted for several awards in the European Festival Awards including 'Best Major Festival' and 'Best Line Up', Tickets include festival entry, camping + shuttle bus from / to railway station or Dronten Lelystad. Save the date now!
Lowlands takes place from 17 – 19 August 2018. More info available at www.lowlands.nl
IMMERSE YOURSELF IN ELECTRONIC MUSIC CULTURE AT THE AMSTERDAM DANCE EVENT
Amsterdam's thriving club and nightlife scene is well documented and for 5 days a year the city becomes the centre of the electronic music world as over 395,000 visitors flock to the city for the Amsterdam Dance Event. The ultimate music festival for fans of electronic music features more than 2,500 international artists performing in more than 100 of Amsterdam's most celebrated venues including Melkweg, Gashouder, Claire, Shelter, Paradiso, the NDSM Docklands and De School. In addition to the extensive line-up of the ADE Festival, the ADE Conference also offers music enthusiasts and artists a large and varied day program featuring a wealth of dance music-related seminars, artist Q&A's exhibitions, films, documentaries, DJ showcases and gear master classes, taking place across Amsterdam's five main districts, utilising historical locations and unique venues across the city.
ADE takes place from 17-21 October 2018. More info available at www.amsterdam-dance-event.nl
DANCE ON THE BEACH AT SEA DANCE FESTIVAL IN MONTENEGRO
Award winning Sea Dance festival gathers party people from all over the world to dance together on the beautiful beach in Budva, Montenegro. Voted best European medium-sized festival, Sea Dance has proven much within just three short years. With a stunning beach location and impressive line up of more than 100 hottest international music stars. Sea Dance is one of Europe's hottest summer destinations. Recently listed by Skyscanner as the number 1 cheapest holiday destination this country is well worth checking out. Montenegro has towering mountains perfect for hiking and mountain biking as well as some of the world's best unspoiled beaches on the Adriatic Sea. And if that wasn't enough Montenegro featured in the James Bond Film Casino Royale and if it's good enough for Bond, it's good enough for us!
Sea Dance dates will be announced soon. More info available at www.seadancefestival.me