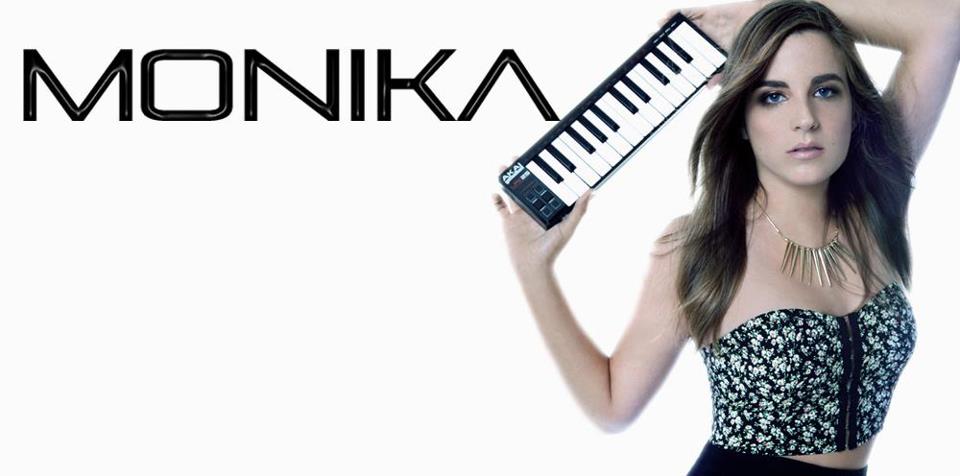 60 Seconds with… Monika Santucci
Performer, producer, writer and DJ Monika Santucci has been a name that keeps popping up in talks of the music world in California – but the secret is rapidly spreading across the USA and beyond. Her personalised brand of electronic dance music is catching attention from all corners of the earth, helping to expand her already impressive international following. Bridging the gap successfully between commercial viability and the traditional requirements for club success is something that Monika pulls off with unique style and so far so good for the budding talent.
In conjunction with the release we sat down with Monika to talk about her career so far, the new release and what she's got lined up for the rest of 2014.
Thanks for talking to us today Monika. You've just this month dropped your new release 'S.A.F. – what's the story behind the release?
I was working on writing the songs for a little under a year in Los Angeles; then this past summer I moved to San Francisco for 4 months to track it at Pyramind Studios. The release was very much inspired by my time in both cities.
It's well documented that you're a fully self-dependent solo artist. Do you prefer to work alone when it comes to music or are you a collaborator as well?
I definitely prefer to collaborate when it comes to music; always have. However, sometimes a bit of isolation can assist a lot in the writing/arranging process. I might start the project on my own but I almost always finish with other people. I've been lucky enough to have had the chance to work with some of my heroes like Grammy-nominated Joe Marlett who mixed my first album. This past album (outside of 'All Night') was mixed by Travis Royce and Sean Hoge and mastered by Taylor Ellsasser. I just produced a Melbourne-bounce track with John Kim, and I've been lending vocals to a lot of tracks recently- so there's always a ton of collaboration involved.
You also released an official video with the single. Many people overlook videos in electronic music, do you think more attention should be given to them in the EDM world?
I don't see why not! I always loved learning about artists through music videos; I think it's a great way to get out there. Plus, I worked in film and TV for eight years so I think that visual component has always been important to me.
Seeing as you do the entire recording, producing, singing process etc yourself, what's your creative route usually? Do you generally start with the instrumental production?
There really is no typical creative route for me. It comes in all different shapes, colors, sizes. I've had fully arranged songs including the lyrics come to me in the middle of a drive on I-5 to where I would have to pull over and quickly record the idea down on my phone. Or on the flip I've had tracks came through the meticulous looping of a four bar pattern in Ableton. A lot of times I might arrange something entirely in my DAW and then lay vocals over it- but sometimes nothing beats just picking up my guitar and singing. This last album was funny because sometimes if I was alone in the studio- I would have to quickly run back and forth from the mixer to the vocal booth to get a take. Probably not the most efficient way to get an album done…
You're based in California, how do you rate LA and the surrounding areas as a place to progress in this kind of industry?
LA is very competitive and saturated; it can be hard to rise above the noise- but I can't imagine a better place to be in terms of creativity, energy and opportunity for this industry.
What's your favourite things about LA?
The weather and the people I have found here over the years.
Any downsides?
I mean, do I need to even say traffic and the smog?
What are your favourite clubs?
To play at? Slide, Temple and Ruby Skye. To go to? Right now it's been 1Oak and Lure.
Personal highlight of the last year?
Honestly the whole year has been a highlight. Maybe working with Russell Brand, meeting Will Sparks or opening for Paul Oakenfold.
Local upcoming talents that we'll be seeing more of in 2014?
Gummy, Tropkillaz (okay not local), Victor Niglio, my friends from TastyTreat.
Highest rated producer of the last year?
Dillon Francis will have my heart forever and always. I really love what DJ Snake, K Theory, Mr Carmack, Jacuzzi, What So Not are doing too. Too many great producers to pick one.
If you had to only do one of the following exclusively for the rest of you life, what would it be? Producing, DJing or singing?
That is my nightmare! I guess if I had to choose it would be singing. My roots are in singing-songwriting. So long as I could still collaborate with a super talented producer.
What's up next for Monika Santucci?
Continue to tour. I've got a few remixes, singles and a mix coming out in the very near future.
Any last words or shout outs?
Thank you for having me; and thanks for checking out my EP 'S.A.F.' in digital stores everywhere!
Thanks Monika
'Staying Up' is out now and the official video dropped this month
https://www.youtube.com/watch?v=tBSLr0UemPY&hd=1
Available now on Beatport
http://www.beatport.com/track/staying-up-original-mix/5218648
Monika Online
www.facebook.com/MonikaSantucciMusic
www.soundcloud.com/monikasantucci
www.twitter.com/monikasantucci
www.monikasantucci.com