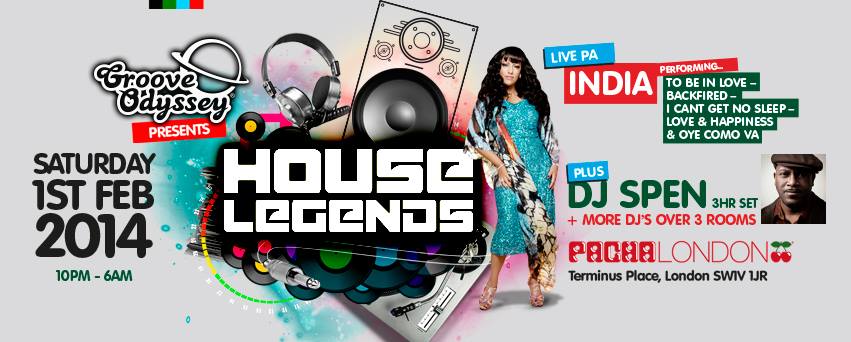 60 Seconds with… Neil Pierce
This week we caught up with diamond geezer, Neil Pierce, DJ, Producer and one half of Rhemi Music. Formerly A&R & Resident DJ for Soul Heaven and with DJ Aaron Ross, part of Fanatix, Neil makes his debut this Saturday February 1st at the Groove Odyssey: House Legends event alongside DJ Spen and India Live from Masters At Work at Pacha London. Here Neil who plays 'House with soul' talks about the current state of music, his favourite moments in house, his Top 5 all-time tunes and what's in store this weekend.
Current music.. In a state or great?
Great in my opinion, there's always great music out there if you look for it!
Why are you looking forward to the Groove Odyssey;House Legends party?
The reports from the Groove Odyssey 4th Birthday were outstanding and they were coming from people that know their sh*t so I can't wait come and do my thing there.
Moments in house?
My best would include Tony Humphries at The Cross over 2 days – I camped there – lol :-); The Loft with Paul 'Trouble' Anderson in Camden – a legendary midweek hot spot and the early days of Garage City. As a DJ, my first time playing in the Main Room at Ministry Of Sound and my first set at the Southport Weekender – I'd dreamed of that gig for years so for it to become a reality was just amazing.
Influences?
DJ-wise Paul 'Trouble' Anderson, DJ Spen, Karizma, Tony Humphries and Louie Vega (Masters At Work)
You're stranded on a desert island with 5 records. What are they?
1. Peabo Bryson – 'I've Been Down' (from the turn the 'Hands of Time' album on Capitol)
2. Arnold Blair – 'Trying To Get Next To You' (Gemigo)
3. Nitty Gritty – 'Sweet Reggae Music' (Jammys)
4. Joi Cardwell – 'Run To You' (Eight Ball)
5. Alex and Rai – 'For The Love' (Smack Productions)
Rock and roll moments?
Far too many to mention without getting myself in trouble .
Soulful House?
Still going strong 20 years on
Living the dream?
Most certainly and long may it continue .
Tell us something we don't know?
I can drink a bottle of Remi and still not miss a beat!
Neil Pierce (Rhemi Music) makes his debut alongside the voice of Masters At Work, India and DJ Spen at the Groove Odyssey: House Legends party on Saturday February 1st at Pacha London. Check out the latest news on www.grooveodyssey.com or www.facebook.com/grooveodyssey