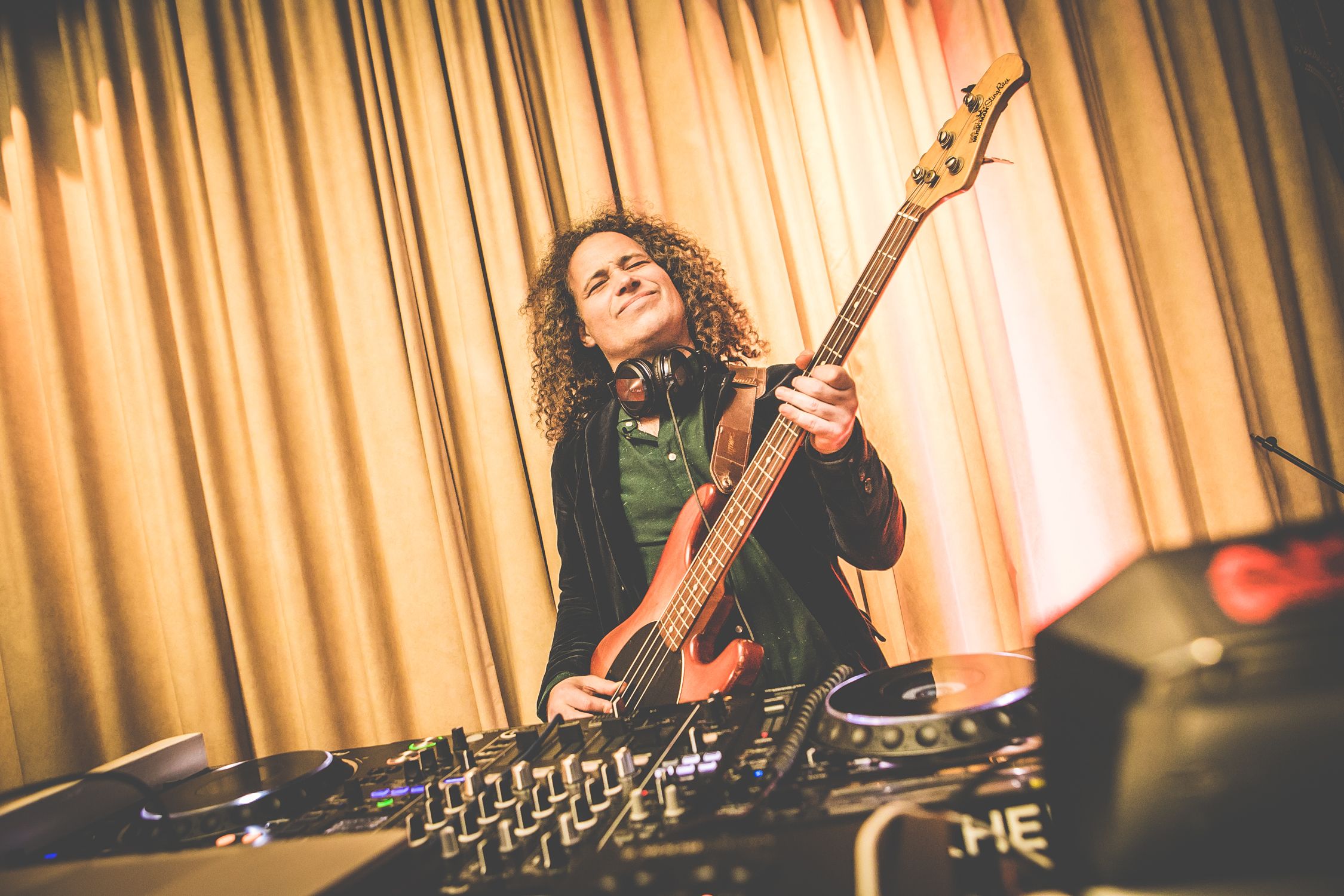 60 Seconds with… Oded Nir
Meet Oded Nir – the master of chilled, funky and classy grooves who also happens to be an amazing bass player! As he builds up to his new album release this spring with some brilliant singles featuring the talented Cece Noir and Saskia Laroo, we grab 60 Seconds to find out more about the man and his music…
Hi Oded, how's things going and what have you been up to lately?
I'm doing good thanks, very busy with my new 'Rooftop Conversations' album coming out on the 26th of April, along with several singles dropping in the next few months and putting some time into my record label Suntree Records.
Describe your sound in 5 words…
Funky, groovy, soulful, chilled and a bit deep.
How did you first get into producing music and what was your first release?
I was busy playing Rock and Funk as a bass player, but I felt I was ready to create my own music. I enjoyed being in bands but wanted to be be more independent. I bought a new computer and software for producing and was ready to make my own rock music, but the only thing that came out of it was chill out and funky house beats, which set off on my new direction!
I had released in the rock world before, but as far as dance music, it was 10 years ago with a remix I made of 'Rising' by Silvano Da Silva.
How do you think your sound has developed since then?
Oh wow, I've come a long way since then, now less trip hop and low BPM's, more soulful and funk with much more solid productions and arrangements. I guess experience plays a big roll in growth as a musician.
Growing up, who did you listen to and has their music had an influence on your own productions today?
As a kid in the 80's I used to listen to Michael Jackson, Prince, George Michael, Duran Duran, Sting and a lot of rock music from The Cure to Led Zeppelin and Nirvana.
Music in the '80s and early '90s was great and I found my self attracted to the bass guitar and that stage role too. I think Sting played a big part in the fact that I'm a bass player today.
Your new single 'Amsterdam Nights' ft Cece Noir on sax has just been released, which we love. Please tell us a bit about the track what shaped its sound?
'Amsterdam Nights' was a track that I was working on for a long time but I wasn't happy about the results, I was struggling with it for a while and tried to find the missing element to take it to finish line. I called sax player Cece and she jumped at the opportunity and together I think we've nailed a really funky tune with jazzy tones, perfect for those sunset moments too.
So you dedicated the track to Amsterdam, what's the best thing about living there and how is the current music scene from an artist's perspective?
The track is a homage to my city of Amsterdam of the past 13 years, its a city of freedom, where you can be who you want to be without too much judgment and find your place in the small village.
I always refer to Amsterdam like a honey trap, once you are in, it's hard to leave.
There's a brand new album coming soon… What can you tell us about that?
It's has been 9 years since my first solo album 'Midnight Snacker' came out and it felt like the right time to create a new album and tell a new story as I have been really focused on singles the past few years.
How do you generally go about putting a new track together and what inspires you?
Every time it comes from something different. I can start from a good title for a track that gives me an idea, or a strong bass line arrives in my head, but generally love and relationships always work for me as an inspiration.
What's your preferred piece of studio kit and what instrument epitomizes your sound?
My bass guitar is my trademark as well as strong melodic piano hook lines. I still like to use the old Atmosphere synth, always liked that one.
When In the studio, have you got any rituals or bad studio habits when writing your music?
Haha, I have many and not all of them are to share with the public… I'm not organized, I suffer a bit with ADHD and focus issues – I can start a track, leave it and go to work on another track, watch a movie, clean my head and then come back. I never understand myself when I work.
Who else would you most like to make a collaboration with?
Oh wow, it's an endless list… Dennis Ferrer, Sade, Joey Negro and Mousse T. I would also love to play bass for Massive Attack or Thievery Corporation.
What's been your DJ favorite gig to date and where are you most looking forward to playing this year?
I love to perform at my residency at Madam at the top of Adam Toren tower in Amsterdam, the 360 view of the city is stunning and fits my style perfectly. I'm looking forward to my album release party over there on the 20th of April and performing a couple of weeks later in iCulture event in London in McQueen's on May 3rd.
You also play live instruments when you DJ, tell us a little more about a typical set from yourself?
I combine DJing and live instruments in my gigs. In the past I used to go on stage with 3 instruments – my bass guitar, guitar and keys and switch between them, but today I focus on my bass guitar only. I basically improvise around the tracks with bass, not using it in the traditional way, but more as a melodic tool. Its an unusual act which fits well with dinner time gigs and early clubs warmup sessions.
Which dance track holds the most precious memories for you?
'3am' from Bobby Blanco & Miki Moto. I came across it in 2006 and didn't stop playing and improvising to it with my bass at my gigs since! Its build on D.C. Larue disco track – Cathedrals.
What are your current top 5 tunes?
1. Got What You Need – Disco Town, Angelo Ferreri, Moon Rocket
2. Moment Of My Life – Bobby D'Ambrosio, Michelle Weeks (JN Dubwise Re-Organ-ization)
3. Do It For You – Miguel Migs, Li'sha (Jay-J's Shiftech Dub)
4. Let's Go Dancing – Horse Meat Disco, Amy Douglas (Dimitri From Paris Remix)
5. Xyenx – Quentin Kane & Simon Sheldon (DJ Spen's Disco Jazz Remix)
What do you like to listen to when you're not in work mode?
I like to listen to Miles Davis, Gorge Benson, the old 70's Kool & The Gang albums, Quincy Jones, Massive Attack and The Timewriter.
What else should we be looking out for from you in the next few months?
I'm going to be focused on my album and singles releases and also will have some gigs coming upon Tel Aviv, London and Italy which I'm looking forward to.
'Amsterdam Nights' will be released on February 22nd on Traxsource promo / Full release March 8th 2019 on Suntree Records.