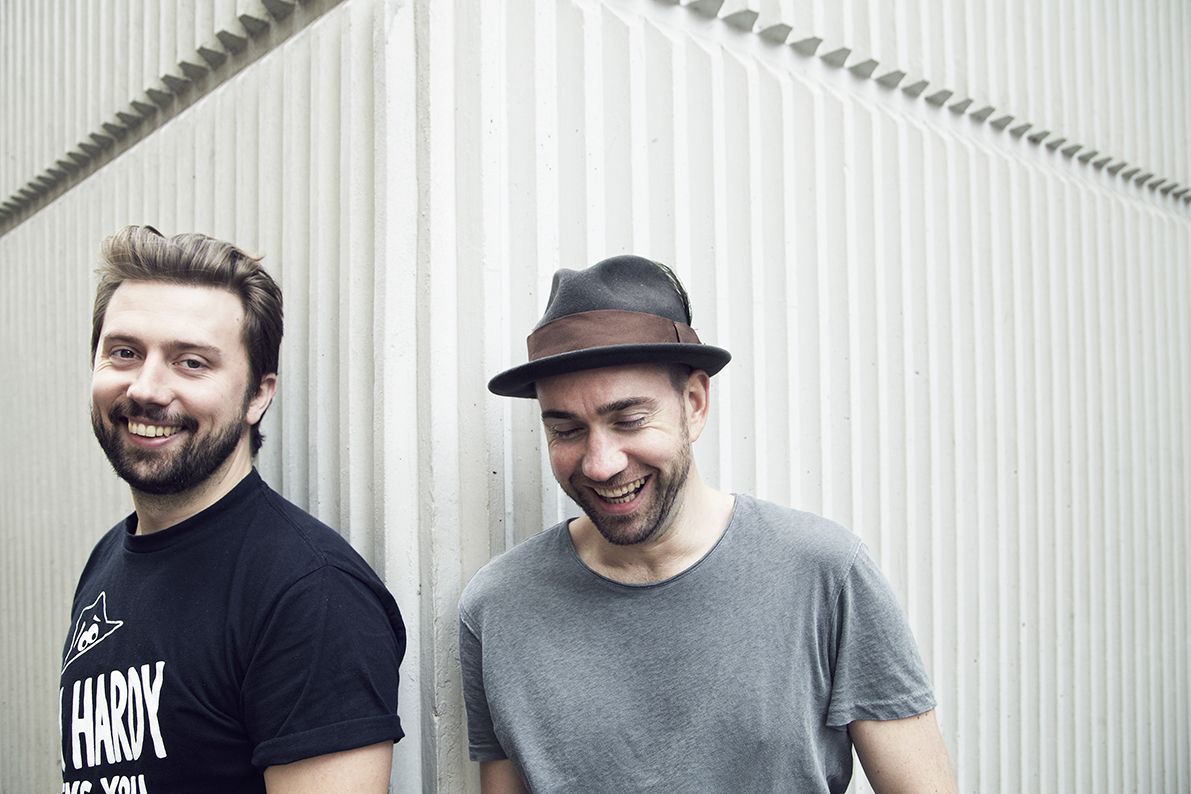 60 Seconds with… PBR Streetgang
Bonar Bradberry and Tom Thorpe make up the PBR Streetgang boogie boat , directly taking their name from the boat crew of the cult 1979 Scorcese Vietnam film 'Apocalypse Now'. The duo headline the Eastern Electric After Party at Egg LDN on Saturday August 6th alongside Steve Lawler, Matt Tolfrey, Matthias Tanzmann, Waifs & Strays, Geddes and Dense & Pika as their slamming new 'In The Turret' EP hits the stores and floors.
With Ibiza a second home to the PBR Streetgang lads as residents for world renowned party 'We Love…' at Space, Tom and Bonar honed their craft at the legendary Asylum night on the infamous circus of Leeds nightlife and their unique musical approach sees them continue to connect with the crowd, threading New York's disco, latin and hip hop legacy through to the Jacking underground beats of their Leeds via Chicago roots. Their sets flow effortlessly from Ableton live to the turntables via a piece of circuitry that allows both heads to mix together as one easily adapting to big Festival stages and Main rooms through to smaller basements and backrooms.
As world class producers, PBR Streetgang have released tracks on labels such as 'Downstroke' on Jamie Jones Hot Creations.2020 Vision, Red Music, Futureboogie, E.A.R, ISM and Wolf Music, and the duo continue to evolve musically. Here we catch up with them ahead of the EE After party
1. Are you looking forward to playing at August 6th's Eastern Electrics Festival and After Party at Egg LDN and are there any particular guests you're looking forward to catching and why?
Tom Thorpe: Yup we're really looking forward to EE again this year! It's our second year playing the after party at Egg LDN and last year was so much fun in there, great vibes!
We're coming in from another gig, so won't be making it down to the main event unfortunately. Great line up though! I think we pretty much know everyone playing the afters, so really looking forward to checking out what vibe people are on and generally catching up with friends.
2. Do you prepare differently for a festival and an after party to follow? And do you have any secret weapons that you can share with us i.e. current favourite festival tracks or exclusives?
Bonar Bradberry: The Main event and the After Party are completely different vibes so yeah I do think you prepare differently. Well I dunno if I can give away too many secrets but we've been lots of our own new tracks which is always fun.

3. Originally you cut your teeth on the 00s Leeds club & music scene, can you tell us how you first came together & how you got your name? In Leeds at that time there were clubs like Back To Basics, the Mint Club and labels like 20/20 Vision, who were from the Leeds scene at that time and how and did they inspired and influenced you. Did you also get your first break at this time?
T: We actually met in a record shop in Birmingham, but didn't form PBR until we were both living in Leeds. We were always into similar tracks, so one day we decided to play together and we warmed up for Xpress2 at the Northern Light (Leeds), and it just really worked – we've never looked back from that set! Leeds has a rich history of underground music, through as you say, 'Basics', 'Mint', & '2020 Vision' and the scene was so vibrant back then, it was like a big community – every time you went out, it would inspire me. Great days indeed! 🙂

4. You've been residents at We Love…@ Space and also at festivals like EE & can you tell us about some of your wildest & weirdest nights and with what guests?
B: Hmmm…I'm not sure that would be safe to print but it's safe to say playing the closing set of the 'We Love'…Closing party was something incredibly special. The After party at Pikes Hotel was pretty legendary too but I'll leave it there 😉
5. Since then you've gone on to bigger events and international dates but you started out on the East London warehouse scene & did these experiences help shape your career? How do you also think East London has changed over the last few years – for better or worse – and can you still be found at an underground East End party?
T: We've done a fair few gigs in East London and they've always been great to be honest! Every time you play out, it's an experience that shapes you into the act you are.
I definitely don't know enough of the London scene to really comment if it's better or worse these days, but I do know things change in this scene – venues, promoters, parties, crowds, DJ's, the music, which all bring opinions. Things evolve, it's just natural.

6. Is it important for a DJ to have his own residency and why?
B: At some point in your career and especially early on I would say it's crucial as it helps you form your own style and really understand a crowd intimately.

7. Hugely acclaimed for your remixes & productions and can you tell us how you started out and your early releases and is there one that changed things for you and how?
B: I can't think of a really great DJ that i love hearing that hasn't had a residency at some point.
T: We realised pretty early on that to give yourself the best chance of making a career from DJ-ing it's a good idea to also make music. So like most people we had to learn that art from scratch. It was a case of teaching ourselves and experimenting with kit and sounds. As soon as we were confident enough to send music out to labels, we did. Most of things we sent and send out find a home. I guess 'Downstroke' on Hot Creations you could say had a big part in helping us 'break through' so to speak.

8. Do you also have any favourite releases/proudest moments in your career and why are they so special?
B: Well it might sound silly but at the time of release that production is the one you're proud of but over time that changes.. some stand up over time more than others.

10. Are there any particular artists that you are following or tipping right now and why?
B: There's lots of great music out there so it's hard to pick just a few out. Ok three off the top of my head now are…Nacthbraker who has got a really nice style and we've been playing lots of his stuff lately. Eliphino has just put a really nice EP out and it's great to see him releasing music again after his self imposed hiatus. And Red Rackem is someone we've admired for years. He's an excellent producer and DJ and it's great that he seems to be getting the props he deserves.

11. As someone who's been playing at the top of the game for many years now, surfing the highs and lows, what inspires and drives you to carry on? And do you have any particular advice for budding DJ/Producers or promoters thinking about a career in the music business?
T: I guess to start with…we're best mates, so there's a respect thing there! We've always been honest and open about all things PBR related, plus we take it seriously. it's a job (the best one!), and it needs time and investment. Like any career it's had its ups and downs, but thankfully we feel it's had a lot more highs than lows. The best advise I can give is, it can be a long road to reach your end goals, so be prepared and patient – and ultimately if you put everything into it, it will happen.

12. And lastly before we head out the door to the Eastern Electrics After Party at Egg LDN what should we be listening to?
T: If you check out (and buy) our new EP 'In the Turret', it will give you super human powers… go go go now!!! http://www.phonicarecords.com//product/view/138912
PBR Streetgang headline the Eastern Electrics After Party alongside Steve Lawler, Matt Tolfrey, Matthias Tanzmann, Dense & Pika, Waifs & Strays, Geddes and many more on Saturday August 6th at Egg LDN. All info on www.egglondon.co.uk