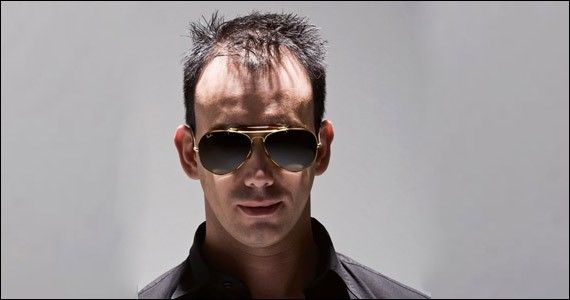 60 Seconds with… Pete Tha Zouk
After the success of his latest track "Been Too Long" with English singer Kellie Allen, Pete Tha Zouk is back with another banging release "Rocksteady" on DJ Center Records! This well-renowned Portuguese DJ has been on the most wanted list for the last few years in Portugal and Brasil!
His international career and success are now reaching a whole other level, making him play in front of thousands of people in Europe, Asia, North America and of course Brasil.

As one of the most promising producers of the EDM scene, Pete Tha Zouk released several tracks on worldwide-renowned labels such as Stereo Productions, Low Pressings, Magna Recordings or more recently Vidisco and DJ Center Records.

Entering DJ Mag's Top 100 in 2010 ranking #81, Pete Tha Zouk climbed 44 spots in only a year, and ranked #47 on the last poll in 2012. Pete reached the highest position ever occupied by a Portuguese DJ.

Lately, Pete Tha Zouk brought us many successful collaborations including his tracks "Learn to Love" with singer-songwriter Rae, and "We Are Tomorrow", which he co-produced with Deepblue, with the vocals of Yasmeen.
EXCLUSIVE INTERVIEW
Interviewer: What was your inspiration on making "Rocksteady"?

Pete: There is a big festival happening in Portugal during the Summer called Sudoeste, I had performed there, in the mainstage, on 2012 and I really wanted to play something fresh on it on my 2013's gig at the biggest stage in my homeland. So I worked on this track to make something powerful, groovy, and a big room sound to surprise my fans… And it fits so perfectly that even the aftermovie of the gig has Rocksteady as its soundtrack. I Love this track!

Interviewer: What is the funniest thing that ever happened to you during a gig?

Pete: I was playing at Pacha and a girl climbed on the DJ Booth and started to walk on top of the DJ gear without any notion that she could end the show right there… luckily the music never stopped, and with the help of security we were able to get her off the booth without any harm to her or the gig. I still laugh when I think of it!

Interviewer: Among all the tracks you made, which one(s) do you love to play during your sets?

Pete: "Hanging Out" is definitely one of my favourites! I really love the feeling on the dance floor and "Rocksteady" is just the bomb when I play it!

Interviewer: What are the News/tracks that EDM fans can expect from you this year?

Pete: I have so many new stuff going on the studio, vocals, tracks… but I will present them first on my gigs, exclusively for my fans, and just hope they have a blast dancing to my new stuff.

Interviewer: What are your favorite countries to play in ? Where do you feel the most comfortable ?

Pete: I love to play in Portugal, my home, but also in Brazil that grew on me on the past 4 years and is now my second home… these crowds are so great, so full of energy and joy!

Interviewer: You are the first Portuguese DJ to be featured in the DJ Mag Top 100, and to have a VEVO channel (one of the leading music videos website). How does it feel to be a « pioneer » in your country, and the first one to reach such a high international level ?

Pete: I always feel the responsibility to push the envelope for Portugal, I feel that as a major artist in my country I must pave the way and build new ways, new paths for my fellow artists and also for my country. I hold the highest entry on DJ Mag's Top100 by a Portuguese or Brazilian DJ, I reached number 37th on 2012. Being featured on VEVO is something built in Brazil as Portugal as of yet doesn't have the site available, and it's one of the best things that happened to me in 2013. VEVO brings much more exposure but also more credibility to a life devoted to the art of mixing and entertaining. I'm thrilled!

Interviewer: In an interview for DJ Mag, what makes you say LA is the next dance music capital after Ibiza?

Pete: This statement was made from a producers point of view. Almost all artists, either DJs/producers or singers are in Los Angeles, and being there alone gives any producer way more possibilities that anywhere else in the world. And EDM is so big in the US right now that virtually we'll have more and more American cities on the EDM map. Take Las Vegas, it's growing immensely as a party destination!

Interviewer: What advice can you give to the aspiring DJs & producers?

Pete: Work, work more and let your heart and dreams guide you in the process. Put all you are in the music you make but always keep an eye in the crowd, they are your best guide!

Interviewer: Can you tell us about your collaboration with DJ Center Records ?

Pete: I'm really happy with this collaboration, it has proved to be an amazing one, especially because you did a collaboration not only on the singles but also on the compilation INFINITY WORLD that contains among other artists of DJ CENTER Records also a lot of my productions. Great job, DJ Center!