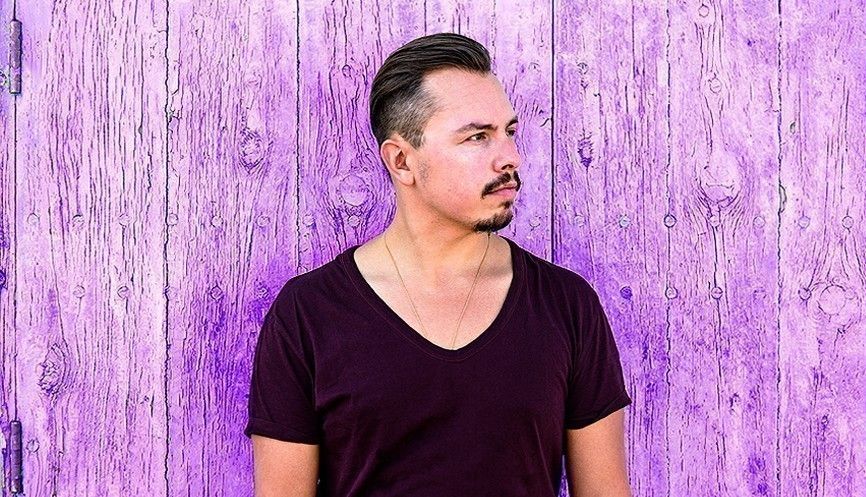 60 Seconds With… Purple Disco Machine
We recently caught up with Germany's Deep Funk innovator and Beatport hit maker Tino Piontek aka Purple Disco Machine to chat about his upcoming releases, his inspirations, touring and much more ahead of his performance at XOYO (London) this Friday, November 7th.
Hello Tino, welcome to ihouseu.com. So, you've had another amazing year, your 2013 mega hit 'My House' is now one of Beatport's biggest selling tracks ever and you also managed to recreated your previous chart success this summer with 'The Path' (alongside Teenage Mutants). How does it feel to now have two big Beatport hits under your belt and to have your music so well received?
The success from 'My House' was a big surprise for me, I really didn't expect it to blow up like it did. For sure this track was a door opener in many ways and I soon had the opportunity to release on labels like Toolroom, Suara and many more. The year after all that was totally crazy and eventful. Surely it's almost impossible to overcome this with a new track but I´m totally happy that my second 'summer Hit' , together with a good friend and producer, was also a big success. 🙂
Let's go back in time a bit, what was the first electronic record you bought and what artists inspired you to develop the Deep Funk sound that you are now known for?
My first electronic Vinyl was the album from Human League. It connected the 80s glamrock sound with modern electronic parts. This was my first experience of electronic music. They and bands like Daft Punk, The Fatpack Band have had the most influence on my sound today. Even today I listen to a lot of old stuff like 'Muddy Whaters' or 'Change' during the week and on tour as well.
You have a very good relationship with Andre Crom's revered OFF Recordings and will be back on the imprint with your forthcoming 'Purple Pianos' Vol.1 EP on December 8th. Can you please talk us through the creation of the release and what we can expect to hear?
Well, for me I was quite lucky to be signed by Andre´s 'OFF Recordings' and to be one of his core acts now. On my next EP 'Purple Pianos' can you find two cool and funky old school style piano house songs. I love it to go back to the 80s and 90s and work a lot with old synths to grab the feeling from those days. The main track 'Where We Belong' features Alex Mills. I love her collaboration with Miguell Campbell. So I'm totally happy to got the chance to work with her.
You boast an impressive remix discography including established artists such as Harry Romero, Roland Clark, DJ Pierre, Sigma ft. Paloma Faith and many more. What is your approach to remixing and what artist or track would you most like to remix and why?
The important thing is that i love the original or that I can imagine a Purple Disco Machine remix of it. It is not always easy to transform the song into my Deep Funk sound but I'm really happy with my recent remixes.
Touring wise you DJ all over the world but what has been your most memorable gig of the year so far and is there anywhere where you would love to play but haven't yet?
Well, I played a lot of shows this year and got the chance to visit countries like Korea, Mexico, UK and USA but the most memorable spot was India. The promoter there was really keen and the party where amazing. It was a great experience. My music really connected with the people.
Name the top five tracks that have been causing the most damage on the dancefloor for you this year?
01. Space Echo – Soul Power
02. Teenage Mutants & Purple Disco Machine – The Path
03. Chemise – She CanÔt Love You (PurpleDiscoMachine Edit)
04. Chemical Surf – Don´t be jealous
05. Tiga – Fever (Tom Trago Remix)

What do you most like about playing within the UK?
In the recent months I played a lot of UK show and I love this country. The UK have such a good underground and commercial music scene.
We've heard the exciting news you're currently working on your debut artist album which is set to drop in 2015 via OFF Recordings / Sony. How are preparations going and what is your approach to making an album?
In my opinion to do an album is the supreme discipline. I've now been working on my debut album for a year and it's coming closer to completion now. I've done a lot of features with singers and other musicians and this is all a new experience for me. Usually I work on my own but till now I´m happy with the results.
Finally, if you had to pick anyone, whether they be a producer, singer or a musician to collaborate with on a future project, who would they be?
One of my favourite bands for years has been Chromeo and if I could work with Dave1 I will go crazy. They have the soul and real funk in their bones. 🙂
Purple Disco Machine plays at XOYO alongside Friendly Fires, Le Youth and Mixed Fortunes on Friday 7th November: http://www.xoyo.co.uk/events/FRIENDLY-FIRES-1/index.html
https://soundcloud.com/purplediscomachine
https://www.facebook.com/purplediscomachine
http://www.beatport.com/artist/purple-disco-machine/130259