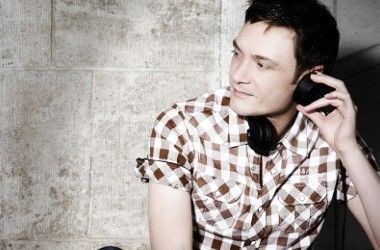 60 seconds with… Ralf Gum
ihouseu.com catches up with Go Go Music superemo, Ralf Gum ahead of the Groove Odyssey:House Legends party this Sunday May 26th alongside DJ Spen, Monique Bingham Live, and Jazzie B (Soul II Soul) heading up Room 2 at Pacha London. Here he talks about his latest exclusives, playing in London, his proudest moments and what party people can expect on Sunday.
Are you looking forward to coming to play at the Groove Odyssey party on May 26th at Pacha and why?
Of course I am, very much. I haven't been to London for a while now and coming back for Groove Odyssey is simply great. I am following Bobby & Steve's work and events for a long time now and think they do an amazing job to keep the soulful scene in London alive. Sharing the night with my friend and collaborator Monique Bingham, buddy DJ Spen, Sean McCabe who just did a remix for my label GOGO Music and many more great artists, makes it even better and really something to look forward to.
Will you have any Exclusive new tracks you will be spinning at this event, any Secret Weapons and can you give us a hint of what to expect on the night?
Everybody who is familiar with my style, will know that I always keep it deep and soulful and of course there will be some tunes people haven't heard before, especially some new stuff from South Africa, where I life since almost 2 years now.
What do you think of the London crowds?
Every time I played in London so far I definitely had a great time. No matter if it was smaller or bigger events, I always found crowds who were hungry for some good music.
You have produced some amazing dance tunes over the last 10 years and what are your proudest moments and why?
Honestly it is difficult to just pick one, as I think an artist defines himself with the string of works he delivers during his career and each and every release should be something you are kind of proud of. I literally believe that it is important to try and only release relevant music instead of a huge amount of tracks, but if I really have to pick a specific one I go for my first song with Monique titled "Kissing Strangers", which was the best selling song of 2008 on Traxsource and other download-stores.
Do you have an unforgettable memory during your career?
During more than 20 years of playing as a DJ in clubs, I have many and don't want to miss a single one of them, but my first gigs in South Africa really changed my life, as I finally found the country where soulful house is not just a niche genre understood by some, but part of people's life.
What are you currently working on and what's coming up for you in the next few months in terms of releases, shows etc?
The promotion and touring for my album "Never Leaves You" which was released in September 2012, becoming a father some month ago and playing more than 150 gigs during the last 12 month did not leave much time for studio work. I just managed to go back to studio during the last weeks and started to work on some new ideas. Upcoming soon will be 2 more singles taken from my album. One remixed by Ezel, the other one by Louie Vega.
How and when were you first infected by dance music?
Growing up in a small village in Germany, it was challenging to get in touch with dance music, especially as German radio never was very supportive for that genre. Luckily my parents had a short wave receiver and so I was able to tune into stations from other countries. Always when I heard hand made or electronic dance music being played, I realized that I have a weak spot for it and that it is "my sound". Hence I went to record shops in bigger towns every time I was able to and started to search for dance records end of the 80ies. My influences are several from early electronic music from the likes of Kraftwerk, early Chicago House sound, the 90ies New York House sound, but as well Disco, Jazz, Funk or Soul. I believe there's good music to be found in almost every genre.
How did you get into DJ ing and production?
When I started to collect records, I wanted to play them to others, which naturally led to DJ-ing. While listening to records I always had own ideas, which made me want to try to produce music. A friend of mine gave me the opportunity to work in his studio during his off-times. I quickly felt production is calling me and started to buy own equipment around 1993.
First record you ever bought?
A difficult question, which I already struggled to answer in other interviews, but beyond the first ones I bought with my own money were Depeche Mode, Bootsy Collins and Kraftwerk,
Who is the most inspirational and influential person in your life and why?
Even I never met him personally, I guess it might be Larry Heard when it comes to music. I listened to many of his mixes in the nineties and always was digging his productions, too.
And is there anything fun or wacky or that we don't know about you?
In times of social networks where everybody shares everything about everybody, there's not too much which never has been said, but maybe not too many know that I just lately started to like beer, which probably is quite awkward for a German…:-)
Ralf Gum flies in Exclusively to headline Groove Odyssey: House Legends on Bank Holiday Sunday May 26th alongside Monique Bingham Live, DJ Spen, Jazzie B (Soul II Soul) and Bobby & Steve at Pacha London.All info on www.grooveodyssey.com or facebook.com/grooveodyssey