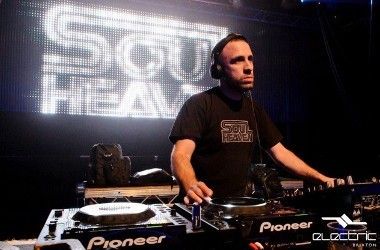 60 seconds with… Sy Sez
ihouseu.com catches up with Soul Heaven's new A&R man and summer resident at their new pop up Soul Heaven Pool Party series launching at Ocean Beach in Ibiza on June 8th with Joey Negro and Soundblast. Here Sy talks about the music he's going to be spinning, playing in Ibiza, his new tracks as part of the AphroDisiax and who's rocking his world right now. Dancing shoes and swimsuit at the ready…
As a regular guest at the Soul Heaven Pool Parties, are you looking forward to the summer season out there and what can we look forward to from your sets?
Oh yes a Million% looking forward to the summer season, I think it's great that we are going to be playing the 'soul heaven' sound to the people of Ibiza, especially in such a beautiful and prestigious setting such as Ocean Beach! In my sets you can look forward to a great mix of the house, old and new as well as some real, real soul heaven classics…but most of all expect Energy & Fun!!
Do you have any secret weapons you can share with us?
My double-barrel super-soaker water pistol is a pretty dangerous weapon lol!! No really my weapons will depend on the mood, but right now anything from FCL's 'It's You' MK Mix to Kings of Tomorrow featuring April 'Fall For You' . These are my weapons of choice…as well as some bombs and bullets from my lot, the AphroDisiax too 🙂
Running your own label and producing music, what highlights do you have planned coming up for this summer?
I have lots of international gigs that I'm excited about…summer is the best time for us DJ's. Ibiza obviously is a massive highlight but I also can't wait to play @ the Rotterdam festival in Holland and the IPM event in Rome too
How does playing in Ibiza compare to other countries and how do you feel about the island and its party scene?
Ibiza is a party island and that's what people come to do – PARTY Hard!! So it makes DJ's jobs a bit easier. Also Ibiza is the mecca for clubbing and it's so important for the next generation of house music followers, lovers, artists & promoters – some people fall in love with house music for the first time in Ibiza and a lot of journeys and careers are born here.
Any ideas as to what the sound of summer is going to be like and do you think that the people are ready for something a little more musical?
I think things are coming back to the good old days of house music, where it's not so broken up and saturated with hundreds of 'sub-genres'. I think that vocals are much more at the forefront in the main arenas and to the masses too and with that comes Music… Soul Heaven are world famous for this and it's a great time for us to be showcasing our talent and brand out in Ibiza.
Are there any producers or tracks that you're particularly psyched about right now?
Anything from Detroit Swindle – loving these guys right now!! Also on the more soulful/vocal side Rhemi music are making waves, check them out…also my lot AphroDisiax 🙂 we have some great new trax out including a release on DJ Spen's label called 'All Over Me'
And how do you manage to keep it fresh, new and I guess, vital?
Just by being original with my taste but always constantly listening to music and then experimenting and being open minded. Being on the dance floors and in the clubs/party's and not just behind the decks are so important to me too, absorbing the energy and sounds is vital for me as a DJ and Producer.
You grew up in West London and how much of an influence did the neighbourhoods around you have on your path towards music?
I grew up in West London so the music was diverse from house to hip-hop and DnB/Jungle, to reggae to rock – I took it all in really – especially at Carnival. On my house music journey, West London became a hot-bed for our sound with people like Phil Asher, Restless Soul and then also the broken beat movement with people like Bugz in Da Attic, 4hero – all these goings on in the neighborhood really inspired, educated and shaped me!
Were there any other major influences such as key people, DJ's, producers or clubs etc which helped shaped your early career?
I got my first big break from a mentor and an older-brother figure to me, Neil Pierce, who was part of Fanatix with Aaron Ross. He took me on as a resident at their club night in a club called Neighbourhood and also then welcomed me into 'studio life' with the Fanatix. Having Neil's guidance and faith helped me more than anything back then and I'm always grateful to him. From being alongside Neil and Aaron and performing well, my career and bookings started to take off and sometime after, I then got the call from Soul Heaven and landed a residency with them, which was a real milestone and honour for me…I met Fleur and the SH family, who I still reside with today, and being part of Soul Heaven has allowed me to showcase myself to the world and its one of the best platforms I could have asked for. Also forming AphroDisiax with my production partner, Gavin has really shaped things and we've worked with some amazing artists and labels along the way.
And before you leave us, can you tell us something you think we should all be listening to before we head out to the Soul Heaven Pool Party on Saturdays @ Ocean Beach, Ibiza?
Well to get you in the mood you should mos' def check out my Sound Cloud Page – where you will find various different flavours and vibes, thru my mixes/podcasts and radio shows…
www.soundcloud.com/sysez
The Soul Heaven Pool Party series of pop up parties launches at Ocean Beach, Ibiza, on June 8th with resident Sy Sez joining monthly residents Joey Negro, Tom Crane (Ocean Beach), Andy Ward, Tom Flynn and Luke Pompey.