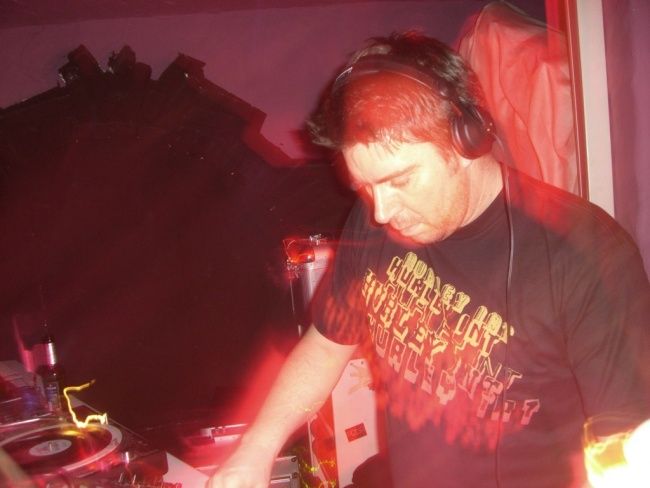 60 Seconds with Ray Hurley…
One of the shining lights of the U.K Garage movement, Ray Hurley needs little or no introduction to the clubbers who flock, week in week out to watch, listen and learn from the man most say is the real peoples choice.
Following a summer jaunt to Lanzarote, where a friend had a seasonal residency. Ray, mesmerised by the way the DJ controlled the crowd, along with his love of dance music set about learning the noble art for himself. By Christmas of the same year, Ray was a regular " clubber" at The Gass club in Londons fashionable West End. It was here that he was given his first break, as a warm up DJ for happy days every Saturday night.
It wasn't long before Ray was plying his trade at most of the ORIGINAL Sunday Scene venues such as The Wag , The Arches and the now famous Frog and Nightgown alongside such luminaries as Matt "Jam" Lamont, Karl "tuff enuff" Brown, Timmi Magic EZ and Norris Windross.
Joining partner Chris Bass to create SweeterGroove in 2008, the label released 10 EP's including 'Ride The Storm' signed to the Pure Garage compilation selling in excess of 300,000 copies and completed remixes for Lifford , Kathy Wood and Damien Truit for Booker T, Karl Tuff E Nuff Brown and Scott Garcia.
After a very successful period as the Dubmonsters and 2 EP's later, Ray went on to produce solo projects under his own name and remixed tracks for 'Another Level', 'Montel Jordan' and labels such as Public Demand, Sattellite and Universal and Warner UK. Rays remix of the eagerly awaited track 'Devil in Disquise' was picked up by Universal, Germany and now signed to Manifesto in London.
Ray is in preparation for his second label launch 'Sub London Records' alongside Hermit, Danny Ward & Chris Bass who are bringing forth their 2014 house & garage production back into the forefront of the industry.
What are you looking forward to at the Back To 95: Old Skool Special 
The music, the atmosphere and playing in front of a guaranteed sell-out crowd. I always look forward to the Back to 95 events as it's always guaranteed to be a full house of well established and proper music ravers.
And why do you think events like Back To 95 are so popular?
The promotion, organisation and effort put in to BackTo95 makes this the No.1 event to be at.
What can party people expect from your set, styles and sounds? 
I like to mix it up with some bangers along with some of the more obscure old skool in my own way (check out my mix on the Back to 95 website)
Do you have any secret weapons you can share with us?
Secret weapons….. I will be playing some of my own monsters from the Sub London camp and the SweeterGroove label.
Can you tell us what's new for you in terms of productions, remixes, projects etc etc?
Myself and Chris Bass aka SweeterGroove are busy putting out release after release and check us out on Traxsource, Beatport or Juno for our latest releases
You're something of a legend of the UKG scene. Where did it all start for you?
The music started for me back in The Gass Club, the Frog & Nightgown on Old Kent Road, Elephant & Castle, and the Arches watching TuffJam and Daryl B spinning… and I thought 'This is for me'…lol:-) These were some of the first venues I was lucky enough to play at.
What have been your career highlights so far?
Highlights so far include playing in front of 10,000 people in Essex and also at a festival in Perth, Australia, where the people just went crazy for the music.
How did you get your name and is there a story attached?
I go by the name….Hurley….Ray Hurley… Vodka martini…shaken not stirred (couldn't resist the Bond thing there – lol :-))
UKG was one of the first home grown dance sounds to really make it big in the pop charts and cross over into the mainstream, and is still going strong 18 years later. Most people tend to believe that "their" era of music was the best and that modern day music just can't compare. Do you feel that way about the 90s, or do you think the current output from the UK 'urban' music scene is just as good?
The original 90's House & Garage will always be the music that inspired me to make beats. Even to this day I'm making new deep house music with a twist of old skool garage which for me is the main reason I still produce.
How do you think the sound has evolved over the last couple of years with the success of Disclosure, Skepta etc
Again the likes of Disclosure and the rest must also been inspired by the sound back in the day because you can hear elements of old skool in their music. It may be just an organ sound or the swing of their drums but it all points back to garage.Producers out there are utilising lots of elements of garage in their styles and what does that tell you? Classic music that's still rocking the crowds 🙂
There are lots of clubs nights celebrating the soulful house and garage of the late nineties what do you think it is about music from that era that people just don't want to let go?
The catchy vocals, the rolling basslines and the 2step & 4/4 beats are why people flock to events like BackTo95 time and time again.
What advice would you give to aspiring DJs & Producers?
My advice to up and coming producers is to be inspired by whatever music made them want to make beats in the first place but give it a new twist and put your own stamp on whatever you do…Be individual and don't follow, be a leader. Create your own style of mixing and producing and stand out from the crowd. Its easy…lol:-)
What three records never fail when you're trying to get people up on the floor?
'Love Me Or Leave Me' – Cherie Lee
'Closer' – The Klubb Kidz
'Gotta Keep Movin' – Oscar G
And before you leave us, can you tell us something you think we should all be listening to before we head out the door to Back To 95 Old Skool Special?
Have a listen to my Back to 95 mix it contains some of the tracks I have been telling you about, new music with an old skool twist. https://soundcloud.com/backto95/ray-hurley-in-da-mix-for-your
Also check out Sub London Records & SweeterGroove on facebook or https://soundcloud.com/sweeter-groove.
peace 🙂
Ray Hurley headlines BackTo95 Old Skool Sessions alongside DJ EZ, Mike 'Ruff Cut' LLoyd, Ramsey & Fen, Jumping Jack Frost and HouseFM.net on Saturday October 10th at The Qube Project. All info www.backto95.com