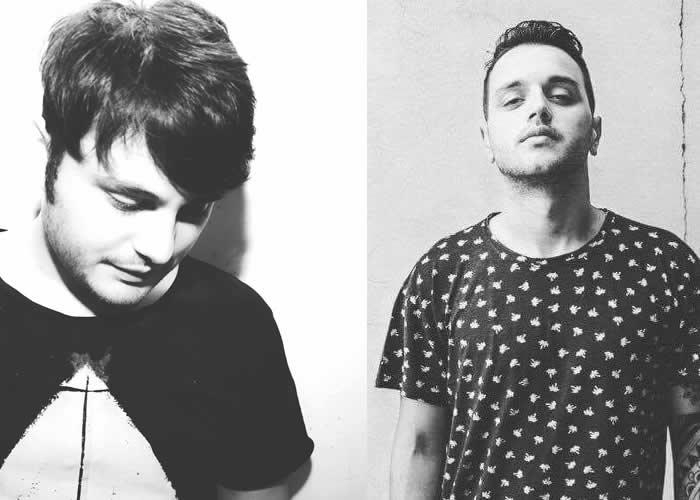 60 Seconds with… Rini Shkembi & Gezim Vrioni
Rini Shkembi and Gezim Vrioni are two exciting young DJs and Producers who also happen to run the the high flying Italian label, AdMaiora. A label with a deep focus on quality as opposed to quantity, the label already boasts releases from Kuo Climax,Hector, and most recently Yaya. We caught up with the guys to talk about how they run the label, their thoughts on the industry currently, and their musical influences growing up…
Hi Guys, How are you?
Hi guys! First of all thanks to the guys at ihouseu for the interview and for the possibility to talk together. Everything is fine at AdMaiora, hope the same there
We love the new Yaya release on Admaiora. How did you guys start working with him?

We've known Yaya for years and we start to work with him before the AdMaiora project. Later we decided to have him on our official label showcase last September and it's finally time for his debut official EP.
And it features a remix from wAFF. These are two heavyweight artists. How did the remix come about?
We were looking for a good artist to remix Yaya's original "Kayama" and we were searching for a quite big name in the scene. Then we talked with Yaya himself and we both came out that wAFF was a perfect name to have on board. His energetic groovy style is perfect for the label sound and the first feedbacks are just impressive: Mark Knight, Groove Armada, Dubfire, Oliver Schories, Hector Couto, Matthias Tanzmann, Reboot, Riva Starr, Gel Abril and more to come.
How long have you two known each other?
We've known each other for more than 6 years but it's only like 2 years that we decided officially to found AdMaiora.
The project was born to give our personal twist of our musical and artistic conception. The label started in 2015 and since the very first time we had some nice feedbacks from a lot of djs in the worldwide scene.

You both DJ and produce yourselves. How did you get into dance music and producing it yourselves?

We are both individual artists and we definitely play in two different ways. While Gezim plays live-set, Rini weekly shows his skills behind the decks as a DJ. We started producing some years ago to unleash our creativity, working together and having fun with the experimentation of sounds.
We haven't released a lot of music lately because we're constantly evolving, always searching for our personal sound.
Our music has been released on labels such as Inmotion, Snatch!, Moan and D- Floor (Gezim Vrioni) and NONSTOP, Bitten & Moan. Rini is a stable resident in his city Trieste and almost every week he rocks thousands of bodies with his beats.

How do you manage your time between producing and DJing yourselves and managing your own label to feature other artists?
The secret is to have a lot of time to organize and plan our work. Fortunately this year Francesco Quieti joined our project as a label manager and he take care of the business and communication part, including social medias and more.
We also started our own booking service and we've been joined by two more guys for our showcase: Danier Shkurti (ENTER – Balkans) and Alberto Del Zotto (Berlin – DE).
Who would you say your main influences are musically?
We are inspired by everything that provokes emotions. We mainly came from black music: jazz, funk and soul. We often try to transpose these genres into our productions, maybe with a particular sound or a vocal sample.

Where do you see the music industry 5 years from now?
It's practically impossible to have a certain and safety vision of the future, even in a couple of years. As we sadly see every day, almost everything around the music business is just based on money, money and more money. We had a lot of difficulties to emerge into the big business (clubs included) as we are still quite small. This happened due to the not open minded musical ambient against which we have to fight day per day.
In the future we see a still super populated Ibiza, an oversaturated beatport and lots of new talents that maybe won't be discovered.
What are your thoughts on the ongoing Vinyl VS. Digital argument?

This is one of the biggest questions of the last couple of years. We both think that doesn't matter how but the result. It's clear that the vinyl still got its evergreen charm but the most important thing is that people should focus more about what they listen to more than what they see.
Are we to expect anymore exciting artists releasing on your label in the near future?

In the next few months we will have a renowned artist that has previous releases on labels such as: Cocoon, Drumcode, Desolat and Cadenza. We can't tell you any name yet but make you sure to keep an eye on it! Also our next various artists catalogue is on the way so stay tuned!
What does the future have in store for you two? What are you looking forward to in the years to come?
We would love to promote our brand as a label and as a booking service, proposing at the global music industry with our idea of art and music and with our own artists.
And we hope a big "ADMAIORA SEMPER" for every one.
Cheers guys
AdMaiora's latest release from Yaya 'Kayama' is out now
Grab it here – https://www.beatport.com/release/kayama/1889757