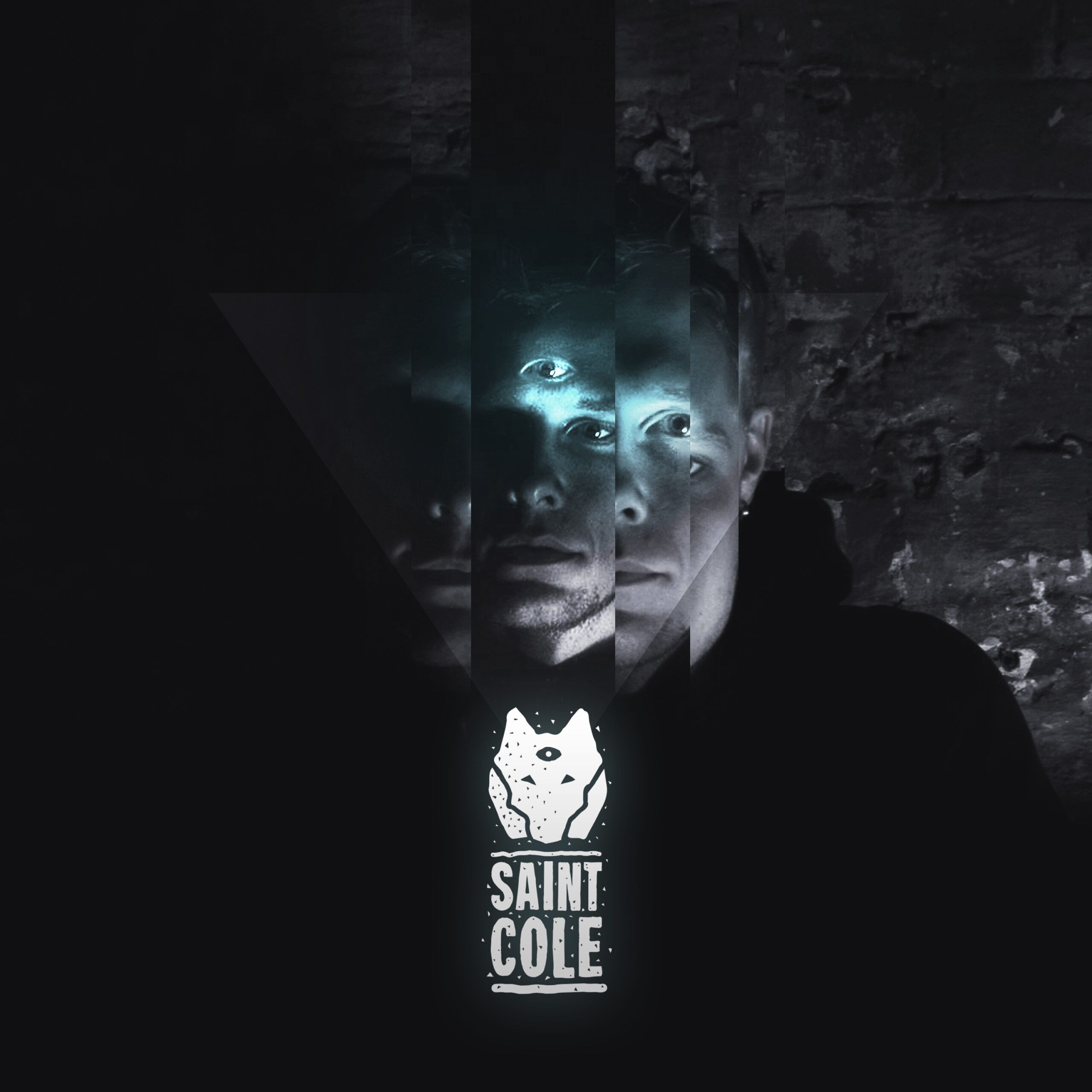 60 Seconds with… Saint Cole
Super Computer A.V label boss Saint Cole releases his brand new EP 'Simple Demonic Motion' on his own imprint today. We sit down with the experimental producer to find out more about his EP, starting a label and the audio visual side to Super Computer …
Hello Saint Cole, great to have you in for a chat, for anyone who doesn't know who you are or what it is you do, would you like to introduce yourself?
Nar then! I'm Saint Cole from West Yorkshire currently living in the city of Wakefield, spend most of my time playing around with synthesizers and making experimental techno/electronic music, the neighbours hate me 🙂

Tell us more about growing up in West Yorkshire, how did growing up there influence you musically?
Pretty much like that 4 Yorkshire men sketch off Monty Python, outside toilet, kidding was a great place to grow up, lots of places to go out clubbing but sadly missed out on the Orbit in Morley. I was too young to get in but the legend lived on and somehow you can't ignore the legacy it left. There were techno dj's on every estate and I soon followed suit, but over the years I have been influenced by and joined a few bands as a lead vocalist and rapper, also producing for the bands I was in.

What artists would you say have been the biggest influences on you and your sound?
Hard question to answer but the acts that sit on the edge of genres. Acts like Underworld, Chemical Brothers,The Prodigy also Psychedelic Rock bands like Beatles,Tame Impala. Also underground artists like Clark on Warp records, John Starlight, Green Velvet, Trentemoller and most recently been listening to the new album from Vessels and a lot of my mates tunes also, the list could go on…
So your latest release is your Simple Demonic Motion EP that is out on your own imprint Super Computer A.V. What was the thoughts behind putting it out on your own label?
I love to experiment and try do my own thing that usually doesn't fit the visions of other label owners, but it's a positive! So what better place to experiment than on your own label 🙂 I also want to give that opportunity to others, a label that works around the sound of an artists allowing their sound to adapt on its natural path.
So this is the debut release on your label, what challenges did you come across when starting the label and what advice would you have for anyone who is looking to star their own label?
Finding the right people to help push your vision is hard especially when you're also an experimental label, but finding the right people is necessary in this age. My advice would be don't pay out on social media advertising, come up with an idea that is different and engage naturally with your fans. Trying to make change is hard but dig your heels in the ground and hope people follow, but the right promo company will help you get your tunes into the right hands.
Now the label is called Super Computer A.V, what does the A.V stand for and can you tell us more about it?
The label is also co owned by Martin Kolcak from Slovakia who I have been collaborating with since Saint Cole was born 2 years ago. We started out as a psychedelic band with me and my life long friend Curt Shaw and Martin did an animation for a track we did when I started making techno again. Martin carried on making crazy animations for my music, it went on from there really.
Martin started doing all the animations for SC and this year we decided to set up an audio/visual label that put just as much attention into the visual aspect. We have future releases planned with a music video/animation for every track on the release. We kicked it off with a short animation for Dope Machina on this release go check it out on our facebook page.
https://www.facebook.com/supercomputerav/videos/1707424896218718/
Lets talk more about the EP, you have a remix from Vessels on there, how did this come about, what is your relationship with Vessels?
I met Lee from Vessels at his house party. My mate James Orvis who will be releasing on the label randomly asked me if I wanted to go one night. We all had a skin full and had a good sesh on the decks, played each others tunes and the respect grew from there. I couldn't have thought of anyone better to remix and they are local, that also said a lot to me.
If you could have any other artist in the world to remix one of your records, who would it be and why?
Woooooh! That's a good one, would have to be Florian doing his Jon Starlight late 90's early 00's electro sound going back and listening to his records always makes me smile. I would also like to hear Beardyman doing his vocal thing with one of my tracks just for a laugh.
Lets take a trip to your studio for a moment…How do you go about your productions, do you have a formula you stick to when building a track, or do you just get in there and let inspiration run its course?
Coming from a band background I am a sucker for arrangement and I know people are not overly fond of vocals in techno but I usually start with a song idea or a one liner, adding vocals can also help you find melody for synth parts and can communicate in ways synths can't.
I also love jamming on my synths and drum machines, hitting record and capturing them special moment, gives your music that human element.
Do you have any signature hardware or software you use in the studio?
I have little bromances with my synths going from one to the next using different ones on different projects. This was an analogue techno E.P so all the bottom ends were made on the analogue kick generator form Korg, but I have to confess the intro to Destroy All Humans was made on the Venom synth and that's virtual analogue (digital). My first 2 albums I used my Moog and the Pocket Piano a lot, but I believe there is a tool for every mood. I am currently slobbering over a Korg Monologue so who knows what's next.
Aside from the music, what do you enjoy doing in your free time, do you have any other hobbies?
I wouldn't have time for any other hobbies, with the label starting up I am either making techno, making plans to release, but other than that I am spending time with family and playing with my puppy Indigo, she's ace.
Lastly, I'm sure this year is going to continue to be a busy one for you, what individual plans do you have coming up?
2018 I have been booked to play Cologne for a Technodisiakum Records party on February the 16th and a few other events in the pipeline. I also have 2 tracks featuring on a British film drama called Strangeways Here We Come based in Manchester that has just got a major distribution deal so should be out spring 2018.
Many more video/audio releases from Saint Cole and SCAV to come and I have to get my head down and get all synth geeky as Korg have asked me to try my hand at writing a preset pack for the Korg Monologue synth, so will have to chain myself to that synth for a month or 2. If you would like to hear/see more come say hello on either my Saint Cole or the Super Computer A/V facebook page we also give free music away on a regular basis.
https://www.facebook.com/supercomputerav/
https://www.facebook.com/saintcole/