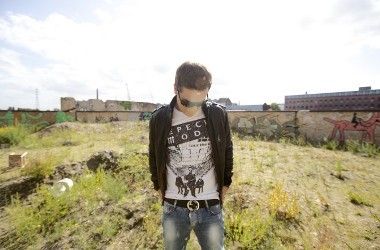 60 seconds with… Sixty69Nine
Belgium is and has for a long time been a hotbed for Dance music talents. 2013 is just as exciting as any year for the country that gave us the likes of Dimitri Vegas and Like Mike, Soulwax and Basto, amongst many other globally received Dance acts. Sixty69Nine is a fast-rising EDM all-rounder that has impressed some of the industry's top dogs in recent months with his big-room productions. With a forthcoming release schedule rammed with some serious dance floor killers – you can expect to be hearing this guy at your favourite dance music spots in the not so distant future. We spoke to the man behind it all about 2013 and beyond.
Let's start with the past and work out way forward.
Tell us about how it all started for you with music?
My earliest music 'memories' are going through my father's 12" record collection and playing records on a belt driven Hitachi turntable. At a very young age I was already making mix tapes of music recorded from the radio. I also remember buying my first CD – Michael Jackson's 'Bad' and playing all my favourite songs from the radio on a Casio synth I got from my parents.
When did you get the electronic music bug?
I started buying dance CDs and vinyl when I was 12.
What came first to you – production or DJing?
Both at the same time when I was about 15 or 16 I think. I first started out playing around with a program called Dance Ejay. Later on I moved on to Reason and Fruity Loops. Actually my 2008 hit 'Music In My DNA' (number 1 in the official Belgian Dance Charts) was made completely in Reason 3. I'm using Ableton Live nowadays. As a DJ I started out at a local youth centre.
Do you remember your first gig?
Yes. It was a techno party in a youth centre in my street. The party was called Bit & Beats and I did the warm up set for DJ Pierre, resident of the legendary techno club 'Fuse' in Brussels. I think I was about 15 or 16 years old.
You've recently released "Scream" on Housepital Records. Tell us more about how that project materialised?
I produced the track together with Damian Miller. We met through a mutual friend and just got to work in the studio. I instantly had a good feeling about the track. Damian Miller is a very talented musician and vocalist.
How do you approach a new track when in the studio?
That's different every time. Sometimes I hear an inspiring synth sound, bass sound or whatever. Sometimes I just play around on the keyboard with a piano preset loaded until I've got a great melody going. It's also very inspiring to work together with other producers. For instance: I love working with my friend Ignazzio. We're very complementary. He's very good at making drums and percussion – I'm more into melodies and bass lines.
What are your secret weapons in the studio?
My ear for good melodies and vocals.
Tell us more about your current job – you work for Belgian national radio right?
Yes, I'm working for a radio station called MNM. I make mixes in Ableton Live for the office hours programs. It's a blend of dance, rock, pop and urban. As a professional in the music industry you have to keep an open mind. There's beautiful and inspiring music in almost every musical genre.
Belgium seems to be getting a whole lot of attention in the EDM world in recent years. What do you put that down to?
Belgium has always been at the forefront of electronic dance music since the late eighties and early nineties. From new beat and house, to techno and trance. There is a real dance music culture and a lot of talented artists. The real rebirth came with the worldwide success of the festival Tomorrowland (Dimitri Vegas & Like Mike, Yves V). But we still have a long way to go to catch up with the Swedes or the Dutch.
So the name Sixty69Nine – how do we say that and what's the story behind it?
The name Sixty69nine goes back to when I was a teenager. I had a necklace with the Chinese 'Yin and Yang' sign. Also back in those days there was a Belgian mega club called 'Zillion' that I loved, which had a '69' in its logo. So my artist name became Sixty69nine. So it has nothing to do with sexual positions.
What's lined up next for your next releases?
I've got at least three tracks coming up that were produced together with my friend and colleague Ignazzio featuring some other DJs/producer friends and/or vocalists.
You're up and coming fast in the EDM scene – who do you hear around you that you think will be breaking through in the next year or so?
Mystique, Romeo Blanco and a duo called Double Pleasure, just to name a few.
Thanks for talking to us!