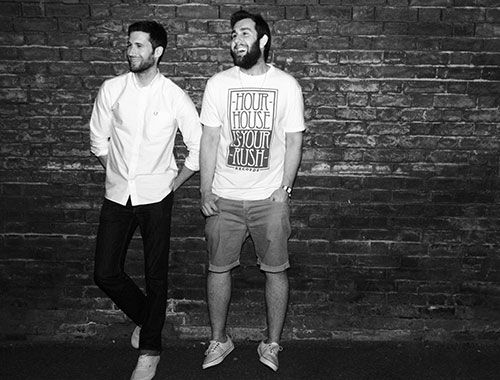 60 Seconds with… Souldynamic
Souldynamic is an house music dj and production duo releasing music on Tribe Records (UK).
The dynamic duo have held residency at Southport Weekender's open air festival SuncéBeat in Croatia since 2010 which then cemented their place at Southport Weekender itself playing at the last three events.
They also appeared as guest DJ's in some of the finest clubs in Europe such playing in Ibiza, Rome, London, Hong Kong, Milan, Venice, Amsterdam, Naples, Birmingham and Portugal, Switzerland, Croatia and more.
We spoke to them this week…
You guys met in 2000 and since then Souldynamic has gone from strength to strength. What do you think your formula for success is?
We met in the early 2000's at the only record shop in our town and immediately recognised that we were on the same musical tip. We spent ages in that small shop listening to music, which we both have great memories of. Souldynamic is all about passion and every set we play is truly done for the love of House music, joining the music with the dancefloor. We smile…we live the musical journey telling people our life story through the music. It's something that came out automatically from our spirits artistically talking and we give our best to the followers we meet in the club at every show/
You're residents at Southport Weekender and the Suncebeat Festival. How did this come about and what are your favourite memories of the event?

We first discovered the SuncéBeat Festival in Croatia in 2010, and we came across a musical paradise, something we never expected from our first experience ever in that scene. After a couple of Suncebeat Festivals in Croatia we got the opportunity to join the legendary Southport Weekender. It's not easy to come up with a specific memory of these events as both festivals are magical and spectacular in terms of crowds, the line ups and locations but probably our best memory is our first set at the Southport Weekender when we played in the SuncéBeat Dome. Our set time was 4-6 am, nobody inside the room, it was a new space and people actually didn't realise it was for dancing we guess. We started playing and after just a few tracks the Dome was filled with dancers and the DJ booth was very close to the dancefloor, and when we finished at 6.40 am people came over to compliment us on the experience and that was truly an unforgettable memory.
You've played at Deep Into Soul a couple of times now and how would you describe the party ?

It's our 4th time at Deep Into Soul and we can't wait to close off the Summer season on the Terrace with it's amazing views. The DIS party it's all about the "Vibe" and you can feel the vibration between you and the party people. We have a lot of followers in London and it's always a pleasure to fly there to DJ and meet what now we can call our London family.
We have a forthcoming album due on the mighty Tribe records. Can you tell us a bit more about it and what the listeners can expect?

Yes, our first album, it's going to be entitled "Origins" and released by Tribe Records soon. We spent 2 years to putting all the tracks together, and we arranged almost 20 tracks, collaborating with many singers including Deborah Bond, Tamara Wellons, Wunmi, Divinity, Mr V, Tumelo, Soulstar, Miranda Nicole & more. We tried to give maximum dedication and concentration to this album and every track tells a story, every sound is selected with care and we recorded many live instruments such as percussion, guitars, finger bass, hammonds, pianos and fender rhodes. "Origins" is like a son for us and we also wanted to show the world how much we have matured musically speaking. We're very proud of how it sounds and you can listen to some of these tracks on our Boiler Room set. https://boilerroom.tv/session/boiler-room-x-neuhm-napoli-omar-s-gigi-testa-souldynamic/
Tribe Records has been our home for the last couple of years, it's such a good label and they're realyy behind and into this album.
What DJs do you go out to listen to and why?
We're very lucky because we get to play at lots of different festivals in Europe, which gives us the opportunity to listen to all our favourite DJs. Where we live it's not easy to go out and listen to our favourite DJs. We're just back from the Odyssia Festival in Greece where we heard the legendary Body&Soul trio Francois K, Joe Claussell and Danny Krivit, which was impressive as always, Joe played some new unreleased gems that got us shaking our bodies and Glenn Undreground was great also…he's so eclectic and original, great music from him! Osunlade at the Olive Grooves during the Yoruba session at SuncéBeat 7 was BIG and one of the greatest set we heard this summer.

How would you describe the scene in Italy now and what are the hottest parties there?
Italy is always a great place for Underground music, and we can see lots of different new parties springing up quickly in the scene and not only in the big cities. Louie Vega, Kerri Chandler, Tony Humphries and many other legendary DJs play regularly here and young people are getting closer to a "different" music and we feel that the EDM scene is not big as it was a couple of years ago. Also in our small town where House music was almost unknown a few years ago there's now a new group of people organising parties and we performed at an amazing pool party called 'Tears' in July with Luis Radio for more than a thousand people till 6 am…incredibile night.
From our point of view the hottest parties in Italy are withot doubt in Naples at Neuhm parties. Their organisation is impeccabile, their crowd is really into music and are able to judge DJ sets with objectivity. The DJ booth and sound system are always perfect – dream for a DJ, Naples rocks!

Are there any producers you're particularly tipping right now and why?
Ron Trent is at the top of the list at the moment for us and we heard his new tune "Where Is The Love" played by Joe Claussell and it's such a great song. Ron's style is so good and whenever he releases a new track he always surprise us. We love vocals and Ron is on fire at the moment 🙂 Louie Vega is the "Maestro" – another level – so many new tracks and remixes from him and whenever we listen to his sets we always hear new incredible music from the planet Vega.

And lastly before we leave to head out to Deep Into Soul's Summer Closing event what should we be listening to?
We're playing a lot of our own new music and different tracks from the album are already in peoples' heads as we've played them out in our sets around Europe this summer. We've been shut up in the studio for months and this season we wanted to see peoples' reactions to our new music. We have a lot of new edits to play too, we know very well what the London dancers expect from us. We'll try to do our best as always!
Italy's Souldynamic fly in Exclusively for the Deep Into Soul Summer Closing alongside Fish Go Deep, Sean McCabe, Rhemi Music's Neil Pierce & Ziggy Funk, Sol Brown, David Bailey, Gary Gee at the Prince Of Wales, Brixton on Saturday September 17th. In Room 2 catch Rap Saunders, Shaun Ashby, and DJ Fiddla all running from 5pm – 5am. All info at www.facebook.com/DeepIntoSoul
Mix: https://www.mixcloud.com/discover/souldynamic/