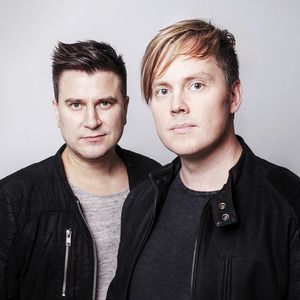 60 Seconds with… Super8 & Tab
Not even a year after the release of their third studio album 'Reformation' and trance legends Super8 & Tab are already back in the musical driving seat with their new DJ mix album 'Past, Present & Future'. Bringing together a scorching collection of music that spans their decade-long career as a duo, the Finns invite listeners into a world of driving, euphoric trance that encapsulates the thrill of their live show.
Their next visit to the UK, at London's legendary Ministry of Sound, will see the pair drop a six-hour, open-to-close set that promises to be one for the books and a must-see for any trance fans worth their salt.
We caught up with Miika Eloranta and Janne Mansnerus to talk all things 'Past, Present & Future'…
1 – Hi guys! Welcome to I House U. Tell us where in the world you are right now and what you're doing…
We are in our lovely home country Finland and in our studio preparing new music for our 'Past, Present and Future'
2 – You've just released 'Past, Present & Future'. Rather than a run of new singles, it's a DJ mix. Why the decision to release a DJ mix?
'Past, Present & Future' is more of a DJ compilation than a traditional artist album. We have a long history in the trance scene so on this compilation we want to bring out our old sound as well as our current and future sound. With a DJ mix it is also easier to showcase how we are going to sound live.
3 – The name 'Past, Present & Future' – is it as self explanatory as it sounds? What's the thinking behind the concept?
It is pretty self explanatory really. But why we ended up doing it was because we felt it wasn't time for another artist album yet after releasing Reformation only a little bit over year ago. So we thought, let's have some fun and explore how theme 'Past, Present & Future' would sound through our ears.
4 – The DJ mixtape is a longstanding tradition from dance music culture going right back to the early days of house. Where there any particular mix series you used to listen to when you were getting into trance that really inspired you, or stood out from the crowd?
There's definitely a few big ones and some of them are still going, like the Anjunabeats series and Armin's A State Of Trance. But also the Renaissance series from way back was huge and all those Gatecrasher and Godskitchen were a huge influence as well.
5 – Why do you think the mix compilation has died out in popularity among DJs?
Well there are so many radio shows and playlists you can stream coming out basically daily, it did made us wonder if there was a place for another DJ Mix. But we thought that with our history, there was place for another kind of story than just "another" DJ Mix.
6 – The tracklist you have for the album is insanely good. You have tracks there from Armin, Above & Beyond, Andrew Bayer, Binary Finary, Ilan Bluestone, Ferry Corsten and of course your own music. How hard was it to pick out which music you wanted to use and – we're guessing even harder – cut out tracks to keep the mix length tight?
Oh yes! It was kind of kill your darlings in the process. We had a long list and we just needed to cut it down and also pick tracks that go well together. And on top of that, we wanted it to sound how we sound in the club too.
7 – What kind of journey are you looking to take listeners on in the mix?
Hopefully we can take them on a journey through 'Past, Present & Future' as we hear it. And also if there are listeners who haven't heard us live, this will be great example how we sound at the gigs.
8 – You only really wrapped up your 'Reformation' album project at the end of 2018. That's not a lot of time in between projects. Was 'Past, Present & Future' something that had been bubbling away in your minds for a while, or was it something that came together quickly and you just ran with it?
Kind of both. We have a long history and we haven't done any kind of "10 years of us" albums or even 15 years. We wanted to do something different and when the 'Past, Present & Future' idea came around it felt like a natural way of doing this. We are so focused on new music that doing an album with only old music didn't feel natural. But at the same time we are proud of the music we have released in the past and so this gave us possibility to embrace both. New and the old.
9 – Will you be taking the 'Past, Present & Future' concept out on the road?
Definitely and we already have. We just did ASOT900 in Madrid and we are leaving soon to Singapore. And end of the month we are doing open-to-close 6 hour set at Ministry Of Sound
10 – What is your perfect 'Past', your perfect 'Present' and your perfect 'Future' track?
Ashley Wallbridge's remix of Super8's first release 'Alba'. There all the aspects of 'Past, Present & Future' come together.