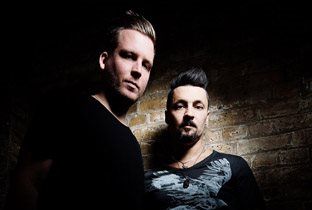 60 Seconds With… taMe
taMe are a British duo consisting of Phil & Scott, who together make music that'll most definitely get you moving; such is its obvious dancefloor persuasions. Having met at the DJ Mag Top 100 Awards afterparty, their unlikely meeting has since led to a fruitful production partnership. Their most recent EP is 'Seam Unique' ­ and it's a brilliant indication of where the boys are at sound wise right now, and with it touching on everything from house to techno to progressive, it's a monster in the best sense of the word. We checked in with the lads recently to find out more:
How do you guys know one another? Was it through music?
We met at the Top 100 DJ Mag Awards afterparty a few years ago and instantly got on well. After a pretty mad night, we then decided let's go to the studio and try out some ideasŠand the rest is history!
Who does what in the studio? How do you differ musically? Do you agree on most things?
Scott used to be a drummer in a signed rock-indie band called Phobia in his teens so comes from a live music background. He brings all his experience into programming a lot of the percussion as well as some of the keys. Whereas Phil has more technical skill and experience, plays keys and is an excellent studio engineer.
We never disagree on the creative side of our productions that makes it work so well and have perfected the art of compromising.
Musically we are into many different genres and styles of music from all around the world and we appreciate the qualities and talents that we hear and see within each. We take this into the studio with open minds and so far it served us really well.
And do you pack different bags depending on where you are playing? What genre are you closest to in terms of style?
We are both extremely well travelled which has given us cultural awareness with regards to the different kinds of crowds we play to. We are always mindful with picking music to suit where we are playing, plus you get to realize pretty quickly what goes down well and where. Our main focus in our sets is to be widely diverse, dipping in and out of different genres, keeping it fresh whilst leaning slightly to a more overall Techno and bass and beat heavy Electronica influenced sound.
How has your sound changed over the years then? Or has it?
Our taMe sound has developed organically and effortlessly over the past couple of years and now we're pretty happy with our own sound. You can hear a lot of different influences in our taMe productions as we're big believers in taking inspiration from our peers and to constantly look to improve.
I wanted to ask about Colin Dale, who remixed 'Seam Unique'. How did that one come about?
Late last year we released our 'Musique Electronique EP' which was the second release on our taMe Music imprint. One of the tracks called 'C'est Bon Le Groove' caught Colin's ears to the extent where he declared it to be one of his Top 10 at the time. He liked it so much that we started to develop a really solid and ongoing trusted, musical relationship. We consider Colin to be one of the most genuine and down to earth, honest professionals in the industry. His experience speaks for itself so we were delighted when he said yes to remixing 'Seam Unique' and now it's just a great pleasure for us to be working with him.
Are you ever slightly wary that an artist won't remix your work in the manner you'd have liked them to?
Always picking the right artist is the first thing we look at and continuing to work with talented and established artists is always our main objective. You could say we are quite particular about who we collaborate with. In terms of remixing, because we're particular with the artist in the first place, we are quite chilled out and also confident that every remix we commission will turn out great. For us a remixer should not be afraid to bring their own style to their mix and has full creative license to be as experimental as they wish!
What's the idea behind the title by the way? Are you trying to tell us something?
We've both been through our informative clubbing years and come out the other side after some really crazy adventures. The idea of taMe is that we've harnessed all our experiences, translated that into our music in an attempt to hypnotize and so 'taMe' those that listen to our music! Hence our mission statement: 'We make music, you dance!'
How has working as a duo changed how you approach music? Do you find that you consider things now that you mightn't have before?
Of course, that's the best part of working with someone else who is completely on the same page as you generally speaking, with the collective ability of each bringing something different to the table. Due to our past experiences and tastes, we seem to have developed a formula that for us just works!
What are some of the most important lessons you have learnt when it comes to production?
We are both very patient but efficient working producers. Learning very quickly not to rush anything when writing a track or remix is crucial. In production terms, for us it's about finding a handful of extremely solid sounds, thereby negating any need to over-produce with too many sounds that ultimately just clash. We work very hard to find sounds that work together well which for us ultimately leads to a satisfying result. With each studio session we have there is definitely consistent progression as we do always try to step outside box and test what others may consider risky ideas, whether it's with an unusual sound or instrument or within the arrangement itself.
Are you hardware or software guys? And which do you prefer?
We like to have a hands-on approach with the hardware but at the same time the software is crucial to bringing so much creative input which is evolving all the time.
Talk to us a bit about the label. What's the general premise behind it all?
The label is an extension of the taMe brand and serves as a vehicle for us to showcase what we do best, as well as working with the most exciting emerging and already established talent out there.
What are your long-term goals as producers? Are you already full-time musicians?
taMe and our taMe Music label are both growing organically and at a very comfortable pace. We are both full-time, passionate musicians who are very determined to keep doing what we're doing and see where the journey takes us with no preconceived or unrealistic expectations.
What is the next project you will be working on? And what else can we look forward to from you guys?
We are currently working on our debut taMe album, aiming to release it next year. We had a Top 10 Must Hear House tracks nomination from Beatport earlier this year, charting our remix of 'Andi Rivera ft Robert Owens ­ To Be' released on Deep8 Recordings. This led to an invitation from UK Techno legend Colin Dale to do a remix of 'Thomas Gandey ­ I Wanna Know', coming out this summer on his Abstrakt Dance Records label. On top of that we also just finished a new three track EP that will be released in the autumn. We are also developing a live show with the intention of taking the album on tour. There are a lot of ideas floating around at the moment so we're looking forward to the second half of this year.