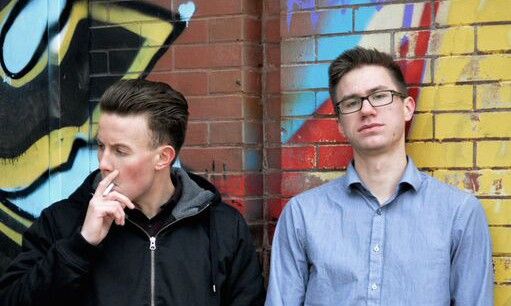 60 Seconds With… The Architects
The Architects are Artur and Alan, a fledgling outfit from the home of house music, Chicago. Suitably enough, they make the sort of 4/4 that gloriously harks back to the city's most fertile period with regard to electronic music. The boys have been busy working in the studio recently, with the latest sum of their parts, a brilliant release on HMWL, the end result. We put a few questions their way just as the EP dropped…
We'd like to start by asking about your latest EP. Can you tell us a bit about the vibe you were going for with it?
Each track on the EP has it's own separate vibe. They are different, but still at the same time complement each other. We're fans of many different genres, styles, vibes… and through this EP we wanted to show exactly that. Deep, dark, happy, mellow, intense, it's all there.
And how did it come to be released on HMWL?
We were given a huge opportunity, thanks to the label heads over at HMWL. Initially we sent over the EP to them and they vibed with 'Glow' a lot. A day later, we received the best email ever. They relistened to the whole EP and enjoyed it. From there we decided to make a deal, and here we are!
How long have you guys been working as musicians? What's been your proudest accomplishment to date?
We've both been playing various instruments for a long time. Artur started out playing piano from an early age, following in the footsteps of his father who is a great Jazz pianist. Alan has played trumpet in symphonic and jazz bands his whole academic career as well has singing in several choral groups. It was only last year that our love of house music made us get serious about producing.
What do you see as the future of your sound do you think?
We're constantly changing and pushing the limit on what we can create. We're inspired by so many sources; it's hard to say. Sometimes it changes day by day. One thing you can be sure of, we'll always bring you quality underground sound.
Do you think house and techno are at a good place right now? What DJs and producers are really influencing you a lot at the moment?
A lot of people are hung up on what "used to be". We don't think like that. We're very happy with where house/techno are at now and we see nothing but opportunities ahead of us. We pay homage to the legacy of Chicago house but we know that this is our time to shine and create something that future generations will be talking about. Recently, the sound of Fouk and Max Graef have heavily influenced us. Their music really speaks for what we strive to be: intelligent dance music that has soul. On the flipside, our fellow Chicago native Gene Farris appears in our sets quite often. His brand of jackin' techy punchy house really inspires us as well. There's never been a time that his track "Move Your Body" hasn't had people moving their bodies. Also, it would be unfair if we didn't mention MK in all this as well. We both love what he's created through his long career, from his early productions in the 90's to what he does today. Huge influence.
The artwork on your record is really cool. Do you think people don't pay much attention to the art these days? Is it a bit of a pity that they don't?
Thank you! The artwork was done by the awesome guys at RoboToaster, a design company based out of Chicago. They're not only our good friends, but they produce extremely high quality material. That's a great question, because we were very specific in what we wanted for the artwork. It's attention to detail that matters for us. All forms of art are equally important for us. Music is just another part of it. The point is to create something beautiful, something that makes you stop and think. In an industry where it's difficult to earn a living wage, it's too easy to forget about the principles and take the easy or cheap way out.
How did growing up in Chicago influence your sound? Or did it?
It definitely played a major role in where our sound is today. We're too young to say we experienced the hayday of Chicago house, but looking back and exploring what it used to be has shaped us.
How would you describe the mood of the city right now? Is it a nice place to grow up? Is it inspirational still?
Chicago receives a lot of attention for being a violent city. But, in our day to day, we don't see that. In fact it's the opposite. Most people in Chicago are extremely friendly, and it's still a great place to grow up but it's a shame that this can't be said for all parts of the city. So many things happen every day in Chicago it's hard to keep up, but the city is known as having "big shoulders" for a reason, the people here always strive to be the best.
So has the scene changed for the better or the worse since you became involved?
We've only been active in the scene for a short while, so it's hard for us to say that we've seen it change. The House scene is definitely there, but you can definitely feel a gap. There are so many people from the previous generation that grew up with the raves, the warehouse parties, and the incredible Chicago underground house scene. But our generation needs a bit of education. It's hard to compete with people that are playing more commercial EDM because they pull a lot of the younger generation. That's where we hope to bridge the gap. Bring the old heads and the new heads together.
So do you reckon the Internet is a good or bad thing for electronic music? Or maybe a bit of both?
We think it's both a blessing and a curse. With the state of piracy and music streaming as it is, it's hard for artists to make a living simply off their craft. But, it's absolutely incredible how far your music can reach, all the continents on the globe, when previously it would really only reach the nearest vicinity to where you were handing out your CDs.
Would you ever leave the city to progress in music? Or is music very much a hobby for you guys right now?
Music was a hobby of ours for a long time but now we're taking it very seriously. Our goal is to be able to live off of our music, and we won't stop until we get there. If you do what you love, you won't work a day in your life, right? Chicago has given us so much, and we will always see it as our home, but yes we do plan on moving away, even in the near future. For us it's important to be able to spend as much time as possible polishing our craft, so we will soon be moving somewhere that will allow us to do that. We're brainstorming where that place is but we've thought of options anywhere from Colorado, to Berlin, to Warsaw, to Miami. Who knows where the wind will blow us next.
Aside from music, what do you get up to in your spare time?
We're huge movie buffs, so when we're not in the studio, we're brainstorming what to watch next. And South Park. It's been a tradition for a long time that no night in the studio is finished without an episode of South Park.
Imagine you were playing your final set tonight. What tracks would you choose and why?
To name a few:
Look Right Through (MK Dub III) – Storm Queen
Move Your Body – Gene Farris
Ken Sent Me – Fouk
Bang the Box – Little By Little
Bang That (Rubb Sound System Remix) – Disclosure
From deep tracks, soulful tracks, techy tracks, those we be a few that we'd drop into the mix. Guaranteed heaters! We also want to thank you for the opportunity to have this interview. We're extremely happy to be doing what we do, and we would be nuts if we didn't say how much this means to us!
Thanks!