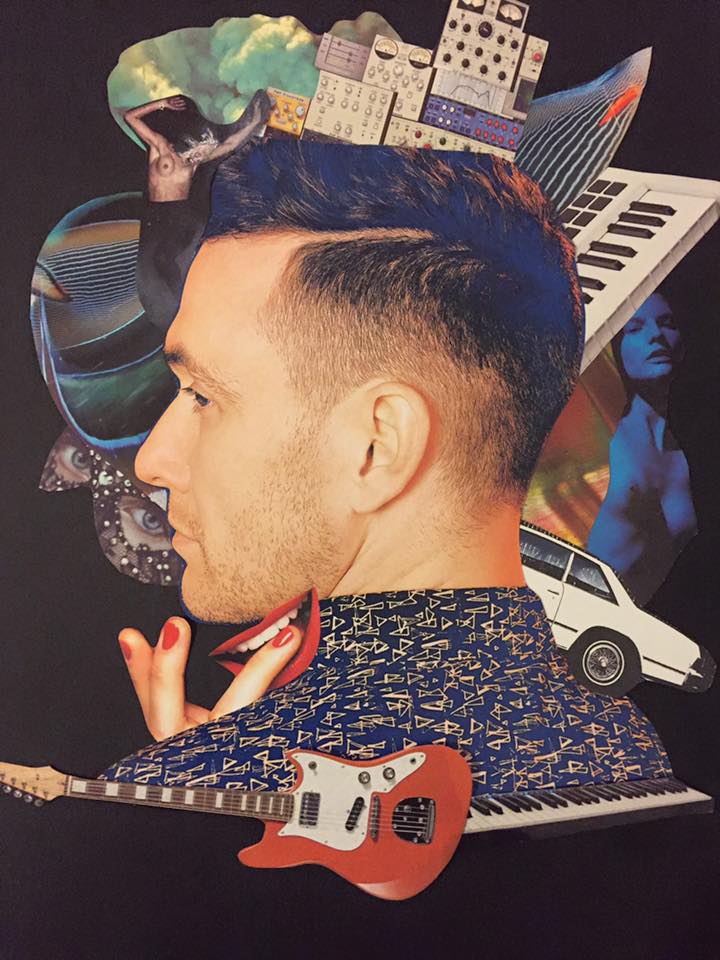 60 Seconds with… The Ball and The Wall
What happens when a professional musician locks himself up in his studio 24 hours a day for a whole week and invites more than 30 established musicians ​from various genres to join him?.. It's what Danish producer / songwriter Noah Rosanes set to find out as he implemented his Music Marathon experiment for The Ball And The Wall to create his new album 'Unify'.. Ihouseu caught up with the great Dane!…
What's the story behind your name 'The Ball And The Wall?

I wanted to start a solo project, but the idea of me sitting alone in my studio didn´t turn me on…It is so much more fun and inspiring to work with other musicians… I need a wall to play against…therefore The Ball And The Wall. I collaborate with a new artist for every The Ball And The Wall song make. So every song has a different vibe. It is important to go with the flow and get a natural sound out of the chemistry between me and the other artist. Sometimes it´s obvious to make dark hard music but with other artists it feels more right to make beautiful uplifting music…
When did music appear on your radar and what made you want to start creating?
Well my mother is a singer, so I've been dragged along to studios and concerts my whole life. I started Playing guitar when I was 10 and took it from there…
How would you describe your sound?
Versitile!
Congrats on your amazing new album 'Unify' tell us a little about this unique project?
The concept behind "Unify" is simple. I locked myself inside my studio 24 hours a day for 1 whole week…I had invited 30 musicians from different styles to join me to create a 30 minute long peice of music. By the end of week UNIFT was created and done!
What made you choose to make the album as a continuous piece of music and record it in only in 1 week?
I wanted to break free from the 3.30 radio format, so the idea of 30 minutes was appealing too me.
Did you do any writing or prepping before hand, or was it all written impromptu?
Nope, everthing was created in that week…
What obstacles do you come up against writing in this way and how do you overcome them?
It really was a very natural process so many great musicians dropping by, so there was a lot of inspiration in the studio.
What were the highlights of the recording sessions?
"The story behind the title "UNIFY"is interesting! Me and Selina Gin where having a hard time coming up with the right lyrics for a section…After about 10 minutes of treading water and not find the rigt line i suddenly got a facebook massage from a young guy who had be folloing Music Marathon online. He sent me a drop box link with all his lyrics hopeing to inspire! We opened the files and BOOM we saw the line "I Want To Unify", this line really sums up what the Music Marathon project is all about – bringing musicians together…That's how it ended up called UNIFY.
Tell us about your gorgeous new single from the project 'Thinnest Air', how did you hook up with Selina Gin?
I worked with Selina before, when I produced her band Nelson Can, I just knew she would be right for that song.
Which artists are involved in the project?
Anders Bo (guitarist, Medina), Lasse Aagaard (The 4th Wall), Mikkel Benn (drummer, Safri Duo, Anne Linnet), Svenstrup & Vendelboe (DJs), Regina Unnur Olafsdottir (soprano), Peerish (writer, musician), Peter Købsted (bassist in Electric Guitars), Christine Raft (classical pianist), M.I.L.O (rapper), Echo Me (singer songwriter), Carsten Skov (Xylophone, Sys Bjerre), Nikolai Kock Simms (Rotary Lire), Anders Meinhardt (drummer Fisher, Johnson), Nicolas Kornerup (keys, Hannah Schneider), Navhav (singer), Penny Police (Marie Fjeldsted), Selina Gin (Nelson Can)
Where did you get your inspiration from?
The musicians who where involved… the chemistry beetween The Ball and The Wall!
You travel a lot performing and writing, where is your favourite place in the world to play so far?
Belin is great! I love that place.
Who are your favourite producers right now?
James Blake is great!
What was it like honing your craft in the Denmark music scene, is it a vibrant place musically?
There is alot going on and a fair amout of succes outside of Denmark with acts like MØ Lukas Graham and Volbeat.
Who would you most like to collaborate with next?
Robert Plant – a childhood dream!
What gigs are you most looking forward to this summer?
Making more The Ball and The Wall
If Noah Rosanes wasn't making music he would be…?
That could never happen…
What new projects have you got in the pipeline?
In fact, I'm producing the new Nelson Can album, plus the new Simon Lynge…Check them out!
Unify is out now on 10.000 Records.