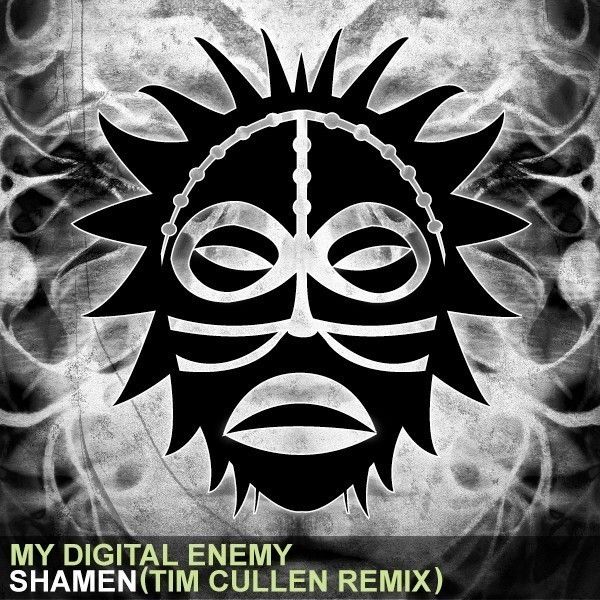 60 Seconds With.. Tim Cullen
Tim Cullen's remarkable abilities as an engineer have established him as one of the most versatile DJ/producers of the moment, earning him sets alongside some of the industry's most respected names and a residency at the iconic Ministry of Sound. Besides having one of his busiest summers yet, he's found time to give My Digital Enemy's 'Shamen' the remix treatment on Vudu Records, so we caught up with him to find out how it came about, why he's never 100% happy with his own productions and how remixing a track is a bit like playing with Lego…
Yo Tim! Before we get on to the subject of your latest track, tell us what you've been up to over the summer.
Yo! I've only just realised the summer is nearly over! It's been a crazy time of both gigs and studio work, but I think the biggest thing for me in recent months has been the HoliOne UK festival tour w/ my own label Grin Recordings. We took the brand along with our artists (So Called Scumbags, Long & Harris, Shane Kehoe, August Five, Dirty Secretz) all over the UK including London which was to 16,000 people at Wembley stadium. I've also been playing regular slots at my club residency at Ministry of Sound, and international gigs in France, Spain, Italy & Cayman Islands. It's been a fun year to say the least!
My Digital Enemy's original mix of 'Shamen' absolutely smashed it earning them a #1 in the Beatport Tech House chart, how did it feel to be called upon for remix duties?
I actually approached the guys for this one! It's the first time I have asked someone specifically to remix a track. I really liked the original and wanted to get my hands on that chopped vocal part. It came together very quickly as I had exactly what I wanted in my mind before setting about doing the remix, and I'm very happy with how it's come out. I hope everyone likes it too!
Where are you most looking forward to dropping the track?
I've actually been playing and testing it out throughout the summer, making tiny adjustments every time until I was 100% happy. I am a bit fussy like that. I've obviously played it at Ministry of Sound and it seems to suit the vibe there so well. I dropped it a couple of weeks ago when warming up for Bob Sinclar and the place went off, which is always a very good sign!
It's already drummed up huge support, were you expecting such big names to get behind it?
It's always a very humbling experience when DJs I admire play my tracks. I never expect it, but when it happens I feel very lucky to be in the position I'm in. I was very happy to hear that the remix was played on BBC Radio One by Danny Howard. That is always the big goal for me for each release.
Vudu Records is smashing out some seriously big tracks lately – how does it feel for your track to be released on such an up and coming label?
I've always been a fan of both the Zulu and Vudu Records sound – the production quality is always solid with each and every release. The MDE guys do such a great job with maintaining that quality and I am very proud to now be added to their list of artists.
Do you prefer putting your own spin on an existing track or making original productions?
I absolutely love writing music, but my main problem is that I find it very hard to finish original tracks as I am never 100% happy with the final product! At least with remixes you have a strict deadline which forces you to get it done and out of the door without the faffing around haha! I do love taking parts of a track and putting my spin on it. It's like having someone's Lego house, taking it to pieces and then making it into a spaceship with lasers and stuff. Normally I try not to listen to the original version of the track much at all when remixing so my version is as different from the original as possible.
You were hand-picked to become a resident DJ at the iconic Ministry of Sound. That must've been a pretty unforgettable moment, how did it come about? Which nights have stood out for you so far?
Ah yes I remember that moment well. I've always played at MoS for promoters even before the residency, but the day before the 2011 SW4 festival afterparty (which was being held at the club), one of the main artists fell ill. MoS asked their promoters for a recommended DJ to fill in, and that person was me! I played after Laidback Luke on the main stage and the guys were so impressed they offered me the residency. Very big moment in my career. Other than that, moments that stand out – warming up for James Zabliela (who's always been one of my absolute favourites) and taking over the decks from Armin Van Buuren the night he won the DJ top 100 award. That was pretty special!
You've worked alongside some huge names in the industry, who have you most enjoyed working with? Any still on the wishlist?
I see the whole of our industry as one big team and it's so important to work with people as much as possible. I find working with other artists broadens both my own knowledge and I also make some great friends in the process! I loved working with Weiss. He is Toolroom Records' big up and coming artist, and he taught me to really think outside the box when writing records – to go along with what you feel, and not constrain yourself too much to trends / styles / sounds. Wishlist – I would love to sit with Liam Howlett from the Prodigy. The Prodigy was the act that got me into dance music back in the early 90s. The guy is a genius! Plus I would get to play around with all his analog gear.
Musical influences come in all shapes and sizes – what was the first album or single you bought? We won't judge 😉
Don't laugh! First single – Shaggy – Oh Carolina on cassette. Haha! What can I say? I was a child. I think my first album was Michael Jackson – Off The Wall. I was a massive MJ fan. Still am!
And finally, what have you got coming up for the rest of 2014? Anything we should keep an eye out for?
I have just polished off 2 new tracks. One is called 'Full English', which is a collaboration with Grin Recordings artist – Made by Pete. We have got some GREAT remixers on board for that too. Can't wait to unleash it! The other is rather exciting, but need to keep quiet about at the moment. I've also got a collaboration with Federico Scavo in the pipeline. Other than that, gigs coming up in Cayman Islands, Hong Kong & a tour of France with MoS. Good times ahead!