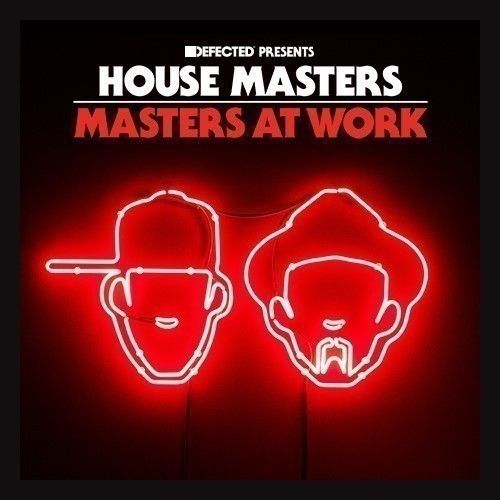 The Masters At Work Story…
Innovators, musical geniuses, house pioneers: there are few accolades that it would be inappropriate to level at Louie Vega and Kenny Dope, who, as Masters At Work, have been responsible for arguably the most impressive catalogue in the history of house. Staggering both in terms of quality and quantity, they set the blueprint for house production throughout the 90s, and their collective influence on the wider sphere of dance music cannot be overstated.
In this two-part interview we discuss the early influences on their own formative careers, their prolific studio dynamic, and why their latest project may just be the start of the next era of the Masters At Work story.
Louie, you first visited the Paradise Garage in 1980 at the age of 15…
LV: Well when I first started going to see DJs it was in roller skating rinks in Brooklyn. It was a night that was from 6pm to 6am and they used to play disco classics. Then in 1980 my sister took me to the Paradise garage.
What was that experience like?
LV: I was already DJing, like a bedroom DJ in the neighbourhood, but when I saw Larry Levan playing records like 'Thousand Finger Man' and 'Heartbeat', all the hits he had made at that time, it just blew me away: the soundsystem, the place, the lights. And what he did to the songs made it different than just hearing the songs regularly: it was just mind blowing.
Were there any other DJs playing around that time that had the same effect on you?
LV: In the late seventies I had gone down the block to the projects to see Afrika Bambaataa and Jazzy Jay. I learnt all of the disco stuff through my sister and her friends, and then I would go down to the projects. Jazzy Jay was the first DJ that recognised my talent; he was playing my tapes in his car and talking to his friends about me, about this kid in the neighbourhood that could play.
That must have been quite a good feeling…
LV: Yeah it was because they are hip hop legends, the seeds of hip hop today, so I felt very good that came from him because he was one of my favourite DJs. He scratched and he blended well and he was my favourite from that whole crew.
Kenny, when you were around that same age, you quit school to focus on music. There must have been some people around you telling you that wasn't a great idea…
KD: It was crazy because right around that time we were doing the Masters At Work parties in the neighbourhood, and me and Mike Delgado had met Todd Terry. Todd would come to the parties, and that was around the time I would cut school. I'd go to [Todd's] house and was just interested in seeing what he was doing and how he was doing it, and then we would work on beats. My mum was like 'what are you doing, you have to go finish school and go to college', but school was not something that interested me, music was. Not to say that you shouldn't go to school but it wasn't for me. I knew early on that this is what I wanted to do; to play records and do music.
What did you learn from Todd in those early days?
KD: What I learnt was the style. I took what he did and kind of took it to another level, and I put myself into it. The hip hop influence was there, as well as the electro sound, so it was very influential to what I developed later on with Louis and with our sound. Like I said, watching him produce and work on tracks definitely influenced me.
LV: I guess all of my influences come from having an uncle who was a huge salsa legend. I was brought up with the street version of Latin music: it was real, raw, from the streets, and you had these guys creating on the spot with spoken word. It was similar to what we all do today, so that and the whole disco thing as well as hip hop is what I was influenced by in the early days.
Kenny and I have a seven year difference between us, so when I started [making music] it was the early 80s and Kenny came through in the mid-80s. I became a big DJ for the Latino and African American crowd and I was playing in a lot of big clubs. The way I connected with Kenny was perfect because Todd Terry was a mutual friend who came to the clubs to bring me the music to play for the crowds, and at the same time Kenny was making records, and I just started playing some of his records. It was just one song that connected us and made our connection.
KD: I remember Todd saying 'Louie wants to do a remix of your record', and like Louie said, at that time he was doing really big nights in New York. It was crazy. We talked and built on that and we just sparked and the production company and took off. He never actually did the mix but we did all these other records, a lot of records.
LV: The track was called, 'A Touch of Salsa', and the interesting thing about that track is that he took Celia Cruz who was an artist from that whole scene that I was brought up with, and then he had Sylvester, who was one of the biggest disco stars. The way he blended those two records created a whole new vibe. The influences that were in there attracted me to the song, and the way he flipped it, I thought 'I love this and I would love to remix it'. So Todd introduced us, and I believe I may have invited him to the club or something, and then we started going to each other's places. I went to his little studio and he came to mine. We didn't have much of a studio. just a few pieces of equipment: a drum machine, a keyboard, an Akai and a tape machine. We got together and started talking about music and sharing beats, and we said, 'let's just try something', and that was it.
KD: Louie was in a transitional period, he wanted to do more soulful stuff. He said, 'this is what I've done, this is where I want to go, and this is where I want to go with you.' I knew what he had done because I played and sold the records; I said, 'Yeah that's cool, that's easy, let's do it.' Basically, that's how the whole Masters At Work dub came about, because Louie wanted to do more darker stuff, more deep house. So that's when we started doing that, on the B-sides of Debbie Gibson and pop acts.
L: From 1985 to 1990 I had made a lot of freestyle music, mostly Latin hip hop. At that point Todd Terry was making so many records, about five records a day. He was really moving that fast, and it was too much for him. Since I was doing freestyle stuff and using the studio, mixing a lot of music, he was like, 'Louie, I like the way you mix records, why don't you mix some of my records'. So I started doing a lot of the Todd Terry stuff at the same time I had met Kenny. I started doing house records with Todd and then when Kenny came in, we started producing them and I was mixing them for Todd. So if you look at early Black Riot, D.M.S and Sax, you'll see my name on those records. Todd loved freestyle just much as he loved house, and in those days I used to play freestyle, reggae, hip hop and disco all in one night. I created a format of the way I played the music and I made it flow.
KD: That was what was so special about that time period, DJs played different styles. It wasn't like you went to a club to hear one specific genre. We came up on that, I learned from that, from watching guys older than me play, like Afrika Bambaataa and Jazzy Jay. They'd play punk records, rocks records, it didn't matter: if it was good, they played it. That helped a lot later on in the production because we were able to tap into all these styles and those influences and bring them into our music. And later on we started bringing in the live instrumentation: the bass player, the guitar player, the horn section, the percussionist, it made it interesting and we definitely brought that sound into what we were doing.
Was this movement towards live instrumentation a conscious decision?
LV: It just happened, but we didn't leave samples behind, they were always in there, even with the live additions. If you listen to 'It's Alright, I Feel It!', the samples are in there with the live piano and electronic bassline. You couldn't just put us in one place because the early times, when we did all those tracks, most of the DJs loved the dub sides. All the techno guys say, 'we love what you guys did in the early days', and that was just Kenny and I making records alone, him on the beats and me on the keyboards. Once we started getting acquainted with these great musicians, we thought 'damn, we can go here we can go there, we can go to a completely different place', but we always kept that base of samples, the foundation of that powerful beat and the bassline. That was very important to us.
KD: It wasn't planned, it just happened. We were working so much we wanted to do something different, or take things to the next level and it just happened. One musician led us to the next, and it kept going from there. Then around the same time, we started to travel together. We were in England one weekend, then we were back home recording, or we were in Japan the next weekend, and then we'd have to finish a mix. It was constant, from around 1990 to 1997.
LV: That period we were working sixteen to eighteen hours a day. There was no personal life: we were the personal life with each other. In the studio, we just lived it every day, all we thought about was music, listening to records, making new records, coming up with new grooves. A lot of the memorable grooves that a lot of people like are the ones that we created together with a keyboard and a drum machine.
KD: We came up with this thing that if you don't like something, say it, and we will delete it and move on, no questions asked. Let's just make the best possible records we can make, no egos, no bullshit, let's just keep it moving.
Every drum track we created from scratch for the particular project for that artist. We'd be on the phone in the morning before the session going over some ideas, knock it out, and then go to the studio. Sometimes there were days we slept there. There was a studio in New York that had a shower. We just lived there, out of a bag. We had no time to go back to Brooklyn or the Bronx because once you're home you don't want to leave. We couldn't end up falling asleep and missing a session, there was no time for that.
The work was coming on, and if you think about the body of work that we did in all those years, there was probably the same amount that we turned down: we didn't take every mix. Everybody would say 'you're crazy, you got to take it', but if we didn't feel there was any influence, we didn't take something just to get paid. There were artists that came to us three or four times to do remixes, but there was nothing there for us to do. There had to be something that inspired a bassline, or a keyboard, or a part or something.
Words: Greg Sawyer