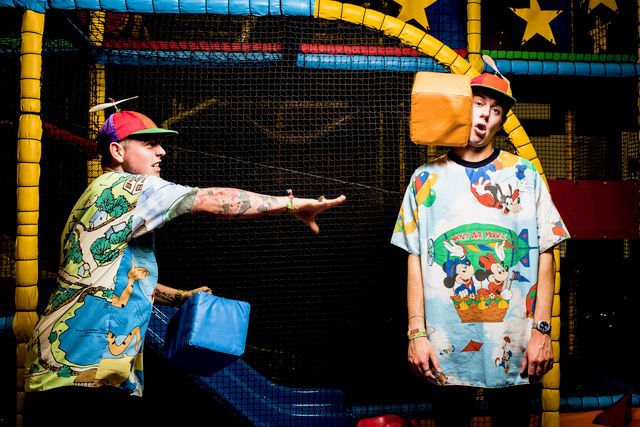 60 Seconds with… TWOGOOD
The Leeds based DJ duo are well known for their brand of bass driven, funky disco. TWOGOOD give us a run down on their up coming festival appearances, their favourite venues, and gluing pound coins to the pavement.
How did you guys get started?
T: We both met playing for a night Leeds called Deep Fever. Didn't go so well.. Jon broke one of the decks during my first ever set leaving me playing one like a frickin iPod to three hundred owl eyed students for 35 minutes. Not a good start to our career.
J: After a few months of hate and forced interaction, we somehow ended up having a studio session. We've been writing together ever since.
What's been a highlight so far?
J: Getting flown to Malta to play the first ever Annie Mac Presents: Lost and Found to warm up for DJ EZ was pretty special.
T: Then again on the same trip, Jon launching a 1 kilo burrito at the shuttle bus and getting dragged off into the night by the entire Maltese bouncer unit was also pretty exciting.. so it's a tricky one..
What's the best party you've ever been to and why?
T: Again, a tricky one.. there's been a fair few corkers over the years but if we had to say it would probably be the Good Life 3rd Birthday in Leeds.
J: We've been residents for these guys pretty much since we started out and this particular event was literally manic. Most of smoking area was dominated by a 15ft inflatable penis and that's just the start.
T: They invented what we like to call 'Pillow World' (literally a room filled with pillows – best place to recharge the batteries). Every room was loaded with enough bass to shake off Trump's toupee.
J: Oh and did we mention the fucking fun house outside? That had to be the icing on the cake.
What do 3 items do you always pack for a music festival?
T: Propeller Hat x 2.
J: Fishing rod with five pound note attached x 1 – hours of entertainment.
You're playing this year's Beat-Herder festival, what other acts are you looking forward to catching?
J: We've both been fans of Featurecast for years but are both yet to see him play live so that has to be our number one go to. Also Dutty Moonshine – 12 piece brass band? Wobbly baselines galore? What's not to like really.
T: Our Glaswegian hombres, Shaka Loves You, of course make the cut. Their sets are full of funky fun. Where else can you watch a professional scratch artist battle it out with a certified conga connoisseur? Never. That's when. Check it.
How do you relax away from music?
T: Supergluing pound coins to the pavement outside our house does provide sufficient relief.
What was the last record you bought?
J: We just purchased the debut FKJ album. It's pretty damn tasty if you ask us. It's been the soundtrack to our lives for the past few weeks.
What's your favourite venue?
J: Luckily it's an easy one for both us – Beaver Works in Leeds. After having performed in many renovated warehouse/clubs around the UK, none have come close to the atmosphere found in this abandoned Iron works.
T: There's Literally heavy machinery still embedded into one of the dancefloors, 10ft industrial fans that make up a DJ booth and seven rooms of musical mayhem. If you know, you know.
TWOGOOD perform at Beat-Herder Festival 14-16 July.
www.beatherder.co.uk