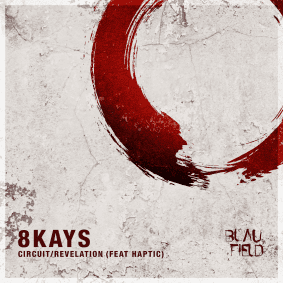 8Kays – Circuit / Revelation
Following her recent appearance on 'FOURTUNES 1', 8Kays returns to Blaufield Music this August to deliver her two track EP 'Circuit / Revelation'.
A rising name within the scene, Iryna Shvydka aka 8Kays is definitely an artist on the up. Based in Kiev, the DJ, producer and label owner has quickly put together a string of solo and collaborative releases that have caught the attention of many of the industry's leading names, most recently on the likes of Sincopat and her own 8Music imprint, and here we see a quick follow up her contribution to the first release in Blaufield Music's newly launched Various Artists series 'FOURTUNES' to deliver two further productions 'Circuit' and 'Revelation' alongside vocalist Haptic, set for release in early August.
First up, 'Circuit' opens the package in entrancing fashion as hypnotic arpeggios snake amongst brooding bass fluctuations and spiraling lead lines, whilst 'Revelation' dives into deep and expansive soundscapes as warped synths work alongside Haptic's commanding vocals, complementing the mood and feel of the production to reveal a driving and suspenseful final cut that looks to be primed for the peak hour.
8Kays 'Circuit / Revelation' is out on Blaufield Music on 16th August 2019.
Tracklist
1. Circuit
2. Revelation (feat. Haptic)