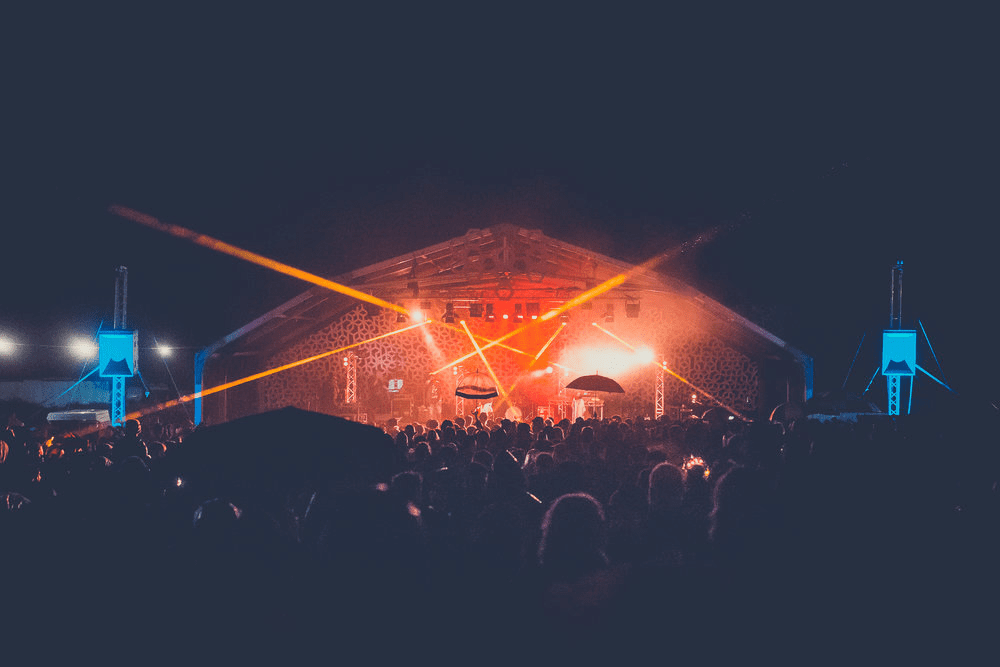 Over one hundred, international live and electronic acts are now confirmed for Farmfestival 2019, as the festival returns from hiatus to remind us all that affordable, family festivals can still deliver exciting and imaginative line-ups.Morcheeba, Portico Quartet, Moon Hooch, Nubiyan Twist and Fullee Love(aka Soup from Jurassic 5) are among the characteristically eclectic mix of live acts due to descend on the farm at the end of July, with James Holden & The Animal Spirits, Horse Meat Disco, Little Boots Discotheque, Call Super, Shanti Celeste and Maurice Fulton heading up the DJ and live electronic programme.
Set against a breathtaking Somerset backdrop, just an hour from Bristol, in 2006 Farmfestival started as a party for friends and has defiantly fought to stay that way fourteen years on; capping its audience at 5000 to retain its unique intimate atmosphere, with seven stages and camping all within 5 minutes walk. At its core, Farmfestival is truly a family affair; a festival unencumbered by sponsors or any external influences, that is still run by the same group of friends who take no profit in order to keep the weekend tickets under £100, who up-cycle artic lorries and combine harvesters from eBay into mind-blowing stages, and who give 30% of their booking fees to charity. A true embodiment of the anti-corporate festival, Farmfestival doesn't believe in sponsorship, inflated prices, commercial line-ups, or profits; they believe in community, charity and a genre-defying selection of music from emergent talent, cult heroes and local gems. Providing a platform for exciting local talent (e.g. Idles in 2015 before they blew up), Farmfestival is the place to catch artists on the rise, with a number of international artists, such as Tonina, playing their festival debut at Farmfestival this year.
Alongside their most exciting line-up to date, Farmfestival 2019 is also pleased to announce they've extended their camping to include an optional Thursday night, complete with camp site entertainment. Also keep an eye out for updated stages and some big surprises across the main arena throughout the weekend.
"Farmfest draws a great balance between international names and homegrown support, while also towing the alternate axis of electronic music around folk and indie, offering a prime opportunity to expand one's musical horizons. As well as being dedicated to offering a spectrum of diverse, carefully curated music, the festival is set on keeping their event as accessibly priced and community-minded as possible. Located in a scenic Somerset vista, a consistently eclectic audio offering has delighted indie fans, families and ravers alike over the past decade." CRACK MAGAZINE
PROGRAMME

HEADLINERS > Topping the bill are legendary London outfit, Morcheeba, who've been mesmerising audiences across the world for two decades, selling over ten million albums in the process. Not many can captivate a crowd like front-woman Skye Edwards, and the trip-hop pioneers' headline performance promises to be a defining moment in the festival's 14-year history.
LIVE MUSIC > Brooklyn's explosive horn-and-percussion outfit, Moon Hooch, will be making one of only two UK festival appearances in 2019, unleashing their self-described Cave Music; "like House music, but more wild and jagged". Nubiyan Twist epitomise Farmfest's own broad musical palette; with the ten-piece outfit uniting jazz, reggae, soul and afro-beat to create a modern sound, with live electronics and traditional instrumentation in equal measure.
Portico Quartet's expert blend of climatic beats and ethereal melodies has kept them at the forefront of the UK's thrilling jazz scene for over sixteen years (including a legendary performance at Farmfestival 2015 as Portico). The newest band to turn heads on the revitalised jazz circuit, Cykada, are a super-group comprising members of Ezra Collective, Maisha and Don Kipper, who will be joined by locals Snazzback and Waldo's Gift.
DJS > As in previous years, Farmfestival 2019 is particularly strong on club sounds. Globetrotting house veteran Maurice Fulton and Coldcut beat-wrangler / Ninja Tune co-founder Jon More lead the way, alongside techno auteur Call Super, whose Essential Mix was one of the best things on the radio in 2018. Shanti Celeste, one of Bristol's most successful exports of recent years, is far from being the only local talent on the bill, with DJs from Shapes, Alfresco Disco and Noods.
INTERNATIONAL > As has become tradition at Farmfest, this year a plethora of international acts will be jetting over to join the fun. French trio Delgres, and fellow Parisians Juniore, are making waves across the channel with their unique takes on delta blues and post-punk Sixties surf pop, respectively. From further afield, LA Hip-Hop legend Fullee Love (aka Soup from Jurassic 5) will be performing both classics and new material, with his soul-funk live band. Flying in from St. Louis, Missouri, the mind-bogglingly talented singer/songwriter, bassist and poet Tonina makes her UK festival debut. Listed in NPR's top 10 artists (and Barack Obama's top songs list) of 2018, she's sure to provide a festival highlight. Down the fuzzier end of the sonic spectrum, a wealth of astonishing home-grown talent will inaugurate the festival's newest venue, Usagi's Tavern, with Bristol's band-of-the-moment Heavy Lungs, grunge-heavy rockers Sœur, satirical art-punks LICEand indie, multi-instrumentalist She Makes War.
KIDS > With free-access for children under twelve and dedicated family camping spaces, Farmfest promise a reinvigorated programme of activities for the youngsters (and the young at heart), inspired by the arrival of two more babies into the Farmfest family during their year off. Including Brave Bold Drama's theatre workshops, Kid's Kung Fu, Flotsams the Fool's Circus and Ras King Bobo 1, kids can also take part in make-and-take sessions, musical puppet sing-alongs, classic story based interactive workshops, magic shows and discos.
ARTS & COMEDY > Chuckle Busters, Drag Queen Bingo and Eshaan Akbar – a fast-rising comedy talent who has appeared on the Frankie Boyle's New World Order (BBC Two) and The Now Show (BBC Radio 4) – are joined by Steffan Alun, Sarah Breese, Tony Chiotti , Phil Cooper, Will Duggan, Clint Edwards, Chris Fay, Josh Kingsford, Sam Lloyd, Alex Mahoney, Eleri Morgan, Jessie Nixon, Morgan Rees, George Rigden and Tom Taylor.
HOLISTIC & CHARITY WORKSHOPS > Covering MahaDevi Yoga, Hanni Rose Mindfullness, guided mediation and recycling workshops, including Betsy's Closet Swap Shop, Farmfest revellers are encouraged to take-part in programmes entitled Love Yourself and Love The Land, inspired by charity partners B Sharp and Somerset Wildlife Trust, who will also be running hands-on activities themselves; with a pop-up sing-along and jamming session from B Sharp, and workshops on how to make bug hotels and seed bombs, courtesy of Somerset Wildlife Trust.