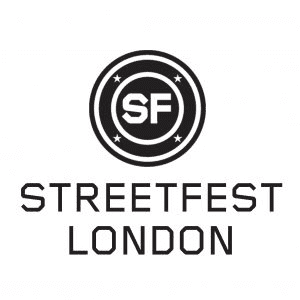 StreetFest returns for 11th year to showcase the best of London urban arts scene
Legendary street culture and urban arts festival, StreetFest returns to east London to showcase the best of London's thriving urban arts scene at Oval Space Hackney on Saturday 14th September. The line-up will be led by seminal headliners DJ Ron (jungle) and Shortee Blitz (hip hop) bringing the freshest beats in the capital, alongside spoken word artist LyricL, hotly tipped DJs Chloëdees (NTS) and RBC (Wireless, Afropunk) and Bboy crew Soul Mavericks.

Emerging out of the cutting-edge counterculture arts scene in east London and now in its 11th year, the country's premier street culture festival consistently champions the maverick artists and unsung heroes from the vibrant local creative community. StreetFest took to the road in May of this year for its hugely successful, inauguralStreetFest Leeds with DJ Semtex headlining.
StreetFest has carved out its own niche with its strong music lineups over the years, with a mix of both established and emerging talent and has long prided itself to be early champions of some of music's hottest names. Previous live artists have included Afrikan Boy, Stush, Goldie, Miss Dynamite, Loyle Carner, Oddisee, Professor Green, HUDSON, Wretch 32, Devlin, Maverick Sabre and Ghost Poet.
Following the success of StreetFest Leeds and last summer's legendary 10th anniversary, StreetFest returns with a 'feast of the senses' in its beloved east London, for an epic 8-hour celebration of London's best names in street dance, urban music and live arts for the whole family to interact with at Oval Space.  With programming across the expansive Oval Space, highlights include:
Visual arts – curated by PaintFreaks and including local and internationally celebrated graffiti and street artists, illustrators and designers creating an immersive, colourful kaleidoscope of murals in and around the festival to create an immersive 'Live arts moment' which sees the collaboration of a huge array of artists, ranging from aerosol to illustrators and from fine art to stencil based artisans and digital to canvas. Artists include Nathan Bowen, Artista, Andy Seize, Code FC and Demograffix.
Music –  Showcasing the best of London's urban scene, StreetFest's musical offering has always been hugely anticipated every year, this year there will be a mix of the capital's best including the inimitable headline DJs DJ Ron and Shortee Blitz, alongside LyrcL, Chloëdees and RBC, hosted by MC Paz.
Street Dance – live dance workshops and battles curated by b.supreme, a non-profit organisation for women in hip hop now in its 7th year curating at StreetFest bring demos, competitions, battles and performances from the best of London's dance scene. Featuring Soul Mavericks who will host a 'Takeover' featuring a battle between the Bgirls and Bboys, as well as DJ Dbo and Bgirl SunSun.
Speakers Corner – featuring spoken word and poetry curated by Music Is Remedy, champions of local talent and the brains behind such showcases as the Unsigned London festival, showcasing the lifeblood of London's underground creative scene. The lineup will come together to express themselves through performance, demos and live battles, to be announced.
Emerging out of east London, the StreetFest concept and ethos has uniquely been about a community of 'counterculture' creatives, celebrating DJing, MCing, graffiti, B-boying, as well as skateboarding, parkour, body art, BMX and more.
StreetFest founder, Bayo Alaba said "I'm proud to say that StreetFest is the biggest champion of British street culture. The scene just attracts more and more young counterculture creatives and StreetFest provides their unique platform. We always push to raise the bar every year, since we launched in 2008, because the demand is huge for us to do more to showcase the incredible 'under the radar' talent that wouldn't otherwise have the chance to showcase themselves to a wider audience.  StreetFest has innovated and grown every year and it's been truly exciting to take our maverick collective of creatives on the road to Leeds to start the summer. Over the years, StreetFest has taken place in some outlandish locations, car parks, garages, closed off roads, car pounds, warehouses and derelict wharfs over the years. I can't wait for our homecoming in east London, this one will be the best and most ambitious and sees us collaborate and create that 'Live arts moment', bringing together the capital's incredibly talented urban arts community, it's going to be a roadblock."
Shortee Blitz added "I'm looking forward to taking it back to StreetFest's roots in east London at the end of summer. Major respect to StreetFest for staying at the forefront of street culture for so many years, which is testament to tireless commitment. It's a great honour to be headlining in London."
EVENT INFO:
StreetFest London: Saturday 14th September 2019, 2PM – 10PM,
29–32 The Oval, London E2 9DT, www.ovalspace.co.uk
Tickets  www.streetfest.net