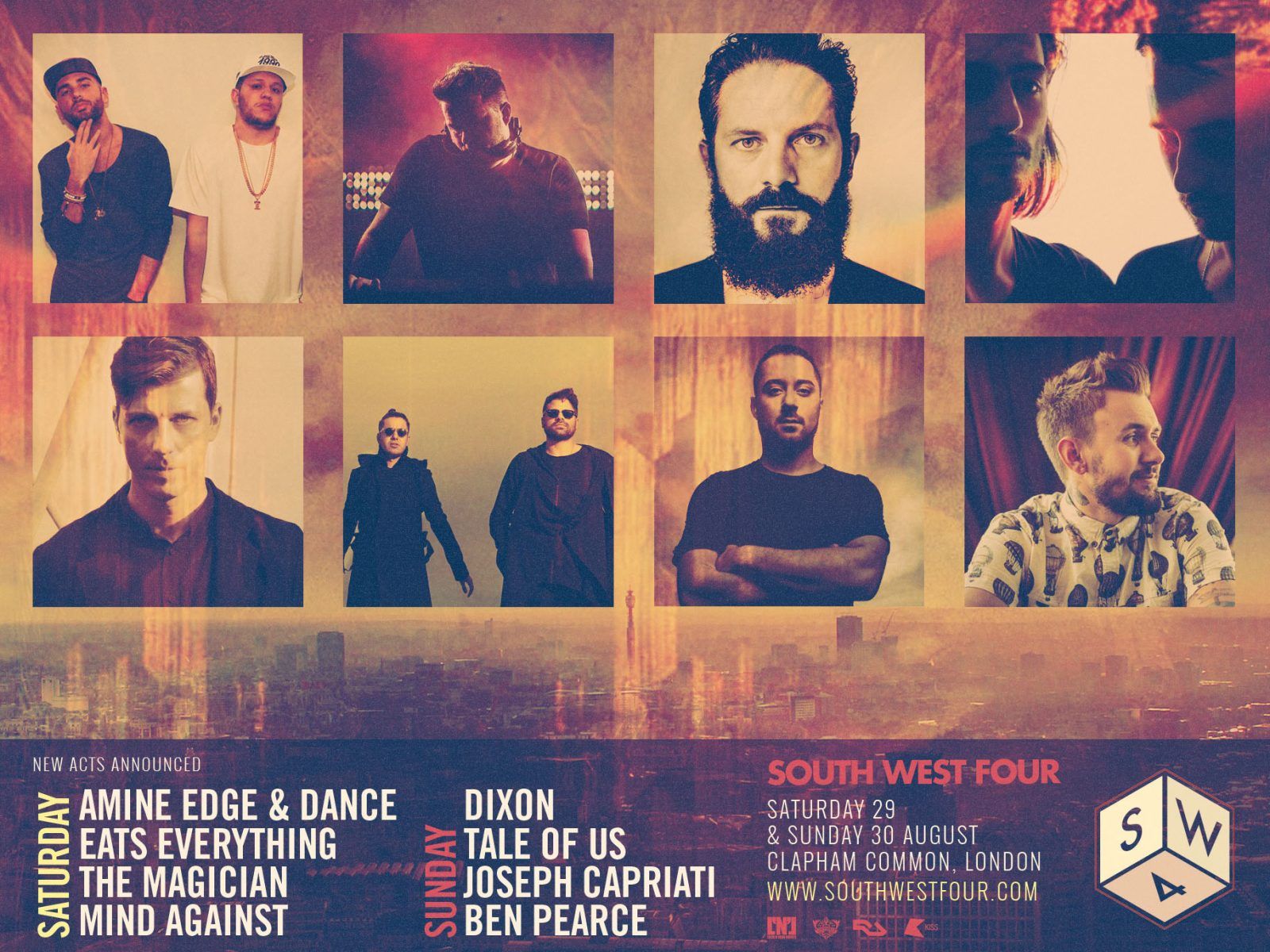 A further eight world class artists added to SW4 2015 lineup
A wealth of international talent concludes the second phase of our 2015 lineup, as eight world class artists are added to the South West Four bill. A combination of new and familiar faces, these artists reflect the truly international nature of our festival, with these acts flying into the Capital exclusively for their Clapham Common performance. They will be followed by music lovers from all over too, with more people than ever making the pilgrimage to South West London.
Such interest in our event is a testament to it being the most ambitious instalment of SW4 to date, as we welcome over one hundred artists across the weekend for the first time ever and debut our second (indoor) main stage. Tickets have witnessed an incredible uptake too, with this Friday 27th March representing a significant date for all those planning an unforgettable experience across the August Bank Holiday Weekend. Not only will our Saturday group ticket deal come to a close but Saturday and weekend tickets will also increase in price this Friday at midday too. So if you want to be a part of our biggest year yet, we highly advise for you to book your place in the next few days to secure your SW4 tickets for the best possible price…
ADDED TO SW4 SATURDAY…
AMINE EDGE & DANCE • EATS EVERYTHING
THE MAGICIAN • MIND AGAINST
Hailing from Southern France, Amine Edge & Dance have taken the world by storm with their ground-breaking sound which incorporates early house, 80's hip-hop, breakbeats and everything in between. Titled 'G-House', this genre has found a home via their revolutionary label CUFF, to which they owe much of their astronomical success. With over twenty artists now signed to the label and a release rate of two EPs per month, the Marseille duo have been spearheading dance music's latest movement which shows no sign of slowing down. After landing in Ibiza for the first time in 2013, their contagious sound quickly garnered a dedicated fanbase, leading to a weekly night last summer at underground hotspot Sankeys, to which thousands flocked. As big fans of their colossal uprising, we're delighted to welcome them to our outdoor main stage on Saturday 29th August for their hugely anticipated SW4 debut.
Since 2011, Bristolian Dan Pearce aka Eats Everything has been at the forefront of the UK house scene, pushing musical boundaries wherever he goes. Now in 2015, he is one of the most in-demand DJs on the planet. Last year saw Eats present an Edible stage at a UK festival for the first time, as he took control of his own 7000 capacity stage at SW4. With the arena proving such a booming success, we knew we had to get him back to the Common so he could bring it alive once again. With an unquestioned appetite for touring, Eats can be found chomping his way across globe with regular performances at the planet's most famous clubs. This includes fabric, Panorama Bar, Amnesia and DC-10, as well as festivals such as Coachella, BPM, Tomorrowland, Mysteryland, Exit and Bestival. With his eight hour New Year's Day set at Electric Brixton still fresh in our minds, this will be your only opportunity to see Eats back in South West London this year…
Previously one half of revered Balearic disco duo Aeroplane, our next addition disembarked that flight and boarded his own magical carpet ride in 2010 when The Magician was born. Having just put Europe under his spell with a fifteen date 'Potion' tour, South West Four is confirmed as the next London date for this hugely in-demand act. With a sound that floats effortlessly between disco, house, funk and soul and as highlighted in his championed 'Magic Tape' mix series, the Belgian-born DJ is one not miss this August.
Our next Saturday act is another we've had our ears on for some time, as we bring Italian-born, Berlin-based duo Mind Against to Clapham Common for their debut SW4 performance. Made up of brothers Allesandro and Federico Fognini, the house and techno purists have a natural connection which is demonstrated even further behind the decks. Signed to the underground powerhouse 'Life & Death' imprint, their organic sound has seen them put in standout sessions at Berghain, Watergate, fabric, D-Edge and Cocorico. Don't miss their exclusive appearance on Saturday 29th August.
ADDED TO SW4 SUNDAY…
DIXON • TALE OF US
JOSEPH CAPRIATI • BEN PEARCE
There are very few tastemakers in the world that can be considered in the same league as Berlin's Dixon. Founder of the seminal Innervisions imprint alongside Âme, we have been chasing this superb DJ for many years, however in 2015 we have finally got our man. Dixon's packed diary represents a vast catalogue of the greatest parties the world has to offer, making his SW4 debut and only London festival performance of the year that extra bit special. 2014 witnessed Dixon enter at #1 in the Resident Advisor Top 100 DJs poll for the second consecutive year, whilst recent label takeovers at BPM and Panorama Bar and upcoming tours of Australia and USA have further reinforced his global dominance. Returning to London after a five month hiatus, we guarantee his first ever SW4 appearance will be worth the wait. London please rise, as we prepare for the arrival of one of the world's most loved DJs.
Following an incredible performance at SW4 last year, Carmine Conte and Matteo Milleri aka Tale of Us are back for their exclusive London festival play. 2015 has seen the duo take a break from touring to concentrate on their studio output, which means the Life & Death specialists will come to SW4 refreshed and at the very top of their game. Last year Tale of Us played Time Warp (Mannheim, Buenos Aires and New York), Burning Man and Awakenings, as well as continue their relationship with ENTER.Ibiza and Circo Loco at DC-10. Their incredible remix of Caribou's 'I Can't Do Without You', alongside Mano Le Tough, proved to be one of the most popular records of the past twelve months and can be considered a taster of what to expect from their debut album, due for release later this year. Having fought off fierce competition for their services, we are delighted to welcome back one of our favourite acts to destroy SW4 once again.
Recognised as one of the most exciting DJs to emerge through the techno scene in recent years, Joseph Capriati's rise to prominence has been nothing short of relentless. The past twelve months have seen him heighten this further with dates at Amnesia (Ibiza), Berghain (Berlin), fabric (London), Space (Miami), Output (New York), Stereo (Monreal) and Cocorico (Italy). 2015 has seen him step into new territory with the launch of his '100% JC' concept, as well as make time for the studio. A key member of Adam Beyer's Drumcode stable and resident DJ for Marco Carola's Music On, Capriati's presence within the underground scene is as dominant as ever, making his South West Four debut one of the most anticipated this year. Returning to London for the first time since his marathon set at fabric in February, the arrival of the Italian titan is one we are extremely excited about. Don't miss it.
Ever since he emerged to win 'Best Breakthough Producer' at the 2013 DJ Mag 'Best of British' Awards, UK producer Ben Pearce has been on our most wanted list. Two years on and we are pleased to bring him to the festival for the very first time. Last year witnessed the Purp & Soul front man take things to the next level with dates in Ibiza for Together, We Love…, Defected and ANTS, in addition to festival appearances at Hideout, Reading & Leeds and Global Gathering amongst others. Furthermore the launch of his Sextape series, a concept focusing on funk, soul and disco and his new monthly radio show on Rinse FM, illustrates that 2015 will be his best year to date.
SATURDAY 29TH & SUNDAY 30TH AUGUST 2015
CLAPHAM COMMON, LONDON
SW4 Saturday & Weekend tickets increase in price Friday 27th March at midday:
www.southwestfour.com/tickets